Check out all of the Mercury's 2018 election endorsements! From the race for Oregon governor to the fight for affordable housing, we've got you covered.

---
Sponsored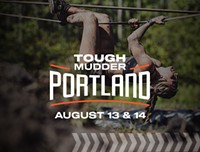 Lock in your summer adventure, Portland. Join us for world famous obstacles over a 5K or 10K distance.
The United States is currently going through a phase not unlike puberty—full of poorly-planned risks and terribly embarrassing decisions we'll regret for years to come. In the midst of this instability, it's important that Oregon has a leader who can safeguard our constitutional rights while keeping state-level programs afloat—and not lose their mind in the process. We're certainly not in the position to take a gamble on a sophomore politician just to spice up our state's politics.
That's why we believe Governor Kate Brown should continue to helm Oregon's government.
Since Brown entered the governor's office in 2015—swooping in after a power-wielding scandal ended in then-Governor John Kitzhaber's resignation—she's begun weaving a sturdy safety net for Oregon's future. In 2015, Brown signed into law the country's most progressive reproductive health care bill, the Reproductive Health Equity Act (RHEA), which prohibits insurance companies from charging Oregon women—including undocumented immigrant women—a copay for an abortion procedure. In an endorsement interview with the Mercury, Brown said she created this act to protect Oregonians from any federal-level changes to a woman's right to chose. (Looking at you, Kavanaugh.)
In 2017, Brown championed a massive transportation bill that would increase public transportation investments, make seismic upgrades to Oregon's highways, unclog the traffic nightmare around Portland's Rose Quarter, and introduce sidewalks and crosswalks to the notoriously dangerous (and weirdly state-owned) Powell Boulevard. The bill, which prioritized transportation projects for underserved minority communities, required a heavy lift to get bipartisan support—which Brown did without breaking a sweat.
---
While Buehler's done a spectacular job at charming liberal Oregonians with promises that contradict his voting record, we're not that easily fooled.

---
Brown's safety net isn't without gaps. Under her watch, Oregon's public schools have maintained the lowest graduation rates in the country, and the state's cash-strapped classrooms continue to shed resources and gain students. In August, Brown announced a new plan to repair the floundering education system—which included longer school years and expanded career technical programs—but didn't flag any specific funding sources. In her endorsement interview with the Mercury, Brown said it would likely involve some tax hikes. Brown's opponent, orthopedic surgeon and Representative Knute Buehler, hates tax hikes.
Buehler, who refused an interview with the Mercury without giving any explanation, has used Oregon's faltering education system to criticize Brown and collect bipartisan support along the campaign trail, and he's brought up genuine concerns about the future of Oregon's pension system.
What's most impressive about Buehler's campaign, however, is his ability to rebrand himself. Since Buehler began his campaign for governor, he's aggressively marketed himself as a moderate conservative who will happily empathize with liberals who are critical of Brown's tenure. He's called himself pro-choice, talked about tightening state gun control laws, and promised to protect Medicaid from federal cuts.
That's candidate Buehler. But as a member of the Oregon State Legislature, a job he's held for only four years, Buehler voted against a bill to expand Medicaid and against a number of bills meant to improve women's access to reproductive health care and abortion. Most notably, Buehler voted against Brown's RHEA bill—then boasted about his anti-abortion vote on a conservative talk show.
He's also held onto some of his socially conservative stances on the campaign trail. Buehler supports Measure 105, an anti-immigrant measure disguised as a public safety issue, and has pitched a "tough love" plan to "solve" homelessness that includes new legislation to give local governments more power to arrest people for sitting or lying down in public spaces.
---
We're certainly not in the position to take a gamble on a sophomore politician just to spice up our state's politics.

---
Buehler's also against the Metro Housing Bond that has promised to create thousands of new affordable units. He believes giving rental assistance to low-income Oregonians living in privately owned rentals is a better call, and sees the private housing market solving the housing deficit.
Brown, who supports the Metro bond, has doubled the number of affordable homes in Oregon since taking office. She sees value in partnering with nonprofits who can help homeless Oregonians transition into longterm housing—rather than handing them a rental subsidy and hoping for the best.
Despite labeling himself pro-choice, Buehler's told conservative voters he's opposed to using state funds to cover abortion costs, except in cases where it is "medically necessary." That blurry, non-medical terminology only applies to cases where a woman will die if she doesn't get an abortion.
While Buehler's done a spectacular job at charming liberal Oregonians with promises that contradict his voting record, we're not that easily fooled. We're also not ready to sacrifice women's health care, immigrant rights, and housing stability by handing the reins over to Buehler. We prefer a lawmaker who is consistent with her politics and has found her place at the top through thoughtful leadership and hard-earned trust. Vote Brown.