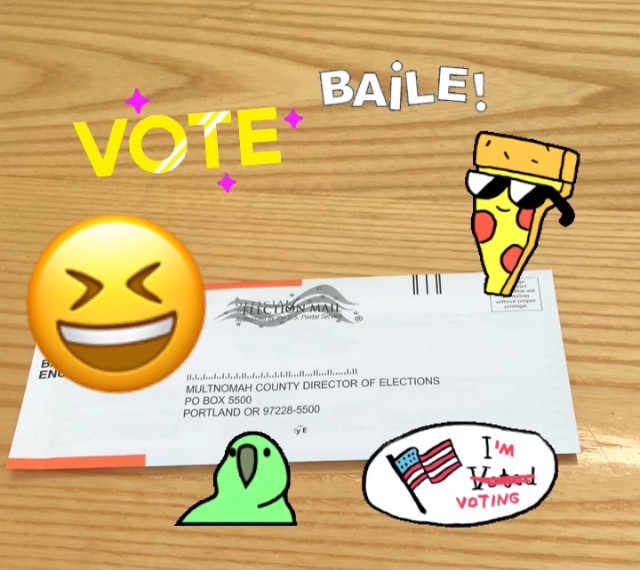 As of today you can no longer mail in your ballot with 100 percent confidence that it will be counted in
Tuesday's Nov 6 Midterm election
. As it happens, I didn't even have my ballot until yesterday because those
dill weed
hard-working federal employees didn't deliver it. But I have one now and if you're a registered voter skulking around Portland like "Where's my #$%@ing ballot?" there's hope for you too. Here's how I found my #$%@ing ballot after it got lost twice:
In the middle of last week it occurred to me that my ballot might be lost. According to the My Vote section of the Oregon Secretary of State my ballot had been mailed on Oct 16, the previous Tuesday. A week seemed a little long. I checked on oregonvotes.gov and I was all registered up. I'd received my voter pamphlet. I asked around and my friends' ballots had arrived. Where the#$%@ was my ballot? So I called the Multnomah County Elections Division and a very nice clerk named "Jared" told me that sometimes, in apartment buildings, ballots get put in the wrong mail slot. Cool, cool. Exactly one resigned sigh later, he promised to send me a new ballot, which would definitely be delivered by this Tuesday Oct 22. That ballot definitely NEVER ARRIVED. So much for easy voting, Oregon! This was almost as annoying as voting in Michigan!
But I have always voted. As a child I saw that episode of
Murphy Brown
about voting and it made a deep impression. It was
hard to figure out voting when I lived away at college
so I voted absentee. Faced with two ballots that were lost in the USPS ether, I knew that there was likely still a way to exercise my precious ability to vote.
I needed to get physical.
And, as it turned out, the next step to getting a ballot was super easy: I filled out
an online form to order a replacement ballot
and it was ready in two hours. I had to move my precious legs across the bridge to the Eastside, but the Multnomah County Elections Division is conveniently located at the corner of SE 11th and SE Morrison, pretty much across the street from Holocene.
I'm fortunate that my place of employment supports voting and didn't care that I needed to leave work to walk to the Eastside. It can be hard for people to visit government buildings, between the general hours of 9-5pm, because they need to be at work. From now until election day, Multnomah County Elections Division
will have extended hours
and will even be open on Saturday. Fascinating, I know! But if you're feeling daunted by the possibility of paperwork and line-standing, the only paperwork was the online form and I only waited behind one person.
As previously mentioned, it's too late for me to mail my ballot. I'll drop it off today at the library, as is my tradition, but there's also a large, indestructible-looking ballot box at the corner of SE 11th and SE Belmont. You can find other ballot box locations here.
I know that, compared to what people in other states go through to vote, these complaints come off as extremely entitled. Now that I'm used to the sweet honeysuckle of vote by mail, I love it and want it for everyone. My point is that, this year, I ran into some hiccups in the ordinarily smooth vote by mail process, but there were still ways to get in there and cast my ballot. If you didn't get your ballot in the mail there's still time and, moreover, it's pretty easy to figure out. And now I have time to burn my building down looking for my two misplaced ballots. WHERE ARE MY BALLOTS, YOU CREEPS?
UPDATE: In response to a reader question, about whether someone could vote with my two misplaced ballots, the signature on each ballot is compared to the signature from previous elections. So anyone trying to do a fraud vote would need to know how I sign my name (With a little drawing of a cat!) (No, I don't.).