The NW Film Center's Portland International Film Festival (PIFF) kicks off today and continues through March 21, and over the next two weeks it'll show more than 140 feature-length and short films from around the world. Don't know where to dive in? You can
check out our overview of the festival here
, and what follows are some of my brief reviews of films that will be screening today through Sunday. (The best ones are starred.) I'll have more of these reviews as the fest continues; in the meantime, you can scope the full PIFF lineup
here
.
AMATEURS
PIFF's opening night selection is a Swedish comedy about the residents of a small town hoping to entice a large German superstore into opening a local branch. The parallels to Walmart—and the familiar plight of so many American towns—are undeniable, and Amateur's central themes might initially seem a little stale to US viewers. But the movie's strength is that it's told from the perspective of citizens who are immigrants or descended from immigrants, adding a dimensionality that complicates the issue. Eventually, though, those complications end up overwhelming Amateurs, which ends up unfocused and inconclusive. It doesn't help that a lot of the movie is taken up by footage of an attempted promotional film for the town made by two of its teenaged residents, whose wide-eyed idealism (and shaky camerawork) wears thin quickly. Thurs March 7, 7:30 pm, Whitsell Auditorium, 1219 SW Park; Thurs March 7, 7:30 pm & Thurs March 14, 6 pm, Regal Fox Tower, 846 SW Park
STYX
This lean maritime thriller, directed by Wolfgang Fischer, balances a gorgeous idyll with a tense moral dilemma. A German emergency doctor (the superb Susanne Wolff) is brilliantly competent in all aspects of her work—and she brings that fearlessness with her on vacation, too, when she charts a solo course from Gibraltar to a remote island in the Atlantic. After a storm, her small sailboat encounters a distressed ship packed with refugees, and her precision and rectitude collides with desperate chaos against the unforgiving backdrop of an endless, blue-gray ocean. It's suspenseful as all hell, but it's intensely emotional, too, and Wolff is nothing short of brilliant. Fri March 8, 8:30 pm, Cinema 21, 616 NW 21st; Sun March 10, 6 pm, Regal Fox Tower, 846 SW Park
TOO LATE TO DIE YOUNG
In this gentle, sun-faded coming-of-age story, Chilean director Dominga Sotomayor balances several interesting ideas without lingering too long on any of them or hammering them home. It's set in the aftermath of the Pinochet regime, in an isolated bohemian commune of artists and musicians in the hills above Santiago. While obtaining necessities like water and electricity are facets of day-to-day existence, this is a world of sensual pleasures and easy living. Naturally, 16-year-old Sofia (Demian Hernández) is bored to tears by all of this languorous liberty, and the film gracefully captures that frustrating sensation of being smack dab in between childhood and adulthood.
Too Late to Die Young
's aching blend of sensation and memory is as effective as
Roma
's; there's even a New Year's Eve wildfire to consolidate the comparison.
Fri March 8, 8:30 pm & Wed March 13, 8:30 pm, Cinemagic, 2021 SE Hawthorne
THE HOLE IN THE GROUND
An Irish riff on The Babadook, the debut feature from director Lee Cronin makes the most of its overly familiar "what's wrong with my child?" premise. While the idea behind the title—a big, spooky, inexplicable pit in the middle of a dense forest—doesn't end up amounting to much, the main story of a mother (a really good Seána Kerslake) and son (James Quinn Markey) adjusting as they relocate to an isolated, rural area whips up plenty of moody creepiness. There's style and storytelling skill afoot here, even if The Hole in the Ground occasionally gets stuck in familiar turf. Screens with short film Milk. Fri March 8, 10:45 pm, Cinema 21, 616 NW 21st
SUPA MODO
Kids and grownups alike will enjoy the ebullient, bright Supa Modo, which manages to walk an unlikely tightrope: It's the story of Jo, a young Kenyan girl dying of cancer, but she copes with her situation through vivid superhero and martial arts fantasies, and the film becomes a warm, uplifting experience. Although director Likarion Wainaina gets the tricky tone just right, the cast—led by the heart-warmingly great Stycie Waweru as young Jo, with Maryanne Nungo and Nyawara Ndambia as Jo's mother and daughter—is funny and alive, and Supa Modo feels like something not too far away from a miracle. Sat March 9, 12:45 pm & Sat March 16, 12:30 pm, Cinemagic, 2021 SE Hawthorne
THE LOAD
Set during the Kosovo War as NATO allies bomb Serbia,
The Load
is a bleak story of dirt, grime, and grease. Vlada (Leon Luček) is driving a truck loaded with mysterious cargo north to Belgrade, but in a disintegrating country, maps are useless and major roads are to be avoided. Vlada has suspicions about what's in the back of his truck—and so do we—but he's grimly determined to simply get the job done so he can bring the money home. As miserable as it sounds,
The Load
is beautiful in its gravelly grayness; there are countless movies about surviving made-up apocalypses, here's one about what it's like to drive through a very real one.
Sat March 9, 5:45 pm & Mon March 11, 3:30 pm, Regal Fox Tower, 846 SW Park
ASH IS PUREST WHITE
Director Jia Zhang-Ke's Ash Is Purest White is a gangster epic interrupted. Qiao (Zhao Tao) is the girlfriend of mobster Bin (Liao Fan), and the insular, unstable underworld of the northern Chinese city of Datong is their oyster. It's a life of cigarettes and mahjong, mostly, but eventually Bin's power is challenged, in a scintillatingly choreographed fight scene that will tear the top of your head off. The rest of the movie is much more subdued, as Qiao spends close to two decades roaming a culturally and economically changing China, trying to figure out where she belongs. It's far more poetic and surprising than that sounds—and it's occasionally daffy, too, with a UFO making a split-second appearance—and Zhao's performance, as a chameleonic survivor, is exceptional. Sat March 9, 6 pm & Thurs March 14, 8:30 pm, Cinema 21, 616 NW 21st
NON-FICTION
If you got ensnared by the silent psychosexual mysteries of Olivier Assayas' masterful Personal Shopper, his latest is a bit of a cold, chatty fish. Set amid a Parisian world of self-centered authors, publishers, and actors, Non-Fiction uses the crisis of declining book sales and the rise of audiobooks and e-readers as a metaphor, or something, for the fickle vagaries and vicissitudes of love. Anchored by two married couples (Guillaume Canet, Juliette Binoche, Vincent Macaigne, Nora Hamzawi) who wander in and out of fidelity, Assayas' script is a series of dinner parties and bedroom encounters, in which everyone laments the lack of human connection as we increasingly rely on technology—something Non-Fiction undercuts with irony, as it is, in practice, a non-stop series of face-to-face conversations. It's all very witty and wry, even if it evaporates on impact. Sun March 10, 5:45 pm, Cinema 21, 616 NW 21st
VALLEY OF SHADOWS
Norwegian director Jonas Matzow Gulbrandsen's debut feature is a gorgeously shot mood piece about a small boy (Adam Ekeli) looking for a lost dog in a dark Norwegian forest. At home, his mother (Kathrine Fagerland) is coping, badly, with the estrangement of his violent, drug-addicted older brother, while the neighboring farmers are dealing with a sheep-devouring wolf. Relying on horror and folk-tale elements, the director and his brother, cinematographer Marius Matzow Gulbrandsen, conjure a series of misty, crepuscular vistas captured on 35mm—you won't see a better-looking film this year. There's a real emotional resonance to the story, too, told through child-logic and somnambulant sense-memory. While
Valley of Shadows
's quiet destination might disappoint seasoned genre fans, it gave me shivers. It's simply stunning.
Screens with the short film
Circle
. Sun March 10, 8:45 pm, Cinema 21, 616 NW 21st
Sponsored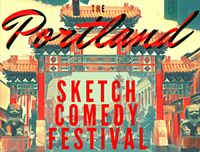 Sketch comedy troupes from all over N. America descend on The Siren Theater for 3 glorious nights.