In the public discussion that's risen from the fatal January
shooting of Andre Gladen
by a Portland cop, there's one question that's risen above the rest: Whose knife was found at the scene of Gladen's death?
New investigative files from the Portland Police Bureau (PPB)—made public this afternoon—help bring that answer more into focus.
Gladen, a 36-year-old Black man who was diagnosed with schizophrenia, was shot by PPB Officer Consider Vosu on January 6 after he refused to leave the front steps of house in Southeast Portland. The man living at the address, Desmond Pescaia, only called PPB to the scene after trying to offer Gladen—who appeared on his porch in a state of mental distress—cash to pay for a MAX ticket and water. Pescaia called 911 after Gladen refused to leave and appeared to have fallen asleep on his front steps, according to Pescaia's followup interview with PPB.
When Vosu arrived at the house, Gladen began pounding on Pescaia's door, asking for his protection. Pescaia opened the door holding a "club" (later identified as a two-foot-long tree branch), to defend himself from Gladen. According to Pescaia, Gladen forced his way past Pescaia's house and fell backward on the floor, with Vosu chasing after him. Vosu attempted to handcuff Gladen, but Gladen "broke free," prompting Vosu to tase him. Gladen appeared unaffected by the shock.
Pescaia then recalls Vosu shouting, "Stand down or I will shoot."
"[Gladen] didn't listen and rushed your officer and...Three pops went off," Pescaia said in the transcribed interview with PPB detective Rico Beniga. That's when Pescaia saw the knife.
"Did you see where this individual... pulled it from?" asked Beniga.
"No I did not," Pescaia responded. "All I saw was him drop the knife on the ground and then he went down."
He described the knife as black and six inches long with a hole at the end. In interviews following Gladen's death, his family members insisted the knife did not belong to Gladen, who was legally blind (but able to make out general objects in daylight).
PPB officers, however, were quick to identify the knife in followup interviews included in the bureau's case file.
"It's a dagger that I carry, I'm super familiar with it," said Officer Justin Raphael, the first officer to arrive at the scene after Vosu announced he had shot Gladen on the PPB radio.
Officer Josh Letter, who showed up shortly after Raphael, said the same.
"Basically it's the knives that we carry," said Letter. "A lot of officers… can pull [it] out of a pocket really quick just by grabbing it with a finger."
In another followup report, Detective Erik Kammerer explains that he took photos of all weapons and Vosu himself shortly after the shooting.
"During the initial photographs of Officer Vosu, I noticed his Taser holster was empty, and a knife sheath attached his to external vest carrier appeared empty," Kammerer notes.
It's unknown if Vosu had a knife in that sheath before arriving at Pescaia's house. But the fact it was missing after Gladen's death is noteworthy.
PPB detectives took a DNA swab from the knife, but the results have yet to be made public.
At a February 22 press conference, Gladen's family members rejected the notion that a legally blind man would be able to see and grab the knife from Vosu's body. Gladen's sister Donna Martin told reporters that she was shocked by Vosu's "extreme and unnecessary" actions.
"For a blind man to not be apprehended without the resolution being death is shameful," said Martin. Gladen's family is expected to sue PPB and the city for Gladen's death.
A Multnomah County grand jury determined in February that Vosu's shooting was a "lawful act of self-defense," and that he should not be criminally charged. According to PPB, Vosu has since returned to regular duty.
Sponsored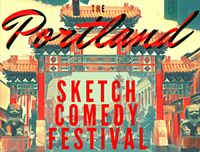 Sketch comedy troupes from all over N. America descend on The Siren Theater for 3 glorious nights.