The family of Andre Gladen, the 36-year-old Black man fatally shot by a Portland officer on January 6, met with Portland's top officials this morning in hopes of answering the many questions surrounding Gladen's death. But the hour-and-a-half meeting with Mayor Ted Wheeler, Portland Police Chief Danielle Outlaw, Commander Mike Krantz, and City Attorney Tracey Reeve left the family's questions unresolved.
"The questions you have, we have as well," Andre's sister Donna Martin told reporters after the meeting. "We want to plant the seed."
Gladen, who was diagnosed with schizophrenia and was legally blind, was fatally shot by Officer Consider Vosu after a series of events ending in a scuffle during which, according to Vosu, Gladen pulled out a knife. According to witnesses, it was clear Gladen was suffering from a mental health crisis at the time of his death. Gladen's family rejects the narrative that Gladen ever possessed a knife, especially not the tactical knife found on the scene that's regularly used by police officers. A Multnomah County grand jury cleared Vosu of any criminal charges earlier today, ruling that Vosu had acted in self-defense.
Martin and four other family members traveled from Sacramento for the meeting. They wore matching white outfits to Portland City Hall, each emblazoned with Andre's name. Martin said her family is still anxious to know why officer Vosu was working solo the day he encountered Gladen, who the knife belongs to, and why Vosu didn't try harder to deescalate the situation before shooting Gladen.
"This happened to him because of lack of training," said Martin. "Andre was disabled. But, whether you see a disability or not, it shouldn't impact what officers do to you."
It seems family members know more about the details of Andre's case than the leaders they met with.
"I was surprised to hear they didn't know a lot of the information the family had," said Tim Volpert, one of the attorneys representing Andre's family.
Volpert said Wheeler and Outlaw were sympathetic to the family during the meeting, and acknowledged the systemic problems that accompany the country's high number of police shootings involving African Americans.
"They listened. They're operating in good faith," Volpert said.
It will take several weeks for the county to make Vosu's grand jury transcripts public—a resource that may help answer some of the family's questions. In the meantime, Volpert said he and fellow Gladen attorney Andrew Stroth are exploring the option of filing a wrongful death lawsuit against the city for Gladen's death.
Before leaving, a reporter asked Gladen's mother, Donna Gray, how she felt when leaving the meeting.
"Same way I went in," Gray replied. "Angry."
Sponsored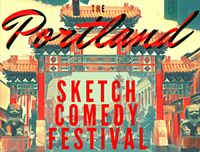 Sketch comedy troupes from all over N. America descend on The Siren Theater for 3 glorious nights.