The NW Film Center's Portland International Film Festival (PIFF), which
kicked off last week
, rolls along through this week and into next. Here's a quick peek at some of the films screening over the next few days (the best ones are starred), and we'll have more of these brief reviews as the fest continues. You can also scope the full PIFF lineup
here
.
Before I get into what I've actually seen, I want to take a moment to talk about a couple PIFF films I haven't seen—at least, not yet. I was remiss about screening in advance many of the documentaries in this year's lineup, and this week, PIFF's got two really interesting-sounding ones that Portlanders will want to check out.
Our Bodies, Our Doctors is a documentary from Jan Haaken, professor emeritus of psychology at Portland State University. It's a look at the work abortion providers do in the face of protests, stigma, and blatant disinformation, and assesses the value they provide not just to the women under their care but to society at large. It premiered last Friday on International Women's Day, but will have a second screening on Tuesday, March 12 at 6 pm at the Portland Art Museum's Whitsell Auditorium (1219 SW Park). Check out the trailer below:

Meanwhile, Afghan Cycle, from Seattle director Sarah Menzies, explores the recent phenomenon of women riding bicycles in Afghanistan, a country where women are discouraged from driving cars. While they also experience repression as cyclists, Menzies' film follows a number of women who have made bikes a part of their life—for basic commuting necessity, for the fun of competition, and simply for the freedom it represents. It screens Tuesday, March 12 at 6 pm at Cinema 21 (616 NW 21st), and again on Friday, March 15 at 8:30 pm at Regal Fox Tower (846 SW Park). Here's the trailer:


---
Now, on to the stuff I
have
seen:
THE LOAD
Set during the Kosovo War as NATO allies bomb Serbia, The Load is a bleak story of dirt, grime, and grease. Vlada (Leon Luček) is driving a truck loaded with mysterious cargo north to Belgrade, but in a disintegrating country, maps are useless and major roads are to be avoided. Vlada has suspicions about what's in the back of his truck—and so do we—but he's grimly determined to simply get the job done so he can bring the money home. As miserable as it sounds, The Load is beautiful in its gravelly grayness; there are countless movies about surviving made-up apocalypses, here's one about what it's like to drive through a very real one. Mon March 11, 3:30 pm, Regal Fox Tower, 846 SW Park
RAY & LIZ
The tactile sensations of memory are front-and-center in the autobiographical
Ray & Liz
, a cinematic look at English photographer and director Richard Billingham's parents, informed by Billingham's still photographs of his family. Their unpleasant lives of abject poverty, tinted by cigarette smoke and homemade hooch, make this one a tough sit, and the 16mm cinematography, rather than soften the story's harshest elements with nostalgia, amplifies them with oppressive, deliberate graininess. Told in two big episodes with a third framing device depicting Ray's late-in-life descent into alcoholism and functionless-ness, the movie puts you inside of this world in a way few movies can manage. It ends up being gasp-inducingly beautiful, in its own miserable way.
Mon March 11, 6 pm & Sun March 17, 8:30 pm, Regal Fox Tower, 846 SW Park
HOTEL BY THE RIVER
This black-and-white chamber piece from Korean director Hong Sang-soo isn't really about anything in particular: An elderly poet invites his two adult sons to visit him at a hotel, where they politely hash out their grievances. Two young women are also staying at the same hotel, where one is getting over a breakup. The two parties' paths intersect, very briefly, but otherwise they remain separate in a talky, stagy movie whose aimlessness, charming at first, eventually betrays its tossed-off nature. (The prolific Hong, who averages two films a year, shot Hotel by the River in 17 days, a statistic announced in a Godard-esque voice-over at the film's start.) Tues March 12, 6 pm, Cinemagic, 2021 SE Hawthorne; Thurs March 14, 3:30 pm, Cinema 21, 616 NW 21st
WOMAN AT WAR
A chorus teacher, Halla (Halldóra Geirharðsdóttir), is also Iceland's most notorious eco-terrorist, and we follow her skulking around the countryside and taking out the country's power lines, in protest of the government's alignment with the foreign interests that are plundering Iceland's natural resources. It's a fun, funny movie whose two extended sequences of Halla in action are suspenseful and terrific—Jóhann Sigurðarson as her accomplice (and possible cousin) steals every scene he's in—but the rest of the movie sags slightly in comparison. A subplot about Halla's identical twin sister also feels like a bit of a reach. But there's a lot to like here, including the musicians and singers who appear onscreen, providing a live soundtrack and wry visual commentary. Tues March 12, 8:30 pm, Cinema 21, 616 NW 21st
CHAINED FOR LIFE
Equally fascinating and frustrating,
Chained for Life
is a post-modern exploitation film that feels like a bunch of intriguing ideas straining to cohere into a thesis. Taking cues from Todd Browning's
Freaks
, Werner Herzog's
Even Dwarfs Started Small
, and a 1952 movie also called
Chained for Life
, it satirically depicts the filming of an independent horror/thriller/exploitation movie with a cast of actors who have disabilities or physical differences. (The Herzog stand-in is played by former child actor Charlie Korsmo, in his first film role since 1998's
Can't Hardly Wait
.) The movie's conventional-looking leading lady (Jess Weixler,
Teeth
) and leading man (Adam Pearson, the actor with neurofibromatosis who appeared in
Under the Skin
), while being treated very differently by those around them, discover they have a lot in common. But it's not always entirely clear whether we're watching "real life" or the deliberately tasteless film-within-a-film, making for an unsettling and unfocused experience. That's probably the point; at the very least,
Chained for Life
raises some worthwhile topics.
Wed March 13 & Thurs March 14, 8:30 pm, Whitsell Auditorium, 1219 SW Park
TOO LATE TO DIE YOUNG
In this gentle, sun-faded coming-of-age story, Chilean director Dominga Sotomayor balances several interesting ideas without lingering too long on any of them or hammering them home. It's set in the aftermath of the Pinochet regime, in an isolated bohemian commune of artists and musicians in the hills above Santiago. While obtaining necessities like water and electricity are facets of day-to-day existence, this is a world of sensual pleasures and easy living. Naturally, 16-year-old Sofia (Demian Hernández) is bored to tears by all of this languorous liberty, and the film gracefully captures that frustrating sensation of being smack dab in between childhood and adulthood. Too Late to Die Young's aching blend of sensation and memory is as effective as Roma's; there's even a New Year's Eve wildfire to consolidate the comparison. Wed March 13, 8:30 pm, Cinemagic, 2021 SE Hawthorne
AMATEURS
PIFF's opening night selection (screening again this Thursday) is a Swedish comedy about the residents of a small town hoping to entice a large German superstore into opening a local branch. The parallels to Walmart—and the familiar plight of so many American towns—are undeniable, and Amateur's central themes might initially seem a little stale to US viewers. But the movie's strength is that it's told from the perspective of citizens who are immigrants or descended from immigrants, adding a dimensionality that complicates the issue. Eventually, though, those complications end up overwhelming Amateurs, which ends up unfocused and inconclusive. It doesn't help that a lot of the movie is taken up by footage of an attempted promotional film for the town made by two of its teenaged residents, whose wide-eyed idealism (and shaky camerawork) wears thin quickly. Thurs March 14, 6 pm, Regal Fox Tower, 846 SW Park
ASH IS PUREST WHITE
Director Jia Zhang-Ke's Ash Is Purest White is a gangster epic interrupted. Qiao (Zhao Tao) is the girlfriend of mobster Bin (Liao Fan), and the insular, unstable underworld of the northern Chinese city of Datong is their oyster. It's a life of cigarettes and mahjong, mostly, but eventually Bin's power is challenged, in a scintillatingly choreographed fight scene that will tear the top of your head off. The rest of the movie is much more subdued, as Qiao spends close to two decades roaming a culturally and economically changing China, trying to figure out where she belongs. It's far more poetic and surprising than that sounds—and it's occasionally daffy, too, with a UFO making a split-second appearance—and Zhao's performance, as a chameleonic survivor, is exceptional. Thurs March 14, 8:30 pm, Cinema 21, 616 NW 21st
Sponsored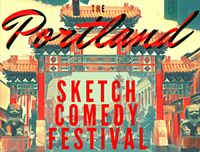 Sketch comedy troupes from all over N. America descend on The Siren Theater for 3 glorious nights.