A police use-of-force case stemming from one of the first Portland protests of the Trump era has finally landed before a jury—and its result could set the tone for inevitable police clashes with protesters to come.
Tuesday was the first full day of trial for Margaret Zebroski's case against the City of Portland.
Zebroski, a 67-year-old retiree, left a protest on February 20, 2017 in handcuffs after a police officer suspected she was trying to interfere with another protester's arrest. Zebroski says she was only trying to help an elderly friend, who fell down while trying to follow officers' orders. In the process of arresting Zebroski, Portland Police Bureau (PPB) Officer Adi Ramic pressed her head against the street with his knee, breaking her nose in the process.
While the criminal charges against Zebroski were eventually dropped, the physical and emotional suffering incurred by the incident drove her to file a lawsuit against the city for the officer's abuse, asking for $200,000 in damages.
"Two years later, her nose has healed and her bruises have healed. What hasn't healed is her emotional trauma," said Frank Weiss, Zebroski's lead attorney, during his opening remarks in Multnomah County Circuit Judge Judith Matarazzo's courtroom. "She still participates in protests, but she's very wary about police. Her ability to speak out for what she believes in has been compromised."
This week's trial will determine whether or not Ramic's actions were excessively violent.
Weiss said Ramic's actions go directly against PPB training. Attorneys representing the city, however, defended Ramic's actions in court, saying that Portland's atmosphere of frequent protests following the 2016 Presidential election put extra stress on police.
"Police had a difficult balancing act," said J Scott Moede, the city's attorney, "they were balancing civil rights with public order."
Moede said Zebroski was only injured because she wasn't following police officer instructions. Ramic's recollection of the incident, which seemed to change after viewing videos of the protest, reflected more remorse.
"There was a lot going on that day, it was an unnerving situation," Ramic said in court. "I truly feel bad, I did not intend to hurt her."
Here is second encounter. Police roughing up people on sidewalk, pepper spraying one in face. #notmypresidentsday pic.twitter.com/N08DFzKca1

— doug brown (@dougbrown8) February 20, 2017
Much of the trial has been informed by cell phone videos and photos taken the day of the demonstration, which was held to protest the fatal February 9 shooting of Quanice Hayes, a Black teenager, by a Portland cop. The clips, taking by police, activists, and journalists (like former Mercury reporter Doug Brown), help jurors piece together the actions leading up to Zebroski's arrest.
Several videos show Zebroski standing in the middle of SW 3rd Ave, holding a "Don't Shoot Portland" banner alongside fellow protesters. Few cars pass the group—the February 20 event aligned with Presidents' Day, accounting for minimal traffic in downtown Portland. Zebroski was part of a bigger group of fifty to sixty protesters that day, some on the sidewalk, others in the street, chanting, "Say his name, Quanice Hayes" and holding signs.
Not long after, PPB officers made an announcement over a loudspeaker, ordering protesters to clear the road—or face arrest. As defense attorney Moede pointed out Tuesday, Zebroski did not leave.
Asked why, she explained, "I wanted people in our community to know about this," referring to Hayes' death. Zebroski said she "certainly" knew she was at risk of being arrested.
According to Zebroski's testimony, she decided to leave the street when a van of armored police was called to the scene. Zebroski says she was familiar enough with Portland protests to know that when "riot cops" show up, it could get dangerous. In videos, Zebroski's seen stepping back onto the sidewalk.
Zebroski said that's when she saw her 75-year-old friend Beverly Swan topple over while trying to leave the street. "I don't know if they were trying to arrest her or what," Zebroski said during Tuesday's court questioning. "All I know is that my frail friend had been knocked down."
Zebroski then leapt off the sidewalk and rushed to help Swan up. As she reached out to grab Swan, Zebroski said Ramic dragged her away and pinned her lying facedown on the street. In videos, Ramic is seen clearly placing his knee on Zebroski's head.
"I kept saying, 'You're hurting me, you're hurting me," Zebroski said in court. She said Ramic forcefully pushed her face into the wet cement, causing her skewed glasses to press up against her nose, fracturing it in the process.
Ramic, however, has a different story. Responding to questions pitched by Michael Willes, another attorney representing Zebroski, Ramic said he believed Zebroski was trying to keep PPB officers from arresting fellow protester David Carlson. He saw her arms reaching out at officers, as if to pull them away from Carlson.
(Zebroski said she was reaching out to pluck Swan from the chaotic crowd, and wasn't aware that Carlson was being arrested nearby.)
That suspicion was enough to convince Ramic that Zebroski needed to be pinned on the ground.
"If it was up to me, I would not use any force against a suspect," said Ramic. "Unfortunately, it's up to the other person how much resistance they give me."
Yet, Ramic said Zebroski did not resist arrest.
Ramic said he intended to place his knee on Zebroski's shoulder, not her head. But, he told Willes, when he turned his body to look over his shoulder—believing there were protesters tapping him on the head and back—he unintentionally put all his weight onto Zebroski's head. Videos show there were no protesters standing behind Ramic at the time.
After seeing videos taken from the protest, Ramic said he sees the incident a bit differently.
"It was a high-stress, chaotic situation," Ramic said. He said he felt threatened by protesters who were cursing at him and flipping him off.
"Did you see any acts of violence being committed?" Willes asked.
Ramic said he didn't.
"I believe the worst thing [the protesters] did was stand in the middle of the street and block traffic," Ramic said.
The trial continues Wednesday morning at 9 am.
Sponsored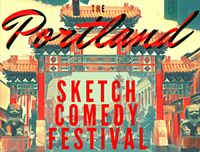 Sketch comedy troupes from all over N. America descend on The Siren Theater for 3 glorious nights.