Tusitala "Tiny" Toese made his first court appearance Monday morning, six months after leaving the county to avoid arrest for a 2018 assault.
Sponsored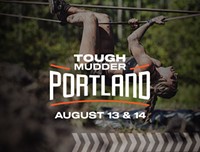 Lock in your summer adventure, Portland. Join us for world famous obstacles over a 5K or 10K distance.
Toese is an avowed member of the Proud Boys—the national alt-right group—and Patriot Prayer—the cadre of far-right agitators based in Vancouver, WA. Toese, 22, has been a violent staple in Portland's alt-right protest scene over the past few years—and he's got a criminal record to match it. In June 2018, Toese was arrested for allegedly hopping out of a truck and, with the assistance of fellow Proud Boy Donovon Flippo, punching Portlander Tim Ledwidth.
Toese and Flippo were indicted in February 2019. While Flippo pled guilty and served eight days in jail, Toese fled Washington for American Samoa. He didn't return until Friday, October 4.
Toese was met at the Portland International Airport by law enforcement around 10:30 pm Friday. He was released on bail later that night.
At Monday's arraignment hearing, Toese pled not guilty to two charges—assault in the third and fourth degrees. County Circuit Court Judge Ryan Thomas told Toese he was prohibited from interacting with both Ledwidth and Flippo while the case played out. Ledwidth attended the morning's hearing, sitting quietly in the courtroom's back row.
Toese was also ordered to remain in Clark County, WA. He will next appear in court for a pre-trial hearing on November 25.
Outside the courtroom, Toese told reporters that it felt "good" to be back in Portland and rattled off a Proud Boy screed with a smile: "I'm a proud western chauvinist and I refuse to apologize for creating the modern world."
Sponsored
Virtual Auction Event & Drag Queen Fashion Show. You won't want to miss this show!