According to multiple reports from friends and collaborators on social media, multi-instrumentalist, writer, and recording engineer Lauren K .Newman has died at the age of 41.
Sponsored
Sketch comedy troupes from all over N. America descend on The Siren Theater for 3 glorious nights.
A fixture of the Portland music scene since relocating here from Pensacola, Florida, Newman juggled multiple musical projects including her one-woman post-rock project LKN, the improvisational metal duo Palo Verde, experimental ensemble Painted Debris, and noise rockers Lonesome Traveler. Along the way, she also contributed articles to Larry Crane's Tape Op magazine, and handled the engineering, mixing, and mastering of both her own music and that of several other local bands.
The cause of Newman's death is not yet known, and, according to her older brother Jamie Newman, there likely won't be an answer to that question for another five months. All that her family and former bandmates could confirm was that she had been dealing with health problems, specifically advanced Crohn's disease, since she was a young kid. And according to her collaborator and friend Conan Neutron's recent Facebook post, her health was getting worse recently, but she kept quiet about it as she "didn't want to be seen as a 'musician with a disability.'"
Lauren Newman was born in 1978 near Homosassa Springs, Florida. She was the youngest child of Jim Newman, a musician from Connecticut whose former band the Checkmates played around the Northeast during the '50s and '60s. Her father fed she and her older brother Jamie a steady diet of rock music, including gifting them records from the Beatles, Pink Floyd, and the Who. He also passed down an inherit musical talent. As Jamie remembers, when she was about five years old, Lauren was having a temper tantrum and, to get her anger out, she grabbed a pair of chopsticks and started banging out a rhythm on the floor. "Our dad saw that," Jamie says, "and was like, 'We've got a drummer here!'"
From then, Lauren graduated to a proper drum kit at age seven, and one year later, decided to start messing around with her brother's guitar. By 10, according to Jamie, "she was bad as fuck and everybody knew it." Entirely self-taught, she would learn by listening to her favorite records repeatedly and trying to replicate what she heard. "By the time she was 11 or 12," Jamie says, "she could play all of Eddie Van Halen's solo on 'Eruption,' and she sounded pretty damn good!"
Lauren eventually moved to Portland in 1999, clocking it as the ideal place where she could play music regularly and start making records. It didn't take long for her prodigious talent and drive to get noticed here, as she was soon playing shows regularly and finding her way into doing studio work, helping record her LKN albums and doing some work behind the boards for other local musicians.
It seems that everyone that got to see her play music, either leading LKN or backing up other musicians, were instantly awestruck by her talent and presence. Conan Neutron saw her for the first time about 12 years ago when his former band Replicator played a gig at Ground Kontrol with the first incarnation of Palo Verde.
"I was like, 'What universe did she just teleport in from?'" Neutron remembers. "She was such a powerhouse of a musician."
The two stayed in touch after that, playing shows together whenever Neutron was touring through Portland, and eventually working together on a new project called Household Gods, which also featured former Slint guitarist David Pajo and Unwound bassist Vern Rumsey. Their album, recorded near Joshua Tree, CA earlier this year, is finished and Neutron is pushing to get it out before the end of the year.
"I'm excited about this record," Neutron says, "but it kills me to know that she won't be around to reap the rewards of this. I felt like this was going to be huge for her, and that people were finally going to get to hear what a world class talent she was. It always seemed like she was one big tour away from everyone freaking the fuck out about her. She never caught that break."
Lauren is survived by her older brother, Jamie, and four half-siblings from her father's first marriage.
[Editor's note: this post was updated on Thursday, December 5 to include new information and quotes from Lauren's brother and Conan Neutron.]
Sponsored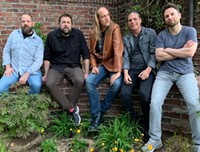 Rediscover the sounds of RUSH through The RUSH Collective - This Friday, June 24 at The Doug Fir.