Oregon's under a "stay at home" order in the wake of COVID-19. The only problem: It's not immediately clear what that means.
Sponsored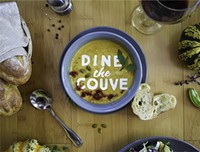 Experience the bounty of northwest flavor with special menus at Clark County restaurants all month.
"We are standing here together on the eve of spring break with a very important message for Oregonians," said Gov. Kate Brown at a Friday press conference, joined by Portland Mayor Ted Wheeler and Multnomah County Chair Deborah Kafoury. "Social distancing done well and done early saves lives. We have agreed on a plan called 'stay home, stay healthy,' which is both an order and a public awareness campaign."
The three leaders stressed that "stay at home" is not the same as "shelter in place," a term that's traditionally used during an earthquake or hurricane—when people need to stay indoors immediately for a short period of time. More recently, it's a term that's been used by states like California and Illinois in executive orders directing people from leaving their homes for non-essential activities to prevent the spread of COVID-19.
According to Oregon officials, "stay at home" is essentially the same thing.
"I want to emphasize, this is not a lockdown," said Wheeler. "This will be a 'stay at home unless its absolutely necessary' order."
Kafoury went on to explain that the term means no parties, no lingering in crowded check-out lines, no hiking on crowded trails, no group games like frisbee or soccer, and no clustering in public parks. But people can continue to go to the grocery store, pharmacy, workplace (if their job is considered essential), and get outside to go for a jog or bike ride.
But no officials made a clear declaration on whether or not they were ordering Oregonians to follow this guidance—or just strongly suggesting it.
Wheeler said that all three leaders will work together this weekend to come up with an official order to announce Monday that will clarify the "stay at home" declaration. But Wheeler signaled that, if Brown wasn't going to commit to a statewide order by Monday, the city was prepared to release its own already-drafted order.
"The City of Portland is prepared to act independently," said Wheeler. "But would would rather not. We would rather act with a larger group of jurisdictions coming into alignment."
Kafoury said law enforcement won't be enforcing their current "stay at home" rules.
"We are not going to deploy public safety to police people in the homes," said Kafoury.
Despite prodding from reporters (and the urging of several Oregon medical and hospital associations), Brown wouldn't say whether or not she'd commit to stricter shelter in place rules. Her reasoning was unclear.
"The reason why I am here tonight is that Oregonians need to hear that they need to take this seriously and they need to act urgently," said Brown. "In the coming days there will be additional orders on a variety of issues."
Sponsored
This 9th floor patio boasts stunning views of the city, three mountains, and Portland's West Hills.