As we start a new week, let's take a deep breath and meditate on our many blessings... LIKE TWITTER! Okay, fine—Twitter is mostly a rotting garbage pile of white male privilege... but occasionally it produces some hilariously sweet tweets,
LIKE THESE!
Sponsored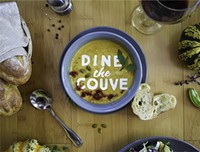 Experience the bounty of northwest flavor with special menus at Clark County restaurants all month.
Today in "Maybe I will book a flight after all" news:

When your coworkers make the most out of still having to work. #TikTok #GetLooseChallenge #EssentialWorkers 💜 pic.twitter.com/Pnpb23L3OA
— C.J. (@TheCurtisJr_) April 3, 2020
Today in "Well, I knew there had to be a rational explanation" news:

The only demons under your bed... pic.twitter.com/pLlxrL31W7
— Rex Chapman🏇🏼 (@RexChapman) April 4, 2020
Today in "SWIPER, NO SWIPING" news:

Never leave your phone near a Fox pic.twitter.com/S0XRInmsbn
— Reinaert (@PluizigeVos) April 5, 2020
Today in "Thumbs up to this" news:

Ok is it the quarantine or are the thumb thumbs hot pic.twitter.com/91GKP7AWd2
— t-pleasure (@jasmynekeimig) April 4, 2020
Today in "cavorting baby goat porn" news:

Monday Goativation pic.twitter.com/2HBdxdo03D
— Oregon Zoo (@OregonZoo) April 6, 2020
Today in "BEER'S HERE!" news:

In case anyone needed to see this RN pic.twitter.com/NBhANE8CUf
— Social Distance Theen 🚎🚘🚲🚃🚦 🏀 (@andrewtheen) April 4, 2020
Today in "I'm definitely bathrobe & paint roller" news:

Choosing your quarantine character 🍾👏😂

pic.twitter.com/tgsQfH1ZIZ
— Danielle Baskin (@djbaskin) April 5, 2020
Today in "WAIT FOR IT" news:

I don't know who this is, but he's made my day. pic.twitter.com/g5x1kMQlMJ
— William Crawley (@williamcrawley) April 5, 2020
Today in "rodent jealousy" news:

Quarantine, day 14. Me and my boyfriend spent the whole day setting up an art gallery for our gerbil. pic.twitter.com/kswEukLc7s
— A happier day (@AHappierDay) April 6, 2020
And finally, today in "how to get closer to your neighbors" news:

my love affair with my neighbors pic.twitter.com/Xfl2aSob0P
— Eva Victor (@evaandheriud) April 6, 2020
If you like this and our other A++++++ content, please consider donating to the Mercury to keep us around!
Sponsored
This 9th floor patio boasts stunning views of the city, three mountains, and Portland's West Hills.