It's official: Mingus Mapps, a former political science professor and former city employee, will be facing incumbent City Commissioner Chloe Eudaly in a November 3 runoff election.
The primary votes for City Commissioner, Position 4 were roughly divided in thirds between Eudaly, who gained 31.29 percent of all votes; Mapps, with 28.58 percent; and former Portland mayor Sam Adams, who collected 27.73 percent. Adams conceded Wednesday evening after updated election results, reflecting nearly all ballots, placed him squarely in third place.
Sponsored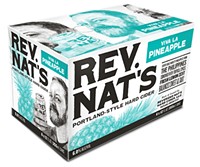 No-fee, same-day delivery of Rev Nat's Hard Cider & Old Town Brewing throughout Portland Metro
The remaining competitors are now left with a clear goal for the next five months: Win over the 57,000 Portlanders who voted for Adams.
That work has already begun. Not long after the Wednesday evening results rolled in, both Eudaly and Mapps had posted similar messages identifying their similarities with Adams online.
From Eudaly's Facebook account: "Dear Portland, earlier this evening Sam Adams called me to concede the race. While I was surprised that he chose to run against me, I want to commend him for running a positive campaign. He's obviously still full of energy, ideas, and love for our city. We share many of the same values, albeit different approaches to policy making."
And from Mapps' webpage: "Although Former Mayor Sam Adams and I have our differences, we share a very similar vision for the future. One that is inclusive, not divisive, that is collaborative, not partisan, one that is evidence based, not gut based."
Mapps entered the race in September 2019, riding a wave of resentment by neighborhood association leaders upset with proposed changes to the Office of Community and Civic Life (OCCL), a city bureau which Eudaly oversees. Under Eudaly's guidance, OCCL was preparing to grant other community groups outside of neighborhood associations the same powers neighborhood associations have historically held in City Hall. In short, groups organized by race, culture, age, subject matter interest, or other identifying factors could be asked to give input on city issues the same way that location-based neighborhood groups currently are allowed. Neighborhood associations felt like OCCL and Eudaly's office intentionally excluded their input from this decision—and Mapps, who previously ran the OCCL's neighborhood program, agreed.
Mapps was fired from OCCL in June 2019, after only six months on the job, a result of what he says was a managerial disagreement. When he entered the city council race months later, he was quickly defined as the anti-Eudaly for his promise to "end the war on neighborhood associations."
When Adams joined the race in January, he also came in criticizing Eudaly's handling of the OCCL, and used his longtime support by neighborhood leaders to accelerate his late arrival in a contested race. Mapps said the clear support of both his and Adams' messages during the primary race—as reflected in the results—show that Portlanders are eager for their proposed changes.
"Commissioner Eudaly is a talented politician and... I take her very, very seriously," Mapps told the Mercury Thursday. "At the same time, the fact that 60 percent of Portlanders didn't vote for the incumbent shows that people want change. In many ways, Sam and I were pitching similar messages with our evidence-style type of leadership. That approach to government and leadership is more important than ever."
Mapps said he has plans to grab a "virtual coffee" with Adams in the immediate future to discuss ways his campaign can integrate some of Adams' policy proposals. Mapps is confident the collaboration will steer Adams supporters his direction.
"This race isn't about one person's ideas," he said. "It's about working together to create a strong platform of ideas. And Sam has a lot of those."
Eudaly is also convinced she can pin down Adams voters.
"I think that Sam and I split quite a bit of the vote," Eudaly told the Mercury Wednesday. "We have a lot of friends in common, we are parts of the same social circles and communities, and we're both more on the progressive end of the political spectrum. I do expect to garner his votes."
Both Adams and Eudaly have centered their careers in office around the arts. As mayor, Adams championed the city's arts tax to buoy arts programs in public schools and nonprofits. Eudaly, who was a leader in the local arts community before entering politics in 2016, has worked to strengthen the arts tax and other city-backed arts programs like the Regional Arts & Culture Council (RACC) as the city's Arts Commissioner. Eudaly believes this overlapping support—and the idea that she and Adams are both more politically progressive than Mapps—will keep Adams' fans in her court. Mapps, who identifies as a Democrat, has garnered the support of more conservative-leaning organizations, like the Portland Police Association and community groups like the Montavilla Initiative, which promote criminalizing the city's homeless community.
"This runoff is also a chance to define who I am relative to Mingus," Eudaly said. "I think there's an assumption with City Council being non-partisan and with Portland being a very progressive city that everyone who calls themselves a Democrat is progressive."
Eudaly said one of her top campaign goals is to lay to rest the assumption that she has "set out to destroy neighborhood associations."
"You can absolutely disagree with the process that we went through to [propose the OCCL change], but to claim that my intent is to dismantle that network is false," Eudaly said. "I simply want a bigger, better civic engagement platform that includes neighborhood communities. There is absolutely no reason why cities have to exclusively rely upon neighborhood associations for their engagement."
The proposed changes to group representation within OCCL have been put on hold until the city's response to COVID-19 becomes less of an all-encompassing priority. Meanwhile, Eudaly said, her office is working with the OCCL to create an online platform that would make it easier for city bureaus to request public feedback on city projects and proposals—and for members of the public to pitch their own proposals. That work goes hand-in-hand with the city's efforts to expand Portlanders' access to the internet, Eudaly added.
Adams has yet to announce an endorsement of either candidate, nor have the organizations who threw their weight behind him in the primary race (like SEIU Local 49 and other unions). In an email to his campaign supporters Wednesday night, Adams wrote that he congratulates both Mapps and Eudaly on their successes and "looks forward to their spirited race."
Despite their clear divisions, the two candidates share some basic similarities. Both Mapps and Eudaly represent populations that have been historically absent from Portland City Council. Eudaly is only the eighth woman to serve on City Council and is a renter. Mapps is an African American man. Both are single parents.
And both are facing the continued challenge of campaigning during a pandemic. Eudaly and Mapps say the next five months will focus on virtual campaigning, despite the planned reopening of the Portland region.
"Zoom meetings and election parties are here to stay," said Mapps. "This race has certainly taught us how to be resilient."
Eudaly said she's looking forward to the "breathing room" that comes with a race against just one other person, especially when her day job needs to hold priority.
"I'm excited about the creativity that the constraints of our current situation call for," said Eudaly. "I'm ready for it."