Mayor Ted Wheeler declared a state of emergency early Saturday morning in response to a Friday night protest that
involved looting and fires in downtown Portland
. The protest followed
a peaceful vigil
honoring the life of George Floyd, a Black man
killed by police
in Minneapolis this week.
Portland Police Bureau (PPB) declared it a riot late Friday night. Police arrested 13 people in connection to the protest, on charges of rioting, theft, disorderly conduct, and interfering with a police officer. According to PPB, two officers and one protestor sustained minor injuries, and at least one shooting occurred in connection with the protest.
At a press conference Saturday morning, Wheeler noted that the "scale of the damage" from Friday's protest was "not something we're familiar with here in Portland." He also acknowledged that the protest "did not happen in a vacuum."
"I don't condone what happened in Portland last night… [but] this isn't just about damage or graffiti or fires or broken storefronts or lost product," he added. "We have to honestly acknowledge that yesterday's events boiled over into anger and frustration and rage all across this great nation."
In a press release announcing the state of emergency, Wheeler also issued a curfew beginning 8 pm Saturday evening and ending at 6 am Sunday morning. The curfew prohibits people from traveling throughout the city, with exemptions for first responders and people experiencing emergencies or houselessness. Violations are punishable "by criminal prosecution," per the press release.
City Commissioner Jo Ann Hardesty strongly denounced the protest at the press conference.
"[The protest] was merely a small group of people who decided that, here's a great opportunity for us to steal stuff and break stuff. I want those people prosecuted," she said. "We can help Black people, but we don't have to destroy our city to do it."
Deputy Police Chief Chris Davis said Friday night "will go down in history as one of the worst nights in Portland," and noted that "in the coming days we'll be increase our police presence."
E.D. Mondaine, head of the Portland NAACP chapter, also denounced the protest's activities at the press conference.
"The self-concern, the casual destruction, and the self-righteous determination to put others in harm's way… does absolutely nothing to honor the legacy of George Floyd, or improve the systemic problems that led to his murder," he said. "To our non-Black allies, do not commit violence in our names."
Portland was one of many United States cities that had intense protests Friday night in response to Floyd's death.
You can watch the entire press conference here:
I want to remind you how yesterday started. It started with powerful and peaceful vigils and demonstrations. Calling out and speaking truth on the murder of George Floyd and many other black men and women.https://t.co/af5lS6il2b
— Mayor Ted Wheeler (@tedwheeler) May 30, 2020
Sponsored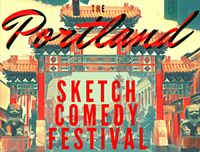 Sketch comedy troupes from all over N. America descend on The Siren Theater for 3 glorious nights.