Update, 12:28 am:
The crowd of protesters has thinned out considerably, with a small contingent of diehards remaining at the fence around the Justice Center. Some have been trying to provoke...something by throwing water bottles over the fence, but have been shouted down the peaceful protesters around them and admonished by the police loudspeaker.
Sponsored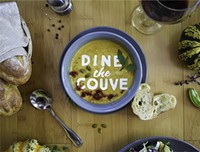 Experience the bounty of northwest flavor with special menus at Clark County restaurants all month.
The good news is that the protest was a calm one tonight—a welcome change after police indiscriminately tear-gassed the throng of people around the Justice Center (including our two reporters on the scene), arrested dozens of people, and nearly ran over a handful demonstrators a police cruiser yesterday evening.
We're going to call it a night here at Mercury HQ, but like the thousands of protesters that have taken to the streets over this past week, we'll be back again tomorrow.
---
Update, 12:07 am:
There are still hundreds of protesters holding strong at the Justice Center with no end in sight and nothing worrisome to report. At least, that was the feeling until the police made this announcement over their loudspeaker;
We are advising those in the crowd who are building a structure in Chapman Square that could be used to throw projectiles to stop now. There are children in this crowd.
— Portland Police (@PortlandPolice) June 4, 2020
Keeping a close eye on things.
---
Update, 11:25 pm:
The protesters clearly planned for the worst tonight (gas masks, umbrellas, leaf blowers), but they're doing what they can to make sure the demonstration doesn't reach to the levels of insanity that it did last night. Case in point:
Someone threw a water bottle over the fence and was immediately shut down. Self policing, best policing.
— Wm. Steven Humphrey (@WmSteveHumphrey) June 4, 2020
This moment could have escalated, the crowd "self policed" or de-escalated itself. pic.twitter.com/T9sWg1zkJb
— Sergio Olmos (@MrOlmos) June 4, 2020
---
Update, 11 pm:

Nothing much to report at this point. The Liason Officers have returned to the fence to talk with demonstrators. So far, the police have done nothing to disperse the crowd, but our reporters are noting that a chunk of the crowd have left the area. Things are... peaceful.
We've been at the fence for almost two hours. Both protesters and cops seem like they're waiting for something to happen.

Now that there's no curfew, do we do this all night? What's the exit strategy?
— Tuck Woodstock (@tuckwoodstock) June 4, 2020
In other news, someone set the contents of a dumpster on fire near 4th and Oak, providing Portlanders with a visual representation of what this entire year has felt like.
Elsewhere in Oregon, another protest against police brutality went down in nearby Happy Valley earlier this evening.
Just south of Portland, at least a thousand, probably more, marched through the streets of Happy Valley to protest police brutality. pic.twitter.com/hlMlmeoWfA
— Bradley W. Parks Ⓥ (@Bradley_W_Parks) June 4, 2020
---
Update, 10:24 pm:
Calm before the storm right now. Police loudspeakers reminded the protesters that there were children among them. KGW livestream showed PPB's Demonstration Liason Officers talking with the protesters at the fenceline. Pretty much a waiting game at this point.
Our Demonstration Liaison Officers had a productive conversation with some of the leaders of tonight's demonstration. We have no intent to engage demonstrators. Please stay peaceful.
— Portland Police (@PortlandPolice) June 4, 2020
Since she was probably too humble to share it herself, allow me (Robert Ham) to encourage you to read my colleague Blair Stenvick's beautiful op-ed about these ongoing protests and how police have responded to them. Here's a sample:
But last night, we saw the limits of this comfortable narrative of a peaceful protest. PPB fired off rounds of tear gas indiscriminately at large groups of protestors, only a handful of whom (if any) allegedly provoked the response. They fired from behind as people were running away. They roughed up a local journalist. They sped a vehicle through downtown streets so fast that they almost ran people over. To further exhaust an already tired metaphor, police officers made downtown Portland feel like a war zone—which is, incidentally, the opposite of peaceful.

I'd always assumed that the English word "peace" comes from the Latin word pax. But my friend Wikipedia tells me that we English speakers actually started using the word "peace" in the 1300s as a translation from the Hebrew word "Shalom." "Shalom" is most commonly known as a greeting that can mean both "hello" and "goodbye"—but it has a deeper meaning for people of faith. At its heart, "Shalom" means whole, complete, and of healthy body and mind.

If we take "peaceful," then, to not simply mean "without physical violence," but also "whole and complete," then we never had a chance at a peaceful protest. Because America—including and perhaps even especially Portland—is not whole or complete or healthy for Black people and other people of color.
---
Update, 10:06 pm:
Another large group of protesters have arrived at the Justice Center, adding to the numbers already there. As with the last few nights, it's just a standoff at this point—though a much brighter one as the police have installed huge floodlights that are illuminating the streets around the fence.
Our huge group had joined probably another thousand or so at the Justice Center. Feel familiar? After the 6th day, you bet. pic.twitter.com/3QPXScK3zy
— Wm. Steven Humphrey (@WmSteveHumphrey) June 4, 2020
And we've arrived. pic.twitter.com/CllCNeVPb7
— Wm. Steven Humphrey (@WmSteveHumphrey) June 4, 2020
While you're here, take a minute and watch this powerful testimony from one of the protesters, captured by journalist and friend of the Mercury, Sergio Olmos
Daviar wexler, his thoughts being out here pic.twitter.com/4ZN3iskVID
— Sergio Olmos (@MrOlmos) June 4, 2020
---
Update, 9:42 pm:
The group marching over the Burnside Bridge are turning around and heading toward the Justice Center to support the hundreds of protesters that are already gathering there.
Crowd turns left down 3rd by Voodoo doughnut. Huh. No line tonight. pic.twitter.com/IEcW1ksUt2
— Wm. Steven Humphrey (@WmSteveHumphrey) June 4, 2020
---
Update, 9:34 pm:
Watching protesters at the fence near the Justice Center talking to a cop on the KOIN livestream.
Police officer: "I don't want to hurt any of you guys but not everyone has good intentions."
Tweet from Portland Police is claiming that the group on 3rd and Jefferson is engaging in "criminal activity."
The march headed northbound on Naito is still peaceful. Thank you! However, criminal activity is now occurring with the second group which is on 3rd between Main and Jefferson. We are warning them to not tamper with fence and to not shine lasers at officers.
— Portland Police (@PortlandPolice) June 4, 2020
Meanwhile...
This just happened 🤣 pic.twitter.com/zLekTkMk78
— Psycho Killer 🔪 (@expectlettuce) June 4, 2020
---
Update, 9:19 pm:
The gathering at Waterfront Park has apparently split up, with some protesters heading home over the Morrison Bridge, another group going to the Justice Center, and another group heading to Burnside Bridge.
All lanes of Naito are filled as we move north to the Burnside. pic.twitter.com/5Qr90CVRR1
— Wm. Steven Humphrey (@WmSteveHumphrey) June 4, 2020
Marching to burnside bridge pic.twitter.com/OAvtj6iGH2
— Sergio Olmos (@MrOlmos) June 4, 2020
Meanwhile, another big protest is happening in Eugene.
Taking a moment of silence for victims of police brutality. pic.twitter.com/jaYjQUF7YA
— Gina Scalpone (@ginascalpone) June 4, 2020
---
Update, 9:08 pm:
The rally at Waterfront Park is breaking up, as they are encouraging protesters to go meet up with a group of activists marching over the Burnside Bridge. Stay tuned.
"We're heading to the Burnside Bridge to protect the activists who were attacked by cops last night. " pic.twitter.com/gI3SCYtNeX
— Wm. Steven Humphrey (@WmSteveHumphrey) June 4, 2020
---
Update, 8:45 pm:
E.D. Mondaine, president of the Portland NAACP chapter, is speaking at the waterfront now:
"I'm the president of the NAACP, but tonight I'm George Floyd." pic.twitter.com/4OgxWLIqcJ
— Wm. Steven Humphrey (@WmSteveHumphrey) June 4, 2020
Oh, look, the Clackamites (a genius term I just invented) are at it as well!
Clackamas pic.twitter.com/DQgNcBKtHu
— Joe Simons (@joesimonssays) June 4, 2020
Oh, and apparently there's a small demonstration happening in Pioneer Courthouse Square right now, too.
Update, 8:30 pm:
Waterfront VIBE CHECK:
Update: they're playing Kendrick and people near the speakers are singing and it's very wholesome. Meanwhile, protesters are still streaming into the grass and two queers near me are debating the merits of modern astrology.
— Tuck Woodstock (@tuckwoodstock) June 4, 2020
Here's a view of the crowd:
Speakers are in the upper left corner. pic.twitter.com/om4criiruc
— Tuck Woodstock (@tuckwoodstock) June 4, 2020
And a view of the speakers. There's apparently a much better sound setup today, so people can actually hear what the speakers are saying. And what they're saying is....
"We don't condone violence...by the cops. " pic.twitter.com/MK0jmszlVG
— Wm. Steven Humphrey (@WmSteveHumphrey) June 4, 2020
Update, 8:15 pm:
They've reached the waterfront! And it's such a lovely evening:
pic.twitter.com/BUCSa1Ii53
— Wm. Steven Humphrey (@WmSteveHumphrey) June 4, 2020
Important note from Tuck: "99% of protesters are wearing masks or bandanas. Consistent with other nights."
PS: Here's a screenshot from KGW's livestream, showing just how extensive the crowd was on the Morrison Bridge:
Update, 8 pm:
Our Alex Zielinski attended a press conference where PPB discussed which tools it uses during a protest, and why. The whole thread is worth a read, but here are the main takeaways:
Use distraction devices (flashbangs) if it's unclear who the threat is. Then riot control agents (smoke & gas) if all else fails. The explicit goal of all of these devices is, according to Schoenig: to "change behaviors."
— Alex Zielinski (@alex_zee) June 4, 2020
Meanwhile, tonight's crowd is starting to move off the Morrison Bridge, toward the waterfront:
March starting to wrap down the bridge ramp. Still can't see from one end to the other. pic.twitter.com/XhfhTmRB3v
— Tuck Woodstock (@tuckwoodstock) June 4, 2020
Update, 7:40 pm:
We're hearing that the march stretches from one end of the Morrison Bridge to the other. The crowd is paused on the bridge, doing chants and listening to speakers. Per Tuck, one speaker is talking the crowd through what it's like to be pulled over as a Black man. "Sir, put your hands up. Don't move. Let me see some ID. Why are you reaching? I fucking dare you to breathe."
"They didn't want us to read," the speaker adds. They didn't want us to write."
On the mic:"It's a lot of y'all who have never been asked to get on your knees and put your hands up. I'm going to ask you to get on your knees and put your hands up." pic.twitter.com/4RObmLyTVd
— Tuck Woodstock (@tuckwoodstock) June 4, 2020
Update, 7:30 pm:
The crowd marching from Revolution Hall has arrived on the Morrison Bridge:
Raise your voice pic.twitter.com/YjhxIF0ONh
— Wm. Steven Humphrey (@WmSteveHumphrey) June 4, 2020
They'll make their way to the waterfront next.
Looks like the same march leaders as last night. They're speaking to the crowd, who is paused on the east side of the bridge, and urging everyone to stay safe and stay together. pic.twitter.com/BcWOutFSOx
— Tuck Woodstock (@tuckwoodstock) June 4, 2020
Update, 7:02 pm:
We interrupt our previously scheduled Portland protest coverage to bring you this dispatch from Vancouver, Washington, courtesy of KOIN:
Peaceful protest happening right now at Esther Short Park in Vancouver, WA. pic.twitter.com/dWEgqQs5ni
— RICHARD ROBERSON (@lilRichienews) June 4, 2020
Update, 6:50 pm:
After a night of heavy police use-of-force, PPB calls for a peaceful protest:
As we start the evening of Day 6 of demonstrations, thank you to the thousands who have peacefully exercised their 1st amendments rights. We are here to support you and remain committed to helping you demonstrate peacefully. #OneCommunityPDX
— Portland Police (@PortlandPolice) June 4, 2020
Meanwhile, the ACLU of Oregon has sent a letter to Oregon mayors, city managers, and chiefs of police calling for an end to the use of tear gas, flash bangs, and other indiscriminate weapons against protesters.
"Tear gas, a weapon banned in war, has no business being used in our streets with such abandon as we have seen by officers throughout Oregon, especially in Portland, Eugene and Salem," reads the letter. "We have heard complaints of tear gas harm from a wide range of people, including media, legal observers, children and other peaceful protestors. We have also heard particularly alarming accounts of people in the unhoused community being hit with tear gas while they are sleeping. Police militarization is killing and severely injuring Black people. This must end."
Update, 6:35 pm:
Like last night, a crowd of thousands has gathered at the park by Revolution Hall in Southeast Portland. Their plan is to cross over into downtown—and this time, their final destination is the waterfront.
From the Oregonian:
Reports from @BlazerFreeman of a couple thousand people at Revolution Hall now listening to speeches. The plan, he said, is to march to the waterfront later. pic.twitter.com/x3NuidSFMB
— The Oregonian (@Oregonian) June 4, 2020
Our Mercury on-the-ground team is heading to the waterfront to meet up with the protestors.
Original Story:
Unless you've been quarantining in the woods with no internet or TV access, you should know by now that Portland—and other cities all across America—have seen massive protests against police brutality and racism this week, spurred by the police killing of George Floyd in Minneapolis.
We've been covering the last four nights of protests, which have been a mixture of inspiring, largely non-violent crowds, some looting and property damage, and a heavy police response. Last night, that police response seemed to reach a tipping point with indiscriminate tear gas and other troubling uses of force. Today, some members of Portland City Council criticized the Portland Police Bureau's (PPB) tactics, and suggested some reform measures.
Now, we're on to our sixth night of protests—and sixth night of protest coverage from the Mercury. Tonight, the Mercury's Wm. Steven Humphrey (Steve, if you're nasty) and freelancer Tuck Woodstock will be our eyes and ears on the ground, and Blair Stenvick and Bob Ham will be posting live updates here. Stay tuned!
Sponsored
This 9th floor patio boasts stunning views of the city, three mountains, and Portland's West Hills.