According to
a press release
sent tonight from Gov. Kate Brown's office, several counties who have applied for various phases of reopening are being put on hold for one week due to the recent uptick in coronavirus cases in the state. This includes Multnomah County which was scheduled to enter into Phase 1 mere hours from now on Friday June 12, as well as Hood River, Marion, and Polk Counties which were hoping to enter Phase 2—all have been put on hold for at least one week to better assess the current health situation.
Sponsored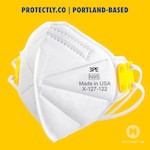 We have USA Made N95 masks available. Order N95, KN95, Surgical, Face Shields, Thermometers. Click here and USE CODE MERCURY FOR EXTRA 5% OFF.
From the Governor's press release:

"The noticeable increase in COVID-19 infections in Oregon over the past week is cause for concern.

"In order to ensure that the virus is not spreading too quickly, I am putting all county applications for further reopening on hold for seven days. This is essentially a statewide 'yellow light.' It is time to press pause for one week before any further reopening.

"This one week pause will give public health experts time to assess what factors are driving the spread of the virus and determine if we need to adjust our approach to reopening. I will work with doctors and public health experts to determine whether to lift this pause or extend it or make other adjustments.
Today the Oregon Health Authority posted the latest numbers of positive COVID-19 cases in the state, and there has been a significant jump in infections—178 since yesterday, a record high. Clackamas and Multnomah Counties had the highest number of cases; 47 and 43 respectively. While health officials warned not to read too much into these stats due to the significant amount of increased testing in the state, which would naturally produce higher numbers, attitudes must have shifted to cause the Governor to approach this situation with more caution.
Yesterday at a Multnomah County officials press conference which discussed the county's then-presumed entry into Phase 1, Multnomah County Health Officer Jennifer Vines said there is "no perfect time" to reopen, and called the decision to do so "a matter of tradeoffs and balances."
In a press release from Multnomah County leaders issued minutes ago, County Chair Deborah Kafoury expressed disappointment over the delay—particularly for those businesses and individuals who have been busily preparing to enter Phase 1. "But the increase in cases and delay in reopening is a reminder that we are very much still in this,'' Kafoury said.
Public Health Director Rachael Banks echoed this dismay regarding the week long wait, adding, "but we understand the state's desire to be cautious and thoughtful in the face of a virus that spreads easily, has no vaccine, and no cure. Lives are at stake."
For now, state and county health officials will be watching the case count carefully over the next week, and are advising Oregonians to continue wearing face masks and maintaining good social distancing and hand washing habits. We'll update this story as it becomes necessary.