Gov. Kate Brown has decided to truncate the prison sentences of 57 Oregonians especially vulnerable to COVID-19—nearly three months after COVID-19 was first detected in an Oregon prison.
Sponsored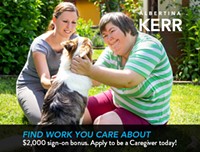 Become an Albertina Kerr Caregiver & help people experiencing intellectual and developmental disabilities.
Incarcerated adults must meet a stringent list of requirements to qualify for early release, even in the midst of a global pandemic. According to a Thursday press release from Brown's office, inmates eligible for a commuted sentence must meet these criteria:
- They are particularly vulnerable to COVID-19
- They are not serving a sentence for a crime against a person (AKA a "person crime")
- They have served at least 50 percent of their sentence
- They have a year-long record of "good conduct"
- They have a suitable housing plan
- They do not "present an unacceptable safety, security, or compliance risk to the community."
It appears only 57 of the 14,500 adults incarcerated in Oregon meet those standards.
Inmates, their families, and their advocates have spent months asking Brown's office to alleviate prisoners' fears of contracting COVID-19—whether that's by providing inmates with basic protective equipment or considering early release for people with compromised immune systems. In early April, civil rights lawyers with the Oregon Justice Resource Center (OJRC) filed a class action lawsuit against Brown's office, accusing her of violating the US Constitution by subjecting thousands of inmates to "cruel and unusual punishment."
Brown been resistant to the concept of releasing inmates due to COVID-19 risks, setting her apart from governors in other states—some of which are considered less progressive than Oregon. It took until June 12 for Brown to pen an order asking the director of Oregon Department of Corrections (ODOC) to begin identifying inmates who met her office's criteria for release.
Those with first-hand knowledge with life behind bars during COVID-19 say this decision's limited scope is appalling.
Steven Stroud left Portland's Columbia River Correctional Institution in early June after finishing his sentence. Stroud, who has an illness that makes him vulnerable to COVID-19, was one of many inmates pushing ODOC to improve its health and safety standards to prevent a mass outbreak in prison. He calls Brown's announcement a "token concession."
"Quite frankly, it's a bit insulting," said Stroud. "I mean, come on, there's way more than 57 sick and seriously vulnerably people in ODOC. She's essentially saying that it's okay if those other people die in prison."
For some, Brown's change of heart comes too late. Already 175 inmates in Oregons 14 prisons have tested positive for COVID-19. One incarcerated person has died from the virus. According to OJRC, only 5 percent of all inmates have been tested for the virus.
The OJRC responded to Brown's expected announcement in a press statement Wednesday afternoon.
"What Governor Brown proposes to do to address the threat of COVID-19 to the health of people in prison is simply inadequate," reads the statement. "...The release of so few people will do almost nothing to increase the ability of incarcerated people to stay physically distant from one another."
OJRC urged Brown to go further to protect vulnerable inmates by ensuring that people in custody have access to COVID-19 testing and consider further releases to actually meet physical distancing requirements.