For Portland State University economist Mary King, working on a campaign for tuition-free preschool for all Multnomah County children was an easy choice. King was an early architect of
Universal Preschool Now
, a campaign to pass a county ballot measure that would fund universal preschool for all 3- and 4-year-olds in the county—something she said would be a "real force for equity."
Data shows that preschool helps kids be better prepared for the rest of their education, and that kids who attend preschool are less likely to be arrested or have substance abuse problems as adults. But preschool can be prohibitively expensive for many families, and more so in Oregon than almost any other state.
"[Preschool access] closes all kinds of gaps for marginalized populations," King told the Mercury. "It helps kids graduate high school, earn more money, go on to college... People just don't have access to it because it's so expensive—it's as much as rent or a mortgage payment."
Universal Preschool Now is aiming to get its measure on the November ballot—but to do so, it will need to gather enough voter signatures by the Sunday, July 5 deadline. Slowed down by COVID-19 and a late start at signature gathering, the campaign says it has only collected more than two-thirds of the required signatures count of about 23,000.
If the campaign does gather enough signatures to make the ballot, it likely won't be the only preschool funding measure Multnomah County voters will be asked to consider this November. That's because a county-backed task force, spearheaded by County Commissioner Jessica Vega Pederson, plans to refer its own preschool funding measure, called Preschool For All, on the ballot. Because Preschool For All is backed by the county, it will only require a vote from the board of commissioners to be placed on the ballot, meaning it doesn't need to campaign for signatures.
The Universal Preschool Now and Preschool For All campaigns share a lot of common ground.
Both envision a system in which Multnomah County parents don't have to pay for preschool, and have access to schools with different languages and cultural curriculum close to their home. Both campaigns cite a living wage for preschool teachers and assistants as central to their plan, and each campaign would require a gradual rollout over several years. Universal Preschool Now would fund its program by taxing high-income residents; while Preschool For All hasn't finalized its funding mechanism yet, it will likely use a similar tax.
So why are there two separate campaigns for preschool access pushing to get on the November ballot? It largely comes down to how each campaign would roll out its vision.
The county's plan—which was informed by a task force that included groups like the Asian Pacific American Network of Oregon, Coalition of Communities of Color, and the Latino Network—would first be available to families who fall below a certain amount of income, before eventually ramping up to encompass all county residents.
The county's plan will likely also be funded in phases, rather than taxing for the full amount right away—something Universal Preschool Now's campaign sees as problematic because it doesn't guarantee funding for slots for every child in the county.
Universal Preschool Now, meanwhile, would roll out its plan by neighborhood, rather than by using income thresholds. It would prioritize neighborhoods by the level of need, and plans to be in full effect by the 2027-28 school year. Universal Preschool Now also calls for the full tax upfront.
Sahar Yarjani Muranovic, one of Universal Preschool Now's chief petitioners, told the Mercury that the county's plan to use "means testing"—or letting families in based on income level—would require an extra layer of bureaucracy, drawing resources away from the preschools themselves.
"Research shows children do better in mixed-income classrooms, rather than means-tested settings," she added. "Having it universal, we are trying to address some of the weapons of inequity that are in place starting at the first level."
A representative for Preschool For All pointed out that the plan would still make room for mixed-income classrooms, because low-income families participating in the program could send their kids to existing schools with other families not using the program. And for Vega Pederson, who's championing the county's plan, prioritizing low-income families first makes sense considering what the county is starting with.
"Right now, there aren't enough preschool seats in Multnomah County to serve all of our community's 3- and 4-year-olds," Vega Pederson wrote in an email to the Mercury. "Those classrooms and teachers don't exist yet... Any preschool program that is passed by voters will have to figure out how to prioritize families while the number of available slots grows."
Vega Pederson added that as Preschool for All grows in capacity—a process she expects to take about 10 years—it will specifically prioritize "Black and Brown children, children who speak languages other than English, children experiencing poverty, and children with developmental delays and disabilities—children in our community who have the least access to quality, affordable preschool opportunities today."
Representatives from both campaigns told the Mercury that they recognize how much their plans overlap, and that they respect their counterpart's intentions. But they also see important differences in their implementation plans. While the Preschool For All team sees its plan as being well thought-out and judicious, Universal Preschool Now's campaign characterizes its plan as having the ambition and immediacy the issue needs.
It remains to be seen whether the Universal Preschool Now campaign will make its signature deadline—but if it does, Multnomah County voters might be faced with two preschool funding measures to decipher this November.
"Folks from both campaigns are still continuing having those conversations of trying to avoid something like that," Yarjani Muranovic said. "There is so much overlap. I know those conversations are happening, [but] I don't have a good answer of what that would look like."
Sponsored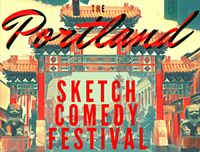 Sketch comedy troupes from all over N. America descend on The Siren Theater for 3 glorious nights.