We need your help. The economic fallout of the coronavirus crisis is threatening our ability to keep producing the quality reporting you've come to love. If you're able, please consider making a monthly contribution to the Mercury.
GOOD MORNING, PORTLAND!
She might've let you hold her hand at school, but I'mma show you how to graduate. I don't need to hear you talk the talk, just come and
show me what your momma gave.
LET'S GO TO PRESS.
Sponsored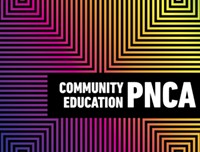 Online art and design classes at the Pacific Northwest College of Art now open for registration!
• Michael Forest Reinoehl, the man suspected of fatally shooting Aaron "Jay" Danielson at a pro-Trump rally in downtown Portland last Saturday, has reportedly been killed by officers assisted by US Marshals in Tanglewilde, a town just northeast of Lacey, Washington. According to various reports, officers came in contact with Reinoehl outside of an apartment building, and "40-50 shots" were fired as he tried to escape. As if this couldn't get any weirder, Vice News broadcast an interview with Reinoehl just hours before, where the suspect seemingly admitted to the killing, claiming that Danielson was brandishing a knife, and he fired in self-defense to protect a "friend of color." Our Blair Stenvick has more.
UPDATE: The team investigating the Michael Reinoehl killing now says he had a handgun, but "we are not able to confirm at this time if he fired shots."https://t.co/HVqzXIgJtN
— Mike Baker (@ByMikeBaker) September 4, 2020
• Just as the death of Reinoehl became public, around 200 protesters showed up at the Penumbra Kelly Building shared by Portland police and Multnomah County deputies on the 99th consecutive night of protests. Officers switched tactics from previous nights, moving in quickly to arrest one person in the crowd—though it's unclear why this protester was chosen. Other than a driver threatening protesters by speeding past them, the night was relatively calm.
A small dark car just revved its engine and drove full speed east up Burnside at protesters standing in the street, who screamed and scattered. Some chased after the car trying to catch its license plate number.

"Are you going to do your fucking job?" a protester yells.
— Cata Gaitán (@catalinagaitan_) September 4, 2020
• A lawsuit is being filed against a Trump supporter after he struck a woman with his truck during last weekend's Trump caravan. Portland Police—who took no major action to stop or interfere with the caravan—were reportedly told about the hit and run, and refused to do anything about it.
• Expect more of the same on September 26, when members of the racist and misogynist Proud Boy organization say they're going to hold a rally at Terry Schrunk Plaza in Portland.
• Fourth time's the charm! Mayor Ted Wheeler just appointed his fourth communications director—the person who issues all communications from the mayor's office—and the VERY CHALLENGING job's going to Jim Middaugh who worked comms for Metro for the past 11 years... and may god have mercy on his soul. Our Alex Zielinski has more.
IN NATIONAL NEWS:
• The Atlantic published a wildly damning report that Trump routinely disparages veterans, service members, and those who died in war, calling them "losers" and "suckers." He also reportedly wanted to keep wounded veterans out of parades, because "nobody wants to see" amputees. Rightly, people are losing their goddamn minds.
• More scientists are demanding to see the data behind the alleged coronavirus vaccine that the Trump administration is trying to push out to the public right before the election, fearing that politics are taking precedence over safety.
• Meanwhile, Russia's coronavirus vaccine is showing promise, as it has reportedly produced antibodies in all its participants during early trials, according to results published in The Lancet medical journal.
The U.S. death toll from covid-19 is at least 183,000. The IHME model projects that under the most likely scenario, 410,451 people in U.S. will have died by Jan. 1. The best case scenario is 288,381; worst-case is 620,029. @JoelAchenbach @thewanreport https://t.co/vfsazMOlsA
— David Nakamura (@DavidNakamura) September 4, 2020
• Seven cops in Rochester, New York have been suspended following a killing in March in which a Black man in their custody died of suffocation after they put a "spitting hood" over his head.
• Police are looking for the driver of a car who plowed through a crowd of protesters last night in Times Square in New York City.
Happy birthday to the queen ✨✨✨ #QueenBey #HappyBirthdayBeyonce pic.twitter.com/94vaDN4vaF
— Rocky Blue is an ICON (@zendayasswag_) September 4, 2020
• Filming for the new movie The Batman has stopped just days after it resumed after it was announced that star Robert Pattinson reportedly tested positive for coronavirus.
• Now let's crane our necks skyward for a look at the WEATHER: Cooling ever so slightly today with sunny skies and still a hot high of 92.
• And finally, 2020 needs more rubber chicken musicians.

My man is playing the rubber chickens. And killing it... pic.twitter.com/Pz2mxHSdvH
— Rex Chapman🏇🏼 (@RexChapman) September 4, 2020
Sponsored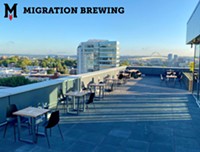 This 9th floor patio boasts stunning views of the city, three mountains, and Portland's West Hills.