We need your help. The economic fallout of the coronavirus crisis is threatening our ability to keep producing the quality reporting you've come to love. If you're able, please consider making a monthly contribution to the Mercury.
GOOD MORNING, PORTLAND!
Don't pretend, I think you know I'm damn precious. And hell yeah,
I'm the motherfuckin' princess.
LET'S GO TO PRESS.
Sponsored
Win a behind-the-scenes tour of our kitchen, see how we make our artisan edibles, and get some swag.
• Wildfires continue to spread across Oregon, covering 500 square miles, and have so far led to the death of two people that officials know about. Around 3,000 firefighters are battling—at most recent count—50 blazes statewide. Gov. Brown has declared a state emergency, and at a grim press conference yesterday, announced that the towns of Detroit, Blue River, Vida, Phoenix, and Talent are "substantially destroyed." Thousands of Oregonians have been ordered to evacuate.
Kyle StClaire is moving his lawn off his home in south Molalla. He says he's likes to keep his yard nice, especially now in case "the lord decides to take it." @OPB pic.twitter.com/gZ2QUfc2S0
— Monica Samayoa (@m0nica10) September 9, 2020
The fires across the West Coast are just the latest examples of the very real ways our changing climate is changing our communities. Protecting our planet is on the ballot. Vote like your life depends on it—because it does. pic.twitter.com/gKGegXWxQu
— Barack Obama (@BarackObama) September 10, 2020
• Hazardous smoke is blanketing the west side of Oregon, making air conditions very dangerous for those already coping with health risks.
• Update on the man who allegedly killed a Patriot Prayer member during a Portland protest: According to a witness, the law enforcement officers who shot Michael Reinoehl outside a Washington apartment did not issue a warning before killing him.
• Portland Police Chief Chuck Lovell announced yesterday that the department will offer "active bystander" training that will instruct officers on how to intervene when a fellow officer is breaking the law or defying protocol. The training will last 10 hours total and will probably do very little to reduce the decades of self-protection and institutional racism that continue to be cultivated by the police union.
• The City of Portland has paid $975,000 to a family whose son was shot and killed by Portland Police while suffering a mental health crisis. Another important point from Alex Zielinski's story: "In 2019, four of the five people who died at the hands of PPB were in need of critical mental health treatment the day they were killed." Once more for those in the back: POLICE ARE NOT TRAINED TO DEAL WITH THOSE IN MENTAL CRISIS.

Portland, can we do this here?? https://t.co/iu7EDdShPw
— @PDXDadPod (@pdxdadpod) September 10, 2020
• Around 150 Black Lives Matter protesters gathered at Portland's ICE headquarters last night following snide commentary from Acting Department of Homeland Security Secretary Chad "CHAD" Wolf. While threats were made by the feds, the protesters answered with a dance party that went into the night until disbanding peacefully.
West Coast officials who had warned about dangerous fire conditions are now trying to dispel social media rumors that the blazes were all set by activists.

"We're not seeing any indications of a mass politically-influenced arson campaign."https://t.co/bBgOQyEwRL pic.twitter.com/jmL1GYKoAB
— Mike Baker (@ByMikeBaker) September 10, 2020
• Yesterday Portland City Council passed the nation's strictest ban on facial recognition technology barring its use in city bureaus as well as those in the private sector, in an attempt to protect individual privacy and communities of color.
IN NATIONAL NEWS:
• According to Bob Woodward's new book about the Trump administration, the president said ON TAPE that he knew in February that COVID-19 was "deadly," but decided to "play it down." (In the same book, Trump also admitted he doesn't feel any responsibility to understand the "anger and pain" experienced by Black Americans.) While Trump is scrambling to defend his indefensible actions, there's no getting around the truth: The president's willful inaction cost hundreds of thousands of lives.
Pence admits he was in the Oval Office in January when Trump was warned coronavirus would be the biggest security risk of his presidency.

In March, Pence was still lying to Americans that "the risks to the average American of contracting the coronavirus remains low." pic.twitter.com/Tagfk3Lixw
— DNC War Room (@DNCWarRoom) September 10, 2020
• Meanwhile there was a debate on social media as to why Bob Woodward sat on Trump's shocking March admission about the deadliness of COVID-19 until September, when lives could have been saved. Here's an article that lays out both sides of the issue.
• A new Monmouth University poll reveals that Joe Biden is maintaining his almost double-digit lead over Trump—but the president's base remains loyal despite all the horrible acts he's committed.
• According to a whistleblower, top officials with the Department of Homeland Security encouraged employees to manipulate data to be more in line with Trump's political views—for example, blocking analysis of Russian election interference and downplaying the growing threat of white supremacy.
Postal Service, Under Political Spotlight, Preps For Surge In Election Mail https://t.co/ZOIi6quqFp
— NPR Politics (@nprpolitics) September 10, 2020
• Beloved British actress Diana Rigg—star of the fun '60 spy show The Avengers—has died at the age of 82 from cancer.
• The WEATHER REPORT: Winds are expected to die down today (a relief for firefighters) so expect a mostly sunny, though smoky, day with a high of 92.
• And finally, in 2020, something like this is not in the least bit surprising.

I have a few questions...pic.twitter.com/DLsXtDlJuF
— Rex Chapman🏇🏼 (@RexChapman) September 9, 2020
Sponsored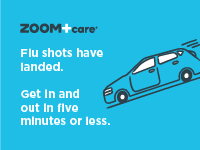 ZOOM+Care makes flu shots easy and safe. Schedule ahead, skip the line—get in and out in 5 minutes.