Once the October of an election year hits in Portland, even the most politics-avoidant people can't help but gain a periphery awareness of what's on the ballot. That's thanks to political campaign ads. They're in your mailbox, they're on your social media feeds, and they're on the billboards you pass by every day.
While plenty of local political ads are pleasantly positive, and perhaps even informative, others take a decidedly more controversial tone. Some intentionally go for the weird factor, in the hopes that they won't immediately get tossed in the voter's recycling bin. Chances are you've noticed some of those ads this election cycle. But in case you've missed some, or have seen some you don't quite understand, the Mercury put together this roundup of the most unusual and controversial local political campaign ads—and who's paying for them.
Sponsored
Sketch comedy troupes from all over N. America descend on The Siren Theater for 3 glorious nights.
Packy, #NeverForget
What's the deal with this ad?
Metro Council—the regional government for Multnomah, Clackamas, and Washington Counties—referred a measure to the ballot that would raise some $5 billion for
various transportation improvements
across the region through a payroll tax on some employers. Metro is also the agency in charge of the Oregon Zoo, and in 2017 made the decision to
euthanize an ailing, beloved elephant
named Packy. People were upset about it, and some zoo employees complained that Packy's health hadn't declined severely enough to warrant ending his life.
Enter Stop the Metro Wage Tax, a coalition of business interests that opposes the transportation funding measure. Earlier this month, the campaign sent out mailers that included a flow chart, scratch-off answers, and the dead elephant's memory—a real trifecta of engaging advertising.
The implicit messaging of this ad seems to be "If Metro can't keep your favorite zoo animal alive, why should we trust it with building an additional MAX line, miles of new sidewalks, and some marked crosswalks on one of the deadliest roads in the region?" It's got a real "This is why we can't have nice things" tone. Whether voters in the region are able to contain the multitudes of both mourning Packy the elephant and valuing transportation improvements remains to be seen.
Who's paying for it? This campaign is largely funded by deep-pocketed businesses who have donated tens or hundreds of thousands of dollars to defeat the measure. Some of the biggest contributors include Nike, The Standard, a PAC for soft drink companies, a PAC for health care companies, the Tillamook County Creamery Association, and various chambers of commerce throughout the region.
Sarah Iannarone Is Too Online
pic.twitter.com/PnJ2qoJIT3
— United for Portland (@unitedforpdx) October 8, 2020
What's the deal with these ads? Sarah Iannarone is running for Portland mayor to the left of Mayor Ted Wheeler, and recent polls show the two neck-and-neck. Scrambling to ensure a win, Wheeler—and a PAC comprised of powerful groups supporting him—have flooded the market with attack ads, including mailers, videos, and web ads.
One common theme of these ads: Iannarone is an inexperienced, unhinged woman who tweets entirely too much. The pro-Wheeler team especially loves to highlight the times Iannarone has cursed online, and branded herself as "antifa." Wheeler's team clearly wants voters to associate "antifa" with property destruction and violence, though the tweets they're pulling from Iannarone are more of the "antifascist as in opposing literal Nazis" vein.
A lot of Portland lefties scoff at the tone and subject of these ads, but they clearly aren't meant to persuade voters who have already decided on Iannarone (or on write-in candidate Teressa Raiford). Rather, they seem to be targeting undecided voters who are disappointed in Wheeler's first term, but who also might be wary of Iannarone's supposed radicalness and lack of experience.
Who's paying for them? Some of these ads are coming from Wheeler's campaign—which is funded in large part by a $150,000 loan from Wheeler himself. Others come from the PAC United for Portland, which is funded almost exclusively by large developers and realtors, as well as large individual contributions.
Your Kids on Drugs
What's the deal with this ad?
Measure 110 seeks to decriminalize possession of small amounts of hard drugs in Oregon, and create a new framework for addiction recovery in the process. It faces a fierce opposition from some leaders in the addiction recovery community who say the measure doesn't put enough thought into the new plan—and would, as a result, do harm to people experiencing addiction.
One of the opposition campaign's sticking points is that it would also decriminalize drug possession for kids. That's a problem, the No on Measure 110 team says, because the state's juvenile corrections system can help set those kids on a better path. This is an issue where there's a lot of gray area—but this particular campaign ad, which uses the Facebook carousel feature to remind you of what heroin, meth, and LSD look like, is as blunt as it gets. It's a vintage War on Drugs-era aesthetic, and you can practically hear Nancy Reagan telling you to "Just say no."
That said, it's arguably a smart choice for a Facebook ad. If you saw a picture of meth sandwiched between your cousin's gender reveal party and your high school classmate's multi-level marketing spam, you might stop scrolling for a second.
Who's paying for it? In addition to a smattering of small-dollar donations, the bulk of this campaign's funding comes from loans from James O'Rourke, a local criminal defense lawyer who specializes in personal injury, wrongful death, driving under the influence, and drug-related crimes.
Portland Creep/Virus Train
Light rail opposition messaging in the 'burbs gets a 2020 update. The Crime Train is now a Virus Train. pic.twitter.com/sID0vWwxyM
— jonathan house (@jonhouse_) October 21, 2020
What's the deal with this ad? This billboard—which got some attention this week on Twitter when Pamplin Media photographer Jonathan House posted a photo of it—is located along Interstate 205 in Clackamas County.
It's a rare "two-for-one" ad, cautioning people to vote against both the Metro transportation measure, which would add a new MAX line that goes to Portland's southwest suburbs, and Measure 110, which would decriminalize drug possession. It plays into the flawed, oversimplifying "rural/urban" divide theme often seen in statewide Oregon politics, in which lawmakers outside of Portland claim they are thwarted by ultra-liberal big city folk who don't understand their rural ways (never mind that rural Oregonians can also be people of color and care about progressive causes). The phrase "Portland creep" was used last year by Timber Unity, a conservative campaign against legislation to curb climate change, and it's being recycled here in an attempt to pit Clackamas and Washington county voters against the more urban Multnomah County.
"Virus train" is an update on the classic "Crime train" trope that's always trotted out when TriMet looks to add a new MAX line that would connect central Portland to a more suburban area. The "HARD" in "HARD drugs" is probably capitalized to scare people, though it also looks pretty funny.
Who's paying for it? If you look very closely, the corner of the billboard says "Paid for by ActionPAC"—a political action committee that is run by Jim Pasero, a Lake Oswego-based Republican political consultant who has spent 2020 warning the nation about how dangerous Oregon's vote-by-mail system is. (Don't worry, it's not!) Most contributions to ActionPAC come from an organization called Pathfinder Oregon, which shares an address with Pasero's consulting firm, Third Century Solutions.
Sponsored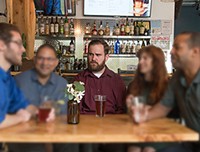 Adults aged 18-35 with good hearing will be paid for their time. Located at the Portland VA Medical Center