Hello
Mercury
friends (and frenemies)!
Sponsored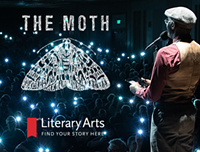 Literary Arts presents The Moth: Portland Mainstage. True Stories, told live. Held at Arlene Schnitzer Concert Hall.
If you're anything like me (and may god have mercy on your soul if so), right now you're feeling an odd combo platter of "relieved" and "freaked the fawk out." I'm "relieved" that someone other than a racist, Molotov cocktail-throwing monkey is going to be president. And I am "freaked the fawk out" because I've spent every day for the last four years in a constant state of being "freaked the fawk out"—and now I'm afraid "being freaked the fawk out" is baked into my DNA!
But while having the fawk freaked out of me on a daily basis didn't do a lot for my anxiety level, it did open up a whole new world of empathy in me for those who have longtime and very legitimate reasons for being freaked the fawk out. And even though we may have a new, much improved president and vice president elect, the underlying causes of the nation's fawking freakouts are still present every single day: racism, narcissism, and greed.
Look, I don't forget for a second how wildly fortunate and privileged I am to have a platform like the Mercury. And I also realize that I haven't always used this platform in a way that would lift up the people who really need it. But I'm doing my best to do so now, and I'm lucky to be assisted by two great reporters, a hot-shit team of contributors, and a wonderful, supportive staff, all of whom are die-hard lifetime members of Portland's "give a shit" club. Here are just a few recent Mercury stories that were made possible by their hard work and your monthly contributions:
• In Bad Faith: Portland NAACP President E.D. Mondainé Accused of Sexual Abuse by Former Members of His Church By Alex Zielinski
• Presenting the Mercury's 2020 General Election Endorsements! By Mercury Editorial Staff
• Multnomah County Candidates of Color See Themselves Misrepresented in Campaign Mailers By Blair Stenvick
• Human Rights Group Finds Portland Police Violated UN Guidelines During Protests By Alex Zielinski
• Muslim, Jewish Communities in Portland Brace for Election Day By Abe Asher
• Woman Arrested at Portland Protest Forced to Take Pregnancy Test By Bea Lake & Elaine Kinchin
• Guest Editorial: I Used to Be Addicted to Heroin. Oregon Decriminalizing Drug Possession Is a Historic Victory for Human Rights. By Morgan Godvin
These are the types of stories I'm very proud to be associated with, and that can make a real difference in the lives of those who need it. And… guess what? YOU HELPED MAKE IT HAPPEN. Your one-time or (even more helpful) monthly contributions keep food on our tables, for sure… but they also help keep us focused on what really matters instead of just figuring out how to keep our business alive day after day. We're hanging on pretty good at the moment, but after four years of all this evil-doing horse shit? I've learned my lesson not to take anything (especially you) for granted. Now is the ripest of opportunities for complacency—the same complacency that teed up the Trump administration and the racism, narcissism, and greed that infects Portland and the whole of American society. And I'll be good goddamned if I'm ever going to be complacent again.
So please help us keep our eye on the ball by becoming a monthly contributor to the Mercury. Seriously, even a teensy $5 per month will help us keep fighting for the progressive values you believe in, and get us to our goal of 300 new, recurring monthly contributors by January 1. Too cash-strapped to contribute right now? No sweat, my pet! You can also support us by signing up for our free daily Mercury emails, which includes the hilariously informative/sassy Good Afternoon, News (written by yours truly).
We cared about you four years ago, but now the Mercury is alllll up in our feelings, and absolutely devoted to protecting you and those who really need it. While I may be freaked the fawk out by a lot of things, my commitment to the people of this city is not one of them. Thanks so much for sticking with us through the bad times and the good, and rest assured we'll always be there for you. (GODDAMMIT! Now the Friends theme song is stuck in my head!)
Because you're there for me too,
Wm. Steven Humphrey
Editor-in-Chief
Portland Mercury
(he/him)