We need your help. The economic fallout of the coronavirus crisis is threatening our ability to keep producing the quality reporting you've come to love. If you're able, please consider making a monthly contribution to the Mercury.
Sponsored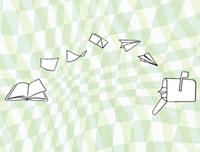 Prime words. Choice cuts. Old fashioned delivery to your letterbox. One story a week for ten weeks.
GOOD MORNING, PORTLAND!
On the eighth day of Christmas, my baby gave to me: A pair of Chloe shades and
a diamond belly ring.
LET'S GO TO PRESS:
• Landlords are gonna landlord: Even though the legislature provided some more-than-fair relief for them during Monday's one-day special session, landlords are now suing the state to get rid of the eviction ban. (Who do you think is less popular: landlords or chlamydia?)
This is a good summary of the problems we face in holding police accountable. Portland is mentioned several times. Implementing @yeson26217 is a critical next step in this fight to regain control.

READ: How Cities Lost Control of Police Discipline https://t.co/nNdQJDc0OX
— Candace Avalos (@candaceforpdx) December 23, 2020
• Gov. Brown announced yesterday that the state's teachers will be added to the list of high-priority essential workers, so they can get vaccinated sooner. In less positive news, the federal government is shorting Oregon AGAIN on our promised number of doses of the COVID-19 vaccine—though Pfizer has reportedly closed a deal with the White House to provide 200 million additional vaccinations.
• Today in NOT GOOD: Not only has a COVID outbreak infected more than 1900 inmates and killed 20 at one of Oregon's largest prisons, the power has been out at the facility for almost a week.
BREAKING: A power outage at Two Rivers Correctional Institution has left about 600 inmates in darkness for the past week.

Inmates are released from their cells once a day to shower and use the phone.

Officials say there's no clear end in sight:https://t.co/a1zu0LfpCX
— Bryce Dole (@DoleBryce) December 23, 2020
• For the essential workers in the grocery industry, 2020 has been a nightmare. Check out this first person description of what these workers have endured from an anonymous Fred Meyer employee.
IN NATIONAL NEWS:
• It's a Christmas miracle: Donald Trump and AOC agree on something! The president is threatening to veto Congress' long fought-over COVID relief package because he thinks that American's deserve $2000 stimulus checks rather than the fucking laughable $600 that Republicans think we should be grateful to get.
• Meanwhile, Nancy Pelosi is calling his bluff:

Republicans repeatedly refused to say what amount the President wanted for direct checks. At last, the President has agreed to $2,000 — Democrats are ready to bring this to the Floor this week by unanimous consent. Let's do it! https://t.co/Th4sztrpLV
— Nancy Pelosi (@SpeakerPelosi) December 23, 2020
• Also hidden in the COVID relief package, lots of weird shit that doesn't belong in there and... oh, what's this? According to tax experts, a $200 billion giveaway to the rich. Well, that doesn't sound like Republicans at all!
• Among the 15 ridiculously corrupt pardons Trump issued yesterday (including those indicted by the Mueller Report) were four Blackwater contractors who were in prison for murdering more than a dozen Iraqi civilians during a 2007 massacre.
"It is not clear that Mr. Trump's latest behavior is anything other than a temper tantrum, attention-seeking or a form of therapy for the man who controls a nuclear arsenal." https://t.co/nmFLL4enki
— Brad Heath (@bradheath) December 23, 2020
• The Justice Department is suing Walmart for its role in the country's opioid epidemic, by failing to properly scrutinize dicey prescriptions in order to make more $$$$.
• Well, this is odd: Trump's White House staffers received a memo saying they should start preparing to vacate their offices on January 4, but then got another email saying, "Ha-ha, JK! We're not going anywhere. Please continue making America great again, sexually harassing each other, and spreading COVID."
• The hilarious I, Anonymous Show is ending the year with a BANG with bonkers anonymous confessions and A-plus comedy from Sean Jordan, Bri Pruett, Adam Cayton-Holland, and your host Kate Murphy! Get them tickets, babies!
• Let the bells ring and the confetti fall! Tickets are now on sale for the super sexy HUMP! 2021 Film Festival, featuring an array of hot 'n' horny amateur dirty flicks submitted by hot people like YOU. Get your tickets now!
• Now let's whip our skulls skyward for the WEATHER: Expect a glorious sunny day with a high of 48.
• And finally... I hope your holidays are as smooth as a perfect wrapping paper cut.

yeah sex is cool but what about when you're cutting wrapping paper and it goes ——— instead of ~~~~~
— Rachel (@femaleredhead) December 22, 2020