For Christel Allen, Lovejoy Surgicenter wasn't just an abortion clinic. It was "an institution."
Lovejoy closed its doors last week after nearly 50 years of providing abortions and other reproductive care services in Portland. Allen, the executive director of reproductive rights advocacy group NARAL Pro-Choice Oregon, said she'll remember the clinic as a resource that "filled a unique space" in abortion access in Oregon and beyond.
Sponsored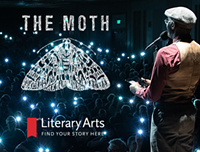 Literary Arts presents The Moth: Portland Mainstage. True Stories, told live. Held at Arlene Schnitzer Concert Hall.
"So many people, over decades, have felt that way about Lovejoy—it was the place where they received care and respect, and a community there to support them," Allen said. "It's very strange to be doing this work without the name 'Lovejoy' being top of mind and a phone call away."
As a plan to open a new clinic in Lovejoy's place is underway, Allen and other abortion rights advocates in Oregon are recognizing the outsize role Lovejoy played—and, with its closure, noting how imperiled abortion access continues to be in this country.
The Klass family, owners of the Northwest Portland clinic, started providing abortions at Lovejoy in the 1970s, around the same time the US Supreme Court's landmark Roe v Wade ruling set a precedent for legal abortions. It was one of Oregon's first independent abortion providers, and operated continuously until last Saturday, its last day in business. (Management at Lovejoy did not return the Mercury's request for comment on this story.)
"It has a long and storied history in Oregon, as being a place where women were getting access to safe abortion care really early on," said Grayson Dempsey, who worked as a counselor at Lovejoy from 2000 to 2004. "It's a place a lot of people have really strong memories of—thousands of women have received care at that clinic."
One of the things that set Lovejoy apart from other providers—whether it was Planned Parenthood or other independent clinics in the area—was that it provided abortions through the end of the second trimester, or about 25 weeks. At that point in the pregnancy, abortion becomes a more involved process, and many providers aren't equipped to perform abortions past about 20 weeks.
Only about one percent of abortions are performed near the end of the second trimester, and people typically choose to terminate at that point because they face especially difficult circumstances. That can include heightened health risks with continuing the pregnancy, evidence that the pregnancy isn't viable, barriers to access (like cost or transportation) that made it impossible to get an abortion earlier in the pregnancy, or abuse from a partner or family member.
---
"People at Lovejoy made that nonjudgemental space, and were able to be there in those situations where it gets complicated, and it gets difficult."
---
The clinic was also known for having a robust counseling department. A member of the Cascades Abortion Support Collective, a local group that provides resources like transportation and financial assistance for people getting abortions, said that counselors they've met at Lovejoy "really center what the patient is experiencing."
"Second-term abortions are a little bit harder to process, and your body is going through a lot of changes," said the member, who asked not to be named in this article because of privacy concerns. "Having that emotional support is really important—we consider that to be a vital part of care."
No other standalone abortion clinic in the Portland area offers abortions through the end of the second trimester. While larger medical centers, such as Oregon Health & Science University (OHSU), do perform them, those procedures can cost "tens of thousands of dollars" depending on medical insurance, the Cascades volunteer said, and registering with a large healthcare network can be more difficult to navigate than Lovejoy's streamlined registration and financial assistance system.
"Lovejoy has been a partner in going above and beyond in ensuring that cost, especially, has never been a barrier for people," Allen said. "Lovejoy has always been an active partner in eliminating those barriers, or at least lowering them."
And Lovejoy didn't just fill in that abortion access gap in Portland—it also served people from across Oregon, as well as those from Washington, Idaho, Northern California, and Alaska who had difficulty accessing an affordable abortion where they lived.
"People at Lovejoy made that non-judgemental space," Allen remembered, "and were able to be there in those situations where it gets complicated, and it gets difficult."
In addition to providing safe abortions and counseling services, Lovejoy also helped facilitate adoptions for people who ultimately decided not to terminate their pregnancies.
"That was a huge resource in the community," Dempsey said. "So many other adoption services are religiously affiliated or specifically anti-abortion in their focus, so that was a really big resource for women as well."
In the decades after the Roe ruling, Lovejoy played a prominent role in pro-abortion advocacy in Oregon. That
attracted droves of anti-abortion demonstrators
in the 1990s—and
several firebombs were found on the property
.
"We had picketers that were blocks deep," Dempsey said. She added that some anti-abortion extremists also posted doctors' home addresses on the internet, as part of a campaign known as the "Nuremberg files."
After working at Lovejoy, Dempsey went on to found a reproductive education hotline called All Options, and served as the executive director of NARAL Pro-Choice Oregon between 2016 and 2020. She said her time at Lovejoy "really launched the rest of my career."
"The stories and experiences I heard there were so transformative to me," she added "One of my biggest strengths was that I was making abortion policy and working with politicians, always with the voice of women in the back of my head. I was one of the few people working on abortion policy who'd also worked in abortion clinics."
Now, Dempsey is part of a plan to open a new abortion clinic in Portland on March 1—one that will contine to provide abortions through the second trimester. The clinic will have a new name, and a new location that will be less conspicuous for anti-abortion picketers to find. But it will be "built on a lot of the values that Lovejoy has always held," she said.
Dempsey is currently consulting with the owners on opening the new clinic, and said she plans to take on an advocacy role with the clinic once it opens. She said the owners weren't ready to make their names public yet, but that they also own abortion clinics in Washington and Nevada.
---
"We can be the most pro-choice state in the nation… but if we don't have access, that's meaningless."
---
In the interim between now and March 1, Oregonians seeking an abortion toward the end of their second trimesters can go to OHSU, or to a clinic called All Women's Care in Seattle. But while the gap in services left by Lovejoy's closure will be temporary, it isn't lost on Allen just how fragile abortion access is—even in Oregon, a state that is considered "the most pro-choice" in the country from a policy standpoint.
With a new, stronger conservative majority on the Supreme Court, Allen said, there's a strong chance existing abortion rights will be overturned, and states like Oregon will become even more crucial in ensuring access to safe abortion procedures.
"We have to assume it's not just a question of 'if,'" Allen said about the Supreme Court overturning current abortion protections. "I think we're in a place now where we can say 'when'... We need to be doing more to make more options available to more people at more locations."
For Dempsey, the fragility exposed by Lovejoy's closure points to a gulf between abortion policy and abortion accessibility in Oregon.
"We can be the most pro-choice state in the nation… but if we don't have access, that's meaningless," she said. "If you're 16 years old and you live in Pendleton, Oregon, and you're pregnant, and you need to travel to Portland and come up with the money and don't have anybody to give you a ride—those are insurmountable obstacles that can feel as real for a woman as it might have felt for a woman in 1960."
Despite its long legacy, Lovejoy Surgicenter's closure was largely unceremonious, with little in the way of public statements. But a message posted to the clinic's website said the Lovejoy team was "saddened, but proud of the services we have offered to so many people."
"It has been our pleasure to serve the women in the Northwest and nationally for so many years," it continued. "We hope that their experience with Lovejoy Surgicenter has given them the opportunity to live their lives fully."