We need your help. The economic fallout of the coronavirus crisis is threatening our ability to keep producing the quality reporting you've come to love. If you're able, please consider making a monthly contribution to the Mercury.
GOOD MORNING, PORTLAND! Body's in withdrawal, every time you take me away. Can't you hear me callin'? Beggin' you to come out and play? LET'S GO TO PRESS.
Sponsored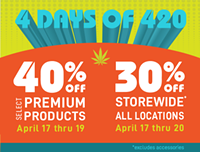 30-40% off Premier Dispensaries April 17-20
Flower, pre-rolls, edibles, carts and more.
These 4 Days of 420 are for you.
IN LOCAL NEWS:
• Portland city attorneys have agreed to pay more than $2 million to settle a federal lawsuit filed by the family of Quanice Hayes, a Black teenager who was fatally shot by a Portland cop in 2017. There were a LOT of sketchy aspects to this shooting, and our Alex Zielinski breaks it all down for you along with quotes from the family and more.
Voodoo Doughnut's union, formed in the early days of the pandemic, will file for an NLRB election this week if the company doesn't voluntarily recognize it https://t.co/5rBjA16BeY
— Eater PDX (@eaterpdx) February 24, 2021
• A cafe in Florence, Oregon has been fined a whopping $18,000 for flouting the governor's mandatory safety rules, serving their customers indoors since December, willfully exposed their employees to COVID-19, AND threatening compliance officers with weapons when they arrived on the scene.
• A communication breakdown between the Portland mayor and city commissioner has the residents of Hazelnut Grove, the tiny house village that's currently home to 17 formerly houseless people, wondering when or if they're going to be kicked out. Our Alex Zielinski has more!
After a vote from @PPSConnect, Madison High School was just renamed after its former principal, Leodis McDaniel. He was one of few Black principals in Oregon during the '80s. https://t.co/kGiXE68Emt

— Courtney Vaughn (@C__Vaughn) February 24, 2021
• A new Mercury reader wrote in to complain about an article that contained (prepare to grasp your pearls) the word "fuck." The Mercury's fucking editor-in-fucking-chief Wm. Steven Humphrey (hey, that's me!) fucking responded to that fucking criticism, you better fucking believe it.
IN NATIONAL NEWS:
• Good news: According to US regulators, the new Johnson & Johnson one-dose COVID-19 vaccine has been deemed safe and effective at preventing the virus, and pending final approval, could give us all one more weapon in our arsenal.
anyway, great work as always by Johnson & Johnson pic.twitter.com/PzBkLQNVfU

— Dave Itzkoff (@ditzkoff) January 29, 2021
• More good news: Global coronavirus deaths fell by 20 percent last week compared to the week before, according to the World Health Organization.
• Even more positive news: Vaccine makers, Pfizer and Moderna, announced they are significantly ramping up production to the point where they think most Americans can get vaccinated by summer! (This is good news, because I don't have a mask that matches my thong.)
• Capitol police allegedly received an FBI email the night before the January 6 domestic terrorist attack that warned of coming violence. But they reportedly didn't see it, and also, isn't getting this type of information to the people who need it worth more than a simple email?
The American Postal Workers Union is calling on the Biden admin and Senate leaders to "swiftly fill" the vacant seats on the USPS Board of Governors.

"All of the current board members are Trump appointees; all are men; most have deep ties to Wall Street and corporate interests."

— Kyle Griffin (@kylegriffin1) February 24, 2021
• It looks like Biden's nomination of Neera Tanden to lead the White House Budget Office is in danger because she apparently lacks the votes needed to be confirmed (thanks to racism/sexism).
• Trump's deeply gross son, Don Jr., is allegedly being given a hard look by the Manhattan District Attorney's office as they dig deeper into the former president's criminal enterprises.
MOMENTS AGO:

Question: Should President Trump be speaking at CPAC?

Rep. Kevin McCarthy: "Yes he should."

Rep. Liz Cheney: "I don't believe he should be playing a role in the future of the party or the country."

McCarthy: "On that high note, thank you all very much." pic.twitter.com/ePKabaQDhB

— Forbes (@Forbes) February 24, 2021
• Tiger Woods is awake and recovering after a roll-over car crash yesterday that severely fractured both of his legs, and endangering his golf career.
• Get ready to party HARD in the third installment of the Mercury Music Series, with a livestream concert from super fun Portland rapper/singer/producer FOUNTAINE, coming at ya on March 11! Snap up those tix, babies!
• Let the bells ring and the confetti fall! The HUMP! 2021 Film Festival is NOW STREAMING ONLINE, featuring an array of hot 'n' horny amateur dirty flicks submitted by hot people like YOU. Get your tickets pronto!
• And now... THE WEATHER REPORT: Finally, a legit mostly sunny day today with a high around 49.
• And finally, your mission—if you choose to accept it—GET THE COOKIE.

Cutest thing you'll see all day... pic.twitter.com/TY1nTtt3Bq

— Rex Chapman🏇🏼 (@RexChapman) February 24, 2021