As with the name of the bar, most of the monikers of Short Round's cocktails are Indiana Jones references. If you really wanna make a night out of it, fire up
Temple of Doom
on the ol' tube while you enjoy your takeout.
Sponsored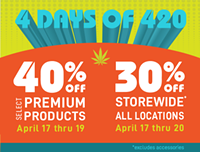 30-40% off Premier Dispensaries April 17-20
Flower, pre-rolls, edibles, carts and more.
These 4 Days of 420 are for you.
The Vietnamese street food bar's menu has been revamped for COVID times, but has an option for you no matter what type of liquor tickles your fancy. I was very tempted to get the "Tiger King," which supercharges Thai iced tea with vodka. I'd say it's pretty on brand; Joe Exotic definitely seemed like he was a vodka drinker (well vodka, specifically) pre-incarceration.
Instead, I went with the "Jade Trade," which features gin, lychee liqueur, lime, pennywort, and mint for a refreshing accompaniment to Short Round's Viet fare. Ironically, certain jade-colored items *aren't* being traded due to the pandemic; bar manager AJ Ayala has run into supply issues for a pennywort product that used to be imported from overseas. The bartender is now using fresh pennywort in its place and is attempting to create his own liqueur. The herbaceous "Trade" is not too sweet, and sure to please the palates of Gin Rickey or Mojito fans. I'm no fan of hot weather, but when you're sipping a perfect summer cooler like this, it makes you long for some sun.
Every cocktail serves two and includes accoutrements like ice and garnish, making it easy to serve once it reaches its destination. "The way we do it is for the ease of people doing takeout, because we don't know what people's situation is," said Ayala. "You could be ordering food in at home or you could be ordering to a hotel room or something like that, so it's nice to have everything all together." I appreciated that Ayala has this insight and care towards his customers. I've been in my own little lockdown bubble for so long now that I'd almost forgotten that there is surely still a tiny trickle of tourists (WTF are you doing here, we're in a global pandemic) and business people visiting our fair city, and of course they're hungry and thirsty.
Like Palomar's Ricky Gomez, Ayala worked with friends via the Oregon Bar Guild and the Independent Restaurant Alliance of Oregon to make sure bartenders' voices were heard leading up to the cocktails to-go legislation.
Short Round's late night happy hour was hugely popular with service industry folx pre-COVID, and Ayala hopes to get back to what they're most known for come summertime. "The expectation isn't there that things will be open late, so people don't go out as late anymore," he says. Until the ritual of industry regulars swinging by for affordable post-shift drinks and bites resumes in full force, Short Round's happy hour lite (they haven't yet brought back their small plates) is available from 9-10 p.m. with $4 drafts, $7 cocktails, and a dollar off every food item.
Short Round, 3962 SE Hawthorne, (503) 384-2564, shortroundpdx.com