News of Tropicale founder Alfredo Climaco's passing shook the local food scene in late January when it was announced that he had passed from COVID-19 just four days after his 32nd birthday. Opening a brick and mortar bar was a big life dream that he had realized a mere six months earlier.
Sponsored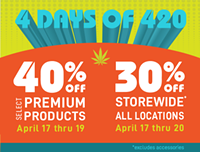 30-40% off Premier Dispensaries April 17-20
Flower, pre-rolls, edibles, carts and more.
These 4 Days of 420 are for you.
Amazingly, the bar reopened a week after Climaco's passing, after a deep-clean and negative test results from staff. The team pushed through their grief in the best way they knew how: keeping the Piña Colada King's (a moniker bestowed by The Oregonian's Michael Russell and relished by Climaco) legacy alive. "We just wanted to keep going with the same momentum [Alfredo] had. He was very passionate about this project," says general manager Nicky Martinez.
The Tropicale family and Climaco's family saw an outpouring of community support, from a GoFundMe for funeral expenses to tribute videos and condolence messages, which Martinez tells me they are so appreciative of. The bar is staying in the family and currently in the process of formalizing a transfer of ownership over to Climaco's sister Viviana Reyes, who is also the head chef.
Tropicale's famous piña coladas are available to-go in a whopping 17-ounce bottle that pours six servings. For an extra $2, you can also bring home a hollowed out pineapple shell to get the full experience. As the sun returns to the PNW, slap on some SPF and sip your piña colada out of its fun vessel while you await vaccines and vacations.
For half the price of the boozy version, the bar also offers bottles of their piña and margarita (traditional or spicy mango) mixes sans alcohol whether you want to add your own rum/tequila at home or enjoy as-is. The piña is simple—fresh pineapple, Caribbean rum, coconut cream, coconut meat, and "hella love." Tropicale knows not to mess with perfection… the official drink of Puerto Rico is fruity, but not cloyingly sweet.
Moving forward, Martinez is invested in continuing support for and partnership with the Portland Mercado which was the site of Climaco's first "MexiRican" piña colada pop-up back in 2015. Climaco's ethos included giving back to the restaurant community that he got his start in, and while the bar is in a state of transition right now, Martinez hopes to incorporate that same spirit in the future in the form of special nights where a portion of profits will be donated to local charities. "We're in the beginning phases of trying to figure out how we can help the community, because the community has really been here for us and really shown their support after Alfredo passed. They continue to come by and are just very supportive, and it's meant a lot," says Martinez.
Single serving cocktails will soon be added to the to-go roster, including the "Oaxaca Forever" (Mezcal, lime juice, Combier Pamplemousse, Demerara, mole bitters). The bar's Instagram recently made followers savvy to the "not-so-secret" secret menu, which features a cocktail creation from each bartender as their dealers choice. New additions are also set to hit the official menu on March 20. Pending how the summer's in-person events calendar shakes out, we may also see a return of the truck that started it all.
Rest In Peace, Alfredo. I'm cheers-ing to you tonight.
Tropicale, 2337 NE Glisan, (503) 894-9484, tropicale.co