The Multnomah County Board of Commissioners has appointed Andrea Valderrama to serve as the newest lawmaker representing East Portland's District 47 in the Oregon Legislature.
Sponsored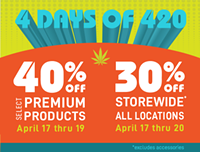 30-40% off Premier Dispensaries April 17-20
Flower, pre-rolls, edibles, carts and more.
These 4 Days of 420 are for you.
Valderrama, a Democrat who currently works as the policy director for the ACLU of Oregon, will replace the office that was vacated by Rep. Diego Hernandez on March 15. Hernandez, a Democrat, announced his resignation in February after an internal investigation found he had created a hostile workplace environment for women at the Capitol. Valderrama will serve the remainder of Hernandez' second term, which ends in January 2023.
Valderrama is a first generation Peruvian American, who's lived in House District 47 for more than eight years.
"We are in crisis," she told the board Tuesday. "We need decision makers who don't just listen to directly impacted communities, they are themselves directly impacted."
Valderrama was one of three candidates under consideration by the Multnomah County Board of Commissioners to replace Hernandez. She was selected in a unanimous vote during a Tuesday commissioner meeting.
"House District 47 needs someone who is going to be a fierce champion for them" said County Commissioner Jessica Vega Pederson, who previously represented District 47 in the Oregon House. "In the fifteen years that I have lived in this district, I have witnessed one of these candidates consistently engage in the work of bettering the lives of House District 47 community members... and that's Andrea Valderrama."
It's a poignant placement: Valderrama was one of several women whose personal experiences with Hernandez raised alarm about the former lawmaker's behavior. Valderrama was in a relationship with Hernandez, during which she accused him of domestic violence. While she chose to withdraw a legal challenge against Hernandez for this alleged abuse, the news coincided with reports of other alleged abuse and harassment by Hernandez from women who worked with him at the state Capitol. These allegations led to a 9-month-long investigation into his conduct, which was completed in January.
Valderrama isn't a stranger to Portland politics. She spent six years as a policy advisor in City Hall, working for both Mayor Ted Wheeler and former City Commissioner Steve Novick. Valderrama also ran for Portland City Council in 2018, a race that was ultimately won by City Commissioner Jo Ann Hardesty. Valderrama is also the currently chair of the David Douglas School Board.
Valderrama will be sworn in the Oregon Legislature next week.