The Mercury provides news and fun every single day—but your help is essential. If you believe Portland benefits from smart, local journalism and arts coverage, please consider making a small monthly contribution, because without you, there is no us. Thanks for your support!
GOOD MORNING, PORTLAND! I can see behind your eyes the things that I don't know. If you hide away from me, how can our love grow? LET'S GO TO PRESS.
Sponsored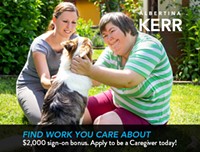 Become an Albertina Kerr Caregiver & help people experiencing intellectual and developmental disabilities.
IN LOCAL NEWS:
• The locations of three of the six new sanctioned camps (AKA "Safe Rest Villages") for the houseless have been announced by the city: one is downtown at 2300 SW Naito, another at 45th and SE Harney in the Brentwood-Darlington neighborhood, and the third is in a Trimet-owned lot at SE 122nd and East Burnside in the Hazelwood neighborhood. The other three locations are expected to be announced soon. Find out a lot more in this report from our Alex Zielinski!
City officials Thursday revealed the first three locations for the city's planned "safe rest villages," or sanctioned outdoor shelters for unhoused Portlanders. Here's a preview:https://t.co/JfKHiCoP9o

— Portland Mercury 🗞 (@portlandmercury) October 1, 2021
• Ian Cranston has been charged with murder, manslaughter, assault, and unlawful use of a weapon for the killing of a young Black man, Barry Washington Jr, outside a Bend nightclub on September 16. The murder took place after Washington allegedly began talking to Cranston's girlfriend. "Our country has a disgraceful history of denigrating, prosecuting and lynching Black men for talking to white women," DA Hummel told OPB. "There's a reckoning with race that needs to happen in Central Oregon, and it needs to happen now."
• Paul Riley, a former coach for the Portland Thorns, has been accused of sexual coercion according to this report from The Athletic. In response the Portland Thorns' front office has issued an apology to former Portland players Sinead Farrelly and Meleana Shim for the abuse they suffered, adding Riley's actions was one reason why the team severed ties with the coach. Thorns fans are not having it, taking particular aim at owner Merritt Paulson.
• Legacy Health is being forced to temporarily shutter some of their labs and clinics due to staffing shortages brought about by employee burnout, and workers who are refusing to get the mandated COVID vaccine.
The publisher of the New Republic has endorsed New York Times columnist Nick Kristof for Oregon governor. Win McCormack then updated his column to admit a conflict of interest https://t.co/E7vEeS8yUV

— Portland Tribune (@ThePortlandTrib) October 1, 2021
• Don't miss this week's very funny edition of POP QUIZ PDX, featuring a load of local trivia, newsy noggin-scratchers, and this week's subjective question: Who's the biggest a-hole in "Ferris Bueller's Day Off"?
IN NATIONAL/WORLD NEWS:
• Second time's hopefully a charm for House Speaker Nancy Pelosi who says there will be a vote on the infrastructure bill today, after yesterday's attempt fell apart after the liberal wing of the party refused to offer its support unless Biden's $3.5 trillion social services plan is passed first in the Senate. At this point, Democrat obstructionists (like Sen. Joe Manchin) will not approve the price tag that comes with reforming our clearly damaged system that preys upon the weakest Americans.
U.S. police killings were undercounted by more than 17,000 over the past 40 years, a new study found, raising questions about the racial bias of medical examiners and their role in obscuring the real extent of police violence. https://t.co/K3jisSSoF9

— The New York Times (@nytimes) October 1, 2021
• Pharmaceutical company Merck says their new experimental COVID-19 pill reduced hospitalizations and deaths by half among those who tested positive for the coronavirus. The company will soon be asking health officials around the globe for approval.
• Good news/bad news (I'll let you decide which is which): Deeply gross Supreme Court Justice Brett Kavanaugh has tested positive for COVID, though he's reportedly not experiencing any symptoms.
Your mail is about to slow down starting today. So we made a calculator for what USPS's changes mean for your Zip code.

Punch it where you live, and see what it means for your mail. Plus a bunch of other cool maps.https://t.co/8ww7VdqXQS

— Jacob Bogage (@jacobbogage) October 1, 2021
• The nation's most restrictive abortion law is before a Texas federal judge today in the latest attempt by the Biden administration to try and get it overturned before it can cause any more damage.
• A judge has ordered Infowars shithead Alex Jones to pay damages to the families of Sandy Hook victims after he called the horrible shooting incident a "giant hoax" carried out by "crisis actors."
• Are you ready for some sexy fun? Then don't miss HUMP! 2021—featuring tons of hotsy-totsy five-minute filthy flicks—coming at ya LIVE AND IN-PERSON at Revolution Hall for two screenings only TONIGHT October 1! (You can stream it online, too!) GET THOSE TIX QUICK!
• Get ready for one of the most delicious weeks of the year! The Mercury's WING WEEK returns Oct 4-10 with 24 creative wing dishes from your fave restaurants and bars—and they're only $6 per plate! YES, PLEASE!
• And now... THE WEATHER REPORT: Expect a mostly sunny day with a crisp high of 64!
• And finally, this is both adorable... and a bit horrifying?

"Wasn't us…" 🤔🤥🤣 pic.twitter.com/fjFz0y9c6B
— Mack & Becky Comedy (@MackBeckyComedy) September 29, 2021