The Mercury provides news and fun every single day—but your help is essential. If you believe Portland benefits from smart, local journalism and arts coverage, please consider making a small monthly contribution, because without you, there is no us. Thanks for your support!
GOOD MORNING, PORTLAND!
You leave without a word, no message, no number. And now my head is
pounding like rolling thunder
. LET'S GO TO PRESS.
Sponsored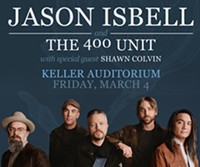 Jason Isbell has established himself as one of the most respected songwriters of his generation. Don't miss Jason Isbell and the 400 Unit, March 4th at Keller Auditorium!
IN LOCAL NEWS:
• First things first, the most delicious week of the year HAS FINALLY ARRIVED! The Mercury's WING WEEK is happening all this week (Oct 4-10) with 24 creative wing dishes from your fave restaurants and bars—and they're only $6 per plate! GET YOUR WINGS ON.
• According to a new study from Portland State, the wholly excellent Portland Street Response program—that answers non-violent 911 calls about houseless people or those in mental distress instead of the cops—is just as fantastic and necessary as we all knew it would be. (Well, everyone except three brake-pumpers on city council—guess who they were!) Our Alex Zielinski has the details.
Important update not addressed in report: PSR is doubling its team starting this month to include a team of three that works evenings/early mornings. This new team (one firefighter, one mental health worker, and a peer support specialist) will also operate in Lents neighborhood.
— Alex Zielinski (@alex_zee) October 5, 2021
• The "Recall Wheeler" campaign is apparently not going to collect enough signatures to meet the necessary deadline needed to get on the November ballot—but they're not giving up yet, and are suing the city for refusing to extend the deadline. Alex Zielinski explains why.
• Related: If you're tired of the constant barrage of "Portland is Dead" media coverage from no-nothing rich people, out-of-town pundits, and certain local editorial boards, this article by Zoë Carpenter in The Nation is a refreshing blast of truth that correctly points out that those who are rushing to clean up Portland's tarnished reputation are the ones that caused it, while also ignoring the calls for reform that was previously pushing the city in a more just direction. (Seriously, send this article to all of your nay-saying out-of-town relatives.)
• Fans of the Portland Thorns and Timbers soccer teams are rightfully PISSED by the way the Thorns management and owner Merritt Paulson handled sexual coercion charges leveled against former coach Paul Riley, and have declared a boycott of the teams' concessions and merchandise.
• A huge fire ripped through the beloved Hawthorne building that houses Lounge Lizard, Really Good Stuff, and Riyadh's Lebanese Restaurant yesterday, injuring two Portland firefighters.
CAUGHT ON CAMERA: Check out this video from @PDXFire of the explosion that sent two firefighters to the hospital. @fox12oregon pic.twitter.com/e4YoGqkYWe
— Connor McCarthy (@conr_mccarthy) October 6, 2021
• Portland band No One of Consequence has launched a debut album that critic Ray Gill, Jr. calls a "sonic dreamscape" that's "really something special." Check out the review here.
IN NATIONAL/WORLD NEWS:
• Unable to get obstructionist moderate Democrats to see the light, President Biden has conceded that he will need to lower the price tag on his $3.5 trillion social and environmental plan. While debate is still underway, the final cost will probably be between $1.9 trillion and $2.3 trillion—and some very necessary humanitarian programs will fall by the wayside.
• Speaking of obstructionists, hypocritical Senate Republicans are once again planning to block a debt ceiling vote which could endanger the global economy (not that they give a shit). However, they might indeed give a shit that Biden is seriously considering changing the rules surrounding their beloved filibuster.
Senate Democrats are weighing changing filibuster rules as Republicans blockade a vote to raise the federal debt limit.https://t.co/zxuJoYJjZj
— The New York Times (@nytimes) October 6, 2021
• A Facebook whistleblower testified before Congress yesterday, spilling the beans about how her former company blatantly ignores the harm it causes to children and democracy.
New from @reuters: One America News, the right-wing cable network that peddled 2020 election conspiracies, gets nearly all of its revenue from AT&T. https://t.co/4R7m4Qnkef pic.twitter.com/NyI4xQAkrN
— Brad Heath (@bradheath) October 6, 2021
• Good news for those with student debt: The Department of Education is announcing a new program that will revise previous restrictions and allow tens of thousands of borrowers to get out of debt.
• Something to keep an eye on: The FBI has raided the headquarters of the New York City police union for unknown reasons (though members of the public corruption unit of the U.S. Attorney's Office were involved), and hours later the president of the union resigned. (Here's your reminder that police unions are inherently corrupt and should never be lumped in with actual workers' unions.)
Workers at every one of Kellogg's U.S. cereal factories went on strike Tuesday after the company sought changes to benefits and vacation time under its contract with the union https://t.co/Npxc3fdEUp
— The Washington Post (@washingtonpost) October 6, 2021
• NASA is preparing to play a real-life game of "Asteroids" by launching an experimental rocket that will nudge a passing asteroid off its intended course as practice for any future possible collisions with the Earth.
• Get ready for the fun fright of your life with SLAY—the Mercury's short HORROR film fest coming at ya online from Oct 22-31, and LIVE and IN-PERSON at the Clinton Street Theater on Oct 29 & 30! GET THOSE TICKETS NOW.
• And now... THE WEATHER REPORT: Some sun and a chance of showers today with a high of 60!
• And finally, depending on the morning, I'm either the puppy or the chick in this video.

Sleepy.. pic.twitter.com/c8ofzbJu1J
— Buitengebieden (@buitengebieden_) October 5, 2021