Saint Burrito, the Southeast Portland gem located in
Pod 28
and operating inside a 1950s Airstream, simply oozes character. Surrounded by greenery, this Mexican food cart came into existence when owner Tim Prigo decided to help out some friends. At the time, the cart—which was being used only in the mornings—needed an evening occupant. Prigo took the opportunity, and those nights eventually led to him buying the cart, opening for lunch, and hiring employees. Now, Saint Burrito is bringing a fresh approach to Mexican cuisine five days a week.
Sponsored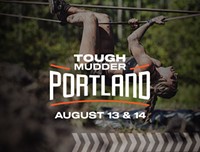 Lock in your summer adventure, Portland. Join us for world famous obstacles over a 5K or 10K distance.
The cart may have started in 2016, but Prigo's passion for cooking dates back to his childhood and being raised in a Catholic home.
"My dad's Russian, my mother's Mexican," Prigo explains. "I mainly grew up with her and my grandmother and they're Mexican Catholics. So I basically grew up in the Catholic church. I was an altar boy and, even at an early age, thought I wanted to be a priest. Mexican food kind of went hand and hand with that. It was just what we ate. It was always a thing that I looked forward to. Being with my grandma, you make your rosaries, you make your scapulars, then we go get Mexican food."
Despite its moniker, the name Saint Burrito is less about Prigo's upbringing, and more about Juan Mendez and the burrito folklore of how Mendez traveled via donkey to disperse his creation.
"I liked the concept. Like, that's our patron saint of burritos," Prigo explains.
Either way, the options Prigo and his staff are dishing out are quite heavenly, from the three cheese quesadillas and yellowfin tacos with shredded cabbage, house salsa, green chili crema, green onion, cilantro and lime, to sides like the rice and beans, which is hearty and satisfying enough to be its own dish. As for the burritos, be prepared for a pleasant roller coaster ride of flavor. The chicken burrito is loaded with guajillo-ancho chile sauce, refried black and pinto beans, red rice, house salsa, shredded cabbage, arbol chile crema, and cilantro. The veggie burrito contains the same—sans meat—with the addition of seared bell peppers, zucchini, yellow squash, and guac.
"My current go-to right now is the pork burrito," Prigo says. "It's become my favorite thing, because we give a nice crisp to it so there's texture when you bite into it. Texture with proteins is important to me. That, with the addition of grilled onions, smells so good."
On weekends, Saint Burrito offers breakfast burritos and chilaquiles. They're also sourcing their tortillas from Tortilleria Las 4 Hermanas and popsicles from La Michoacana—both Hillsboro based.
While talks of expansion are premature at the moment, Saint Burrito's quaint menu is just a precursor of what's to come.
"Where I'd like to go is into a larger restaurant," Prigo says. "I don't see us as having a lot of little carts. I want to focus on one special spot. That's how I see it playing out. Every day we're working toward a bigger goal, to create a large menu that's really good. You can't just get the space and then create the menu. We not only need to understand the dishes, we need to understand why the elements in the dishes are the way they are. Why do we like these textures? What are the dynamic elements of it?"
When that time comes, the restaurant will be a family-style establishment, with menu additions like fajita plates, tacos, and soups.
Aside from the food, one thing Prigo is continuously making an effort to stay on top of—now and in the future—is having a system and atmosphere that promotes equality and a healthy work-life balance for his employees.
"I'm trying to take in what it means to work in the restaurant industry," Prigo says. "We're building. We all want to have a restaurant—that is the goal. But how do we become a restaurant that's going to fit this new paradigm? How do I run a successful business in these times? I want to make sure we fit into the new landscape. For me, that means a lot of learning and taking in what everyone's saying. It's forced me to—for the better—to be very close to all my staff. I work with them every day. They expect nothing less. They give what they get. They believe in the dream we have."

---
Saint Burrito, 113 SE 28th, open for lunch Monday and Thursday-Sunday at 11:30 am-8:30 pm, breakfast 9 am-11:30 am Saturday and Sunday