There has been an absolute onslaught of outstanding new music the last few weeks from both local artists and mainstream ones, including Silk Sonic
and Zyah Belle
. Among them is a new EP from one of Oregon's fastest rising hip-hop artists. Released via Portland's own EYRST label, hometown hero rapper Wynne joined forces with Dreamville beatmaker Christo for a fresh 6-track EP,
DO MY OWN STUNTS
. The project follows up 2019's impressive full-length debut,
If I May...
, which she went on to perform while on tour opening for EarthGang. Although the November 11 release comes a couple weeks after Halloween, the project is paired with a black-and-white aesthetic, and seriously sinister production by Christo. Over the project's 15-minute runtime, the rapper switches up her flow often, occasionally sings, and stays with her tradition of delivering pop culture references, sports metaphors, and quick, clever lines that make you think.
Sponsored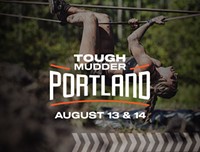 Lock in your summer adventure, Portland. Join us for world famous obstacles over a 5K or 10K distance.
"Mary's Lambo" is super solid, and sees Wynne appropriately flexing a fast cadence as she raps about her super quick getaway. Closing out her last verse, she raps: "Let the beat rest in peace, give me my check then leave/ I said that I'm sick of these fleas/ How come they buggin' my dogs, they better go get that leash then leave/ That's it, I'm saying my peace, why's your man followin' me?/ Locked the game up and swallowed my keys, say cheese/ Picture this face 'fore it's taking the lead."
And the catchy "Carrot Cake" single has a music video that's fire—literally:
Project opener "Olé Olé" starts the record off strong and spicy, as Wynne uses an analogy to cast herself as a matador, and the man she's dealing with as the bull she's fighting: "Fullback hittin' on me, I'm knocked out/ On a rebound we gon' box out, what you talkin' bout? Lemme find out/ Corner me in? I'll put you in a timeout, who else wanna fight now?/ If I put the mic down, I'mma give a tough guy somethin' to cry 'about."
"Bounceman Freestyle" and "Stunt" are two bouncy, racy tracks that'll translate well to the stage. Closing track "Demon" is delightfully eerie; Wynne opens the song with "Don't ask me questions about my past life/ I know they will beat me til I flat line/ Trippin if they thinkin' that they can have mine / You not staying long boy, you should pack light."
There are zero features on DO MY OWN STUNTS. With her many blows throughout, Wynne shows she can hold her own without any help—hence the title.
Sponsored
Virtual Auction Event & Drag Queen Fashion Show. You won't want to miss this show!