The Mercury provides news and fun every single day—but your help is essential. If you believe Portland benefits from smart, local journalism and arts coverage, please consider making a small monthly contribution, because without you, there is no us. Thanks for your support!
Sponsored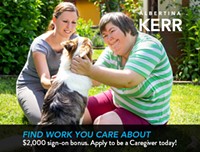 Become an Albertina Kerr Caregiver & help people experiencing intellectual and developmental disabilities.
IN LOCAL NEWS:
• A significant portion of I-5 was shut down today when a person suspected of a series of carjackings was shot and killed by police. Our Alex Zielinski has the latest details.

"No others... were injured".

This is a weird way to talk about an incident where someone was killed. https://t.co/zPt9txrdk9

— Alex Zielinski (@alex_zee) December 6, 2021
• According to police, on Sunday a 27-year-old man was struck and killed while inside his tent near an I-205 interstate offramp by an allegedly intoxicated driver. The driver has been arrested and is being charged with Criminally Negligent Homicide, Driving Under the Influence of Intoxicants, and Reckless Driving.
• Congrats to our Portland Timbers, who clinched a spot in the upcoming MLS Cup Final (to be played here in Portland on Dec 11) by defeating Real Salt Lake 2-0 on Saturday!
• If you're planning on getting DEBAUCHEROUS this holiday season, the Mercury is here to help with our Holiday Debauchery Guide, cram-packed with fun, informative stories about drinking, puffing, sexy times, and even some advice about healing following the naughtiest season of the year! DO NOT MISS IT!

An eye-opening, darkly funny firsthand account of being a Portland sex worker during the holidays and the pandemic by an anonymous local sex worker/writer:https://t.co/mDBf5zW4re

— Blair Stenvick (@BlairStenvick) December 6, 2021
IN NATIONAL/WORLD NEWS:
• The Justice Department is filing a suit against the state of Texas over Republicans' blatant gerrymandering of districts that would especially discriminate against Black and Latino voters.
Biden touts prescription drug cost cuts in Build Back Better as bill faces uncertain Christmas deadline in Senate https://t.co/KqzSyIu3a5 via @Yahoo

— Dorothy Grady (@DorothyGrady7) December 6, 2021
• Today in "Bye-bye, asshole": Republican Trump co-conspirator Rep. Devin Nunes has announced he will be resigning at the end of the month to become the new head of Trump's new media and technology company. (Oh! The same one that's currently UNDER INVESTIGATION?)
BREAKING: Jussie Smollett testifies "there was no hoax" during his trial on charges he lied to Chicago police about a racist, anti-gay attack. Two brothers have testified that Smollett, who is gay and Black, paid them $3,500 to carry out a fake attack.https://t.co/PqScDJtWb2

— The Associated Press (@AP) December 6, 2021
• Biden will be having a video call tomorrow with Russia's Vladimir Putin, and is planning to issue a stern warning not to take military action against Ukraine. Putin has sent 90,000 troops to the country's border.
• After being shitcanned by CNN for unethical behavior and a charge of sexual misconduct, former anchor Chris Cuomo has announced he's also quitting his SiriusXM radio gig.
• In Drake news:

Drake Withdraws His 2021 Grammy Nominations https://t.co/3P69NoZdHl

— Variety (@Variety) December 6, 2021
• You want to find the perfect gift while also supporting local businesses, yes? YES! Then don't miss the Mercury's Holiday Gift Guide, featuring only the coolest gifts and where to find them... locally!
• And now... THE WEATHER REPORT: Cloudy with a chance of showers tomorrow with a high of 50.
• And finally... expect the same treatment here in February (if not sooner)!

This may take awhile. 😳😜🥶 pic.twitter.com/DGIzS8cUzj

— Fred Schultz (@fred035schultz) December 6, 2021