A coalition of nearly 90 organizations from across the state is pushing the Oregon State Treasury to divest from fossil fuels.
Earlier this week, the coalition Divest Oregon launched a new report stating that the state treasury has at least $5.3 billion of public money invested in fossil fuel companies—an amount that exceeds the entire federal budget for energy efficiency and renewable energy this year as the world teeters on the brink of climate emergency.
Sponsored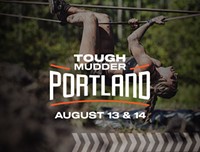 Lock in your summer adventure, Portland. Join us for world famous obstacles over a 5K or 10K distance.
"There's... the irony of Oregon being a champion in the environmental movement, but also a social justice champion, and having these investments are at cross-purposes with that image or view we have of ourselves," the coalition's spokesperson Andrew Bogrand said.
Those billions support the operations of corporations like Chevron, Exxon Mobil, and Pacific Gas and Electric. According to the report, more than $1 billion of the $5.3 billion is directly invested in the coal industry.
The $5.3 billion number, which represents just less than five percent of the total sum the state treasury has invested between the Public Employees Retirement System (PERS) and the investment pool Oregon Short Term Fund (ORSTF), is likely a significant undercount of the state's fossil fuel investments.
That is because in addition to its public investments, the state treasury has more than $25 billion invested in private equity firms like KKR—which alone owns dozens of energy companies and is invested in fracked gas and pipeline projects like the Coastal GasLink Project in the Northwest.
The volunteers leading the Divest Oregon coalition and the member organizations that have signed on from across the state are pushing for the state to stop making new investments in fossil fuel companies and phase out its current fossil fuel investments by 2026 for a number of reasons. One stands out above all else.
"We've seen it just in the past weeks, when we had the 80 degree day on Thursday and snow on Tuesday," Bogrand said. "That kind of bizarre weather pattern, it's here. It's already upon us. There's a lot of assumption that climate change is yet to arrive, or we're waiting for the worst impacts, and people are already passing away."
Amy Bates, a spokesperson for the state treasury, wrote in an email to the Mercury that the treasury has received the report.
"We welcome continued dialogue with Oregonians on the best ways to address the risks of climate change while ensuring that we meet our mandate to produce sustainable returns for beneficiaries," Bates wrote. "We're committed to a portfolio that reflects the realities of a changing climate, and a changing policy environment, while earning money for tens of thousands of Oregonians' retirement security."
It's not just climate concerns that are fueling the divestment push. As the effects of global warming intensify and governments increasingly push to move away from extractive energy sources, many observers believe that investments in fossil fuels represent serious financial risks.
"I don't think there's anyone in the mainstream, store-brand investment community who would think that fossil fuels… are a good long-term investment," Bogrand said. "I don't think that's Wall Street's opinion any longer."
Given the bleak long-term financial outlook of the fossil fuel industry, it is possible that the state treasury would eventually move away from its fossil fuel investments anyway. But for the leaders of the coalition, the treasury's lack of urgency—given the timeline on which climate change is threatening Oregon and the rest of the world—is unacceptable.
---
"I don't think there's anyone in the mainstream, store-brand investment community who would think that fossil fuels are a good long-term investment."- Andrew Bogrand, Divest Oregon
---
The genesis of the campaign came last May, when members of the Defund/Divest team at the climate justice organization 350PDX met with State Treasurer and current gubernatorial candidate Tobias Read about the climate goals for the state. They didn't leave impressed.
"The answers were really so unconvincing and disappointing," Susan Palmiter, the coalition's co-lead, said. "So we kind of looked at each other, [co-lead] Jenifer [Schramm] and I, and said, 'Somebody has got to work on this. Who is going to do it?' We didn't see anyone else, so we took it up."
Over the summer, Palmiter, Schramm and other volunteers began gathering coalition members and made a public records request for data on the state treasury's fossil fuel investments. It took months, but, after launching a bill in the state legislature to require annual publication of the state's assets held in investment funds, they ultimately received access to the data in December.
The state treasury's opposition to that bill, which passed the state house but stalled in the state senate, was clarifying for the divestment movement organizers.
"There's a transparency issue at the treasury," Palmiter said. "That's quite clear."
The Divest Oregon movement's goals are not by any means unprecedented. Last summer, Maine passed legislation mandating fossil fuel divestment by 2026. New York and New York City have both begun divestment processes as well, as have a number of major colleges and universities.
In announcing its decision to divest from fossil fuels in 2019, investment officers with the University of California system pointed to the "financial risk" posed by fossil fuel investments and said that new energy sources provided "more attractive investment opportunities."
Whether or not fossil fuel investments make economic sense, Divest Oregon members argue that they are completely at odds with the state's values and long-term interests.
Not only is Oregon extremely vulnerable to the effects of climate change, but as Bogrand pointed out, while some states have sizable oil and gas industries and benefit—at least in the short term—from the primacy of those substances, Oregon does not.
"We're not an oil, gas, or coal state," Bogrand said. "We have a big green energy sector here, and a lot of our state dollars come from ecotourism or tourists that are taking advantage of our scenic nature. That is far more of an economic boost to the state than fossil fuels."
There are also geopolitical considerations. Author and activist Bill McKibben, who co-founded 350.org, noted on a Divest Oregon call on Wednesday that not only does investment in and reliance on fossil fuels account for the political power of autocratic leaders like Vladimir Putin and Mohammed bin Salman, but also of figures like the Koch Brothers in the United States.
Fossil fuels are not the only area in which the state has made investments seemingly contrary to state values. In January, The Guardian reported that the state's public pension supported a deal by an investment firm to acquire an Israeli spyware firm that has been linked to human rights violations.
In the coming months, Palmiter said that Divest Oregon will focus on broadcasting the voices of PERS members who do not want their retirement money invested in a system that is empowering the far right and leading to the destruction of the planet.
They also plan to attempt to advance their bill requiring transparency from the treasury in the next legislative session and apply pressure at the Oregon Investment Council, a group of four appointed members plus the state treasurer who are responsible for overseeing the investment of state funds.
Two seats on the investment council are currently open, and coalition members said that they have been in contact with the Governor Kate Brown's office about her choices to fill the seats and the divestment movement more broadly.
The coalition includes environmental, labor, racial justice, and religious organizations, and believes that its size and multifaceted approach to applying pressure can overcome state treasury "inertia" and force the state's hand on divestment.
"It is a national and international movement," Palmiter said. "Oregon needs to be part of it."
Sponsored
Virtual Auction Event & Drag Queen Fashion Show. You won't want to miss this show!