Update 5/8 8:55 am:
Sponsored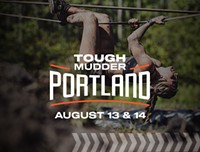 Lock in your summer adventure, Portland. Join us for world famous obstacles over a 5K or 10K distance.
Four Portland police officers and a driver exchanged gunfire during a traffic stop Friday night, according to the Portland Police Bureau (PPB). The driver is hospitalized with critical injuries and no officers were injured during the shooting.
According to the police, officers pulled over a driver in the Roseway neighborhood around 9 pm due to multiple vehicle violations. PPB has not clarified what the violations were. During the traffic stop, police said there was an "exchange of gunfire" between the driver and police officers. Police said they seized a semiautomatic handgun from the scene.
The four officers involved in the shooting are Adi Ramic, Michelle Petty, Whitney Anderson, and John Bartlett. Bartlett and Petty were named in a lawsuit filed by two journalists who were arrested during the 2020 protests against police brutality. The lawsuit alleged that Bartlett and Petty arrested the journalists after one of them identified Bartlett by name during a protest and, by doing so, violated their right to free speech and assembly.
Ramic was sued in 2019 after breaking a protester's nose while arresting her during a 2017 protest. A jury found Ramic not guilty of intentionally harming the protester.
All four officers are members of the Focused Intervention Team, a PPB team created earlier this year in an effort to reduce rising gun violence in the city.
The officers are on paid leave while the shooting is under investigation. PPB will release the driver's name after he has been charged with a crime.
Original post 5/7 8:39 am:
Portland police shot a member of the public while conducting a traffic stop in the Roseway neighborhood Friday night.
According to a Portland Police Bureau (PPB) press release, two officers were on patrol and pulled over a driver for "multiple violations" at Northeast 78th Avenue and Northeast Mason Street around 9 pm. During the traffic stop, one or both officers shot the driver. The injured person was transported to the hospital with life threatening injuries, according to the police.
The Portland Police Homicide Unit is investigating the shooting.
"There is a lot to be learned about what took place," PPB Acting Chief Mike Frome said in a press release. Frome is filling in for PPB Chief Chuck Lovell while he is out of the state.
This is the second police shooting in 2022. Two police officers shot and killed a person in February while responding to calls of someone shooting a gun in the Southwest Hills. Portland police shot eight people in 2021, killing four.
This story may be updated