WHAT DO YOU put in a magazine without advertisements? Fantasy adventure art, obviously.
It's been two years since the release of Study Group Magazine #3, in all of its red-and-blue line, 3D glory (and easy-to-lose paper glasses). The long-awaited follow-up has a Dungeons & Dragons adventure theme and tons of stand-alone fantasy art by locals like Jennifer Parks and Study Group Co-Editor Zack Soto (The Secret Voice). Even more so than in past issues, SG #4's main focus is on the critical analysis of comics as an art form. There's a six-page article about D&D and world-building by Dylan Horrocks (Hicksville) that draws from the history of Ed Greenwood's Forgotten Realms campaign and Horrocks' personal dungeon master experiences.
James Romberger (7 Miles a Second) pens a thoroughly researched history of Hal Foster's (Prince Valiant) influence on the legendary Jack Kirby. But the jewel of the issue is Milo George's exhaustive, 16-page profile of Farel Dalrymple (The Wrenchies). Along with Soto, George's also a co-editor of Study Group, and you see his name pop up several times in the nearly 100-page issue. The Dalrymple interview, which goes deep into the comics artist's processes and motivations, could have been dull in less accomplished hands, but George's edits shave it into an easy, snappy read.
Compared to past issues, Study Group #4 is light on comics, perhaps because they're available on its website, which updates several comics' storylines semiregularly on different days of the week. The comics that do appear in Study Group #4 come from Lark Pien, Levon Jihanian, Ian Chachere, and Patrick Crotty. In Pien's work, Shitbag, it's not immediately apparent if we are reading an actual comic or the artist's thumbnailing process. The drawings are far too pretty for traditional thumbnailing, but Pien's notes and placeholder "scene missing" boxes open a window onto a plotting process. The story remains strong and rewarding despite its lo-fi art, making it a perfect fit for a magazine obsessed with the nitty-gritty specifics of comics.
Study Group #4 is out now. You can pick up copies in stores or online, but the big release this week coincides with Floating World Comics' 10th anniversary party, where many of the artists will be on hand to sign issues.
Sponsored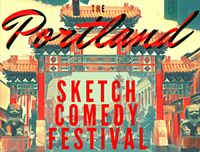 Sketch comedy troupes from all over N. America descend on The Siren Theater for 3 glorious nights.