I READ ROLLING BLACKOUTS in black and white. Our review copy was a gray-toned paperback with one burst of tantalizing color pages stapled near the back of the book.
I was happy to read it, even in gray, but over the course of Sarah Glidden's detailed narrative of traveling through Iraq, Syria, and Turkey with Seattle Globalist reporters, I found myself returning to the color section more and more. The scene depicted is extremely mundane—people sitting and answering interview questions, uncomfortably close on couches, in a living room in Damascus.
But despite the sketchy border crossings, the refugee camps, the arguments, and the soul-searching I'd seen in the previous pages, it was these glossy ones I thought about the most. I admired the detailed watercolor renderings of the scarves the women wore around their faces. In the blanched stone houses, the scarves were sometimes the only vibrant color in the room.
I read Rolling Blackouts in black and white so I can tell you that even without the terrific color work Sarah Glidden has become known for, the story itself is compelling, if muddled. One of my great hopes for Rolling Blackouts was that it would have a more cohesive plot and ending than Glidden's 2010 graphic novel How to Understand Israel in 60 Days or Less. 60 Days was a handwringer that seemed to forget what it was even looking for, but it was also about Glidden trying to understand the Israeli-Palestinian conflict while on her Birthright Israel tour. That was an incredibly ambitious thing to try to write about, and if I let go of wanting a hard ending or a nicely packaged lesson, then I'd say it sums up its subject matter perfectly.
Rolling Blackouts is more of the same, and this time the great question Glidden is trying to ask is, unfortunately enough, What is journalism? NO, SARAH, CLOSE THE ARK IT'S NOT MEANT FOR HUMAN EYES. (We are all skeletons now. Onward.) The title refers to the citywide blackouts of Sulaymaniyah, which Glidden and her team experienced during their travels. It also relates to memory, information, the time it takes to transfer ideas, and the things we willingly try to forget. There's no hard landing to the question of journalism or the pursuit of telling the truth this time around either. But while Rolling Blackouts is ambitious, Glidden does better than many.
---
Rolling Blackouts: Dispatches from Turkey, Syria, and Iraq
by Sarah Glidden
(Drawn & Quarterly)
Sponsored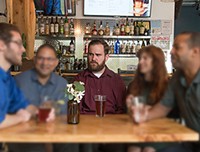 Adults aged 18-35 with good hearing will be paid for their time. Located at the Portland VA Medical Center