Eat and Drink Fall 2018
Portland is fortunate enough to have more than a dozen restaurants to score incredible ramen. Some of these spots are even helmed by skilled ramen chefs straight from Japan, where ramen is venerated as an art. But in Japan, ramen isn't all high craft and honorifics; it's also a basic subsistence food enjoyed by all classes. Office workers inhale their ramen standing at narrow counters, and there's no shame in eating instant noodles; they're a staple food—a thread in the culinary tapestry. I wanted to find out what Portland's ramen chefs think about instant noodles—how did they eat them as a kid, or in college? And more importantly, what would they do with the instant noodles now that they're all grown up?
Sponsored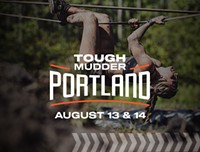 Lock in your summer adventure, Portland. Join us for world famous obstacles over a 5K or 10K distance.
Unfortunately, most local ramen chefs seemed put off that I'd put their work and Cup Noodles in the same conversation, and wanted nothing to do with my story. Only a couple even responded to my request, politely declining. But here's the thing: No matter the caliber of food they prepare at work, I know the kind of shit most cooks eat when they get home, and it ain't risotto and truffles. They eat bowls of shame—macaroni and cheese, mashed potatoes, and pulled pork—cobbled together from the grocery store deli. They eat cold cereal while standing over the sink. They eat Totino's Party Pizza.
And sometimes, they eat instant ramen. Here's how a couple of them turn cheap noodles into works of art.
---
Lola Milholland, CEO and Founder, Umi Organic
Though not a chef, Lola Milholland makes exquisite ramen noodles for the retail market (and I occasionally develop wacky recipes like nacho ramen for her website). Bless her heart, she will still fuck around with some instant noodles once in a while.
Milholland's take was a familiar one: Add heat, fat, and something green. Using Thai brand Mama (pork flavor), she added melted leeks and shredded romaine lettuce, hunks of very ripe tomato sprinkled with black pepper, a sprinkle of scallions and a pat of butter. This was all fine and dandy, but her use of homemade black bean chili oil was truly inspired. Upon tasting, we both agreed that the bowl needed a little more salt (and/or MSG), but was otherwise a very good use of 50 cents' worth of noodles.
---
Patrick Fleming, Chef/Owner, Boke
Patrick Fleming was too busy with preparations for Feast to participate in my disrespectful shenanigans, but was gracious enough to share with me the most outstanding tale of human ingenuity (edited slightly for brevity):
"During college summer break in '89, I lived in Colorado. One weekend I tailgated all day at Red Rocks at a Stevie Ray Vaughan/BB King show, and after the show some friends and I drove to a remote wooded area owned by my friends' parents. All that marked the property was a small mailbox. There was no running water or electricity. At this point we realized how famished we were after an epic day of music and partying; however, all we had were a few freeze-dried packages of ramen, a lighter, and beer.
"After a lengthy search for a cooking vessel we had only one feasible solution: the mailbox. We built a fire and dismantled the mailbox. We had no water so we brought our beer to a boil, angling it just right so the fluid would settle to one corner and not leak out of the cracks. After a few adjustments and a couple cans of beer, we found success. We cooked the packages together and proudly passed our cauldron of ramen among one another to share our bounty. To this day it was the most memorable 'bowl' of ramen I've consumed."
---
Grant Macdonald, Director NW Operations, Afuri Ramen
Though Macdonald admitted he doesn't really do instant ramen, it was one of Afuri's cooks that helpfully chimed in about his "bowl of shame." Nonetheless, Macdonald was sport enough to throw down with some Sapporo Ichiban brand "original" flavor (approximating the traditional shoyu style of ramen). And even though Afuri's ramen is complex and multilayered, Macdonald insisted on keeping his bowl simple, adding only a few tender nuggets of grilled chicken, a sprinkling of thinly sliced scallions, and topping it off with a dribble of oil simmered with garlic, scallions, and bonito shavings. Grocery store ramen has never tasted better.
Ironically, Afuri is the only ramen restaurant in town that has its own line of instant noodles! It's currently only available in Japan (the country is known for its mind-boggling array of instant noodles, only a minuscule fraction of which we can find stateside), but I had a chance to taste the spicy Yuzu Ratan Ramen, made by Nissin (the company founded in 1958 by Momofuku Ando, inventor of instant ramen). Though it was a pale facsimile of the original article offered in the restaurant, it was fucking delicious.
Are instant noodles "real" ramen? Probably not. But with a flavorful fat and a pinch of scallions, it can be a meal fit for a real chef.