It's election night in Portland, which can only mean one thing: Time for a riveting and raucous Portland Mercury liveblog! 
There are a heap of candidates and ballot measures on the table tonight, and the stakes couldn't be higher. From the three-way governor's race, to congressional seats that could flip the US House, to new Multnomah County leadership, to the fate of Portland's government structure—we've got a lot to chew on. 
To make things even spicier, it may take a little longer than usual to confidently announce a victor in any of these races, thanks to a new state law that allows mail-in ballots postmarked by November 8 to be counted by election officials up to a week after Election Day. The state first experimented with this new law in the May primary election, and it didn't cause a calamitous delay in results. All that is to say: We may not have final election results by the end of the evening. 
That won't stop our trusty editorial squad (Alex Zielinski, Isabella Garcia, Suzette Smith, Elinor Jones, and Wm. Steven Humphrey) from hitting the pavement this evening to swoop in on numerous election night parties and catch the crowds' reactions as results begin to filter in after 8 pm. We'll pair this coverage with up-to-date state and local results (and maybe a few dog photos?) as the night wears on. Stay tuned!
---
FINAL UPDATE 11:33 PM
Alright folks, we're calling it a night after pounding the pavement collecting election night vibes from your local campaign parties. What. A. Night! As expected, we're left with a number of races too close to call at this point—as a reminder, mailed-in ballots are still going to be tallied up over the course of the next week.
There are some races we can confidently say are decided—like every Portland-area Democrat running for seat in the state legislature—thanks to a significant gap in counted ballots. The state measure to ban slavery as a punishment for crime passed, as did the measure penalizing legislatures who have more than 10 unexcused absences. So did Measure 114, which adds restrictions to firearm ownership.
Christina Stephenson has handily won the race to lead the Bureau of Labor and Industries with more than 60 percent of ballots counted this evening. At the county level, the Multnomah County charter amendment to allow non-citizens to vote failed, while the amendment to create ranked-choice voting in Multnomah County passed. The county measures mandating additional jail inspections and creating an ombudsperson office also passed.
Some of the local races are a little murkier. Multnomah County Commissioner Jessica Vega Pederson has a small lead over fellow Commissioner Sharon Meieran, at 52 percent to 47 percent of votes counted. As of 11:30 pm, City Commissioner Jo Ann Hardesty has 44 percent of counted ballots, with opponent Rene Gonzalez collecting 55 percent. The city ballot measure to overhaul Portland's system of government has a similar lead—55 percent of Portlanders are eager to pass the charter change, while 44 percent want it to fail. Oh, and then there's the governor's race: Still too close to call!
Stay tuned in the coming days as we patiently wait for additional ballots to filter in and create some concrete results. We'll be here to help explain what it all means. Thanks for tagging along with us tonight!—AZ
UPDATE 11:22 PM
The time has come: Tina Kotek takes the stage to chants of "Tina! Tina!" I realize I'm surrounded by a crowd of... youths? When Kotek thanks the "Teens for Tina" group, a girl behind me squeals, "That's us!" Kotek is quick to address the very close race—she's currently drawing in almost 46 percent of tallied votes, while her opponent, Republican Christine Drazan is boasting 44 percent. "The reality is the race is still too close to call tonight," says Kotek. She points out that it's for a legitimate and important reason—the state needs to count all the late ballots arriving in the mail as they filter in over the next week. "We need to respect the process. We may have to wait a while, and frankly that's okay," said Kotek. "We want to make sure all Oregonians' voices are heard." Kotek is joined on stage by her wife, Aimee Kotek Wilson, for a final arms-raised-victory-wave before leaving the stage. No media questions tonight. That's a wrap!—AZ
UPDATE 11:07 PM
"The reality is the race is still too close to call tonight," says Tina Kotek. https://t.co/0uFNOd1BCq

— Alex Zielinski (@alex_zee) November 9, 2022
So how close is it? THIS CLOSE:
UPDATE 10:34 PM
Update! Rep. Julie Fahey and House Speaker Dan Rayfield bring all new/returning House Democrats to the stage, cheering for the fact that the state still has a majority of Democrats in the State House. The representatives are JAZZED. A lot of senior year at homecoming energy from this crowd.—AZ
UPDATE 10:07 PM
It's just past 10 pm and the Oregonian at least has called OR-4 for Democrat Val Hoyle. Can…I…call races? Gosh, what a fun job.
The rest of the statewide races are still pretty tight, with Kotek still in the lead for the gubernatorial race. I feel like if I don't watch an episode of Great British Baking Show right this very minute I will die, so I'm signing off for now. I want to re-associate to good news in the morning!
In the meantime, please enjoy the most high-stakes battle for power of the day:
Truly the greatest battle of the night: which puppy will get the toy?

Reports indicate that Coconut has taken the lead, but in lieu of concession, Clyde has started biting.

A LOT TO THINK ABOUT pic.twitter.com/5vjBCMgAR9

— Elinor Jones (@ElinorJoneser) November 9, 2022
—ELINOR JONES
UPDATE 9:50 PM
As we await another results drop at 10 pm, let's check on my race to finish an entire "Sharing Size" bag of Kettle Honey Dijon chips. While it's still early, Wm. Steven Humphrey has taken a commanding lead, easily devouring 72% of the bag's contents, to the chips 28%. Wait... this just in... the Oregonian has called it: Wm. Steven Humphrey has destroyed the chips. Humphrey is expected to speak to his supporters at 11 pm... stay tuned for updates.—WSH
UPDATE 9:45 PM
Some more mixed bags in national results: Republican Brian Kemp has won in Georgia's gubernatorial race against Democratic darling Stacy Abrams in a close race that should have been closer. This one is a big bummer.
Over in the senate race in Arizona, it looks like Democrat Mark Kelly is poised to beat the very dumbly-named Blake Masters, although it's still too early to call.
The house races between Hoyle and Skarlatos, McLeod-Skinner and Chavez-Deremer, and Salinas and Erickson are all still very tight. Methinks those results will take a bit yet. No biggie, just the FUTURE OF DEMOCRACY ON THE LINE!!!!!!!!
Our dear neighbors to the North in Vancouver (WA-3) are also neck and neck.
You guys! This sucks!! This system is so needlessly dumb and stressful! AUGGGHH!!—EJ
UPDATE 9:40 PM
Back at the Dems' party at the Hyatt. I missed Christina Stephenson declare victory in the state labor commissioner race and Sen. Ron Wyden's speech, but the party's not over and the popcorn continues to flow. Rumor has it that Tina Kotek won't be taking the stage until around 11 pm—so stick with us. Campaign representatives for Measure 112, the measure to ban involuntary servitude for punishment as a crime, are very pleased with tonight's outcome. "We are so grateful for the Oregonians who said no to slavery!" says ACLU of Oregon Sandy Chung. I'll be sticking around here until Kotek pops out behind the curtain. Stay tuned.—AZ
UPDATE 9:25 PM
In conclusion, Portland is a land of contrasts pic.twitter.com/dmcIuqMnk4

— K. Rambo (@k_rambo_) November 9, 2022
UPDATE 9:20 PM
Meieran's get together at the Society Hotel has no security, but the door is locked. Lucky for me, I look like a nice person so someone lets me in. Assumption: Everyone in this cafe is on a first name basis. Meieran is thanking essentially every person in the room—for instance, the person who made her skirt, who is here. Her speech is 30 minutes of uninterrupted appreciation. I am trapped.—SS
[Editor's note: Can someone rescue Suzette, please?]
UPDATE 9:10 PM
Sharon Meieran's election party at the Society Hotel is cozy af.

"This race is far from over and will play out over the next hours—days," Meieran says to the assembled crowd. "It'll be interesting. It is too close to call." pic.twitter.com/GlCsfBHdg9

— Suzette Smith (@suzettesmith) November 9, 2022
UPDATE 9:05 PM
JVP takes to the mic to say thanks, pointing out all of the campaign staff, volunteers, and organizations who helped her campaign along the way. She also notes that last call is at 8:50, so DRINK UP. There's a cute little "JVP! JVP! JVP!" chant when she finishes her speech. Out of nowhere, Sam Adams shows up to glad hand with the other local politicians here. Tbh, his presence feels similar to when a crow lands on a gravestone in a foggy cemetery. Eerie. Ominous. A total party foul. And—my cue to leave! With that, I'm driving home to drown myself in peppermint tea.—IG
UPDATE 9:03 PM
Okay, the numbers are finally updating for Oregon's 4th Congressional District and Val Hoyle has pulled ahead of Alek Skarlatos with a 10-point lead. But over in the 5th, Jamie McLeod-Skinner (D) is now behind Lori Chavez-Deremer (R) by about 10,000 votes. Andrea Salinas (D) is still ahead in the 6th. These races are super important because the House of Representatives nationwide is basically neck and neck. Come through, Oregon!
In the governor's race, Kotek still leading Drazan by 2 points: 46 to 44. Pardon me while I replace the press-on nails that I've chewed to the quick.—EJ
UPDATE 9:01 PM
The charter reform folks have called it, even though no one else has. It's the kind of energy we all deserve this freezing November eve, to be honest. Now the talk has pivoted to "Who are we going to elect to City Council in 2024?" Because FOLKS, the charter reforms mean we get to elect our ENTIRE CITY COUNCIL from scratch in two years. We'll get to those details once this race has been called, though. I can now hear the music and it's "Rolling on the River" by Tina Turner if that yelling guy from earlier is still curious.—AZ
UPDATE 8:59 PM
At an election night party in front of her supporters, @senbetsyjohnson conceded in the race for Oregon governor. The latest results show she has 9.18% of the vote.

Democrat @TinaKotek leads Republican @ChristineDrazan by less than 1%. https://t.co/Ablm1EgZ8U pic.twitter.com/8W2vo4MY63

— Amanda Arden (@AmandaArdenNews) November 9, 2022
LOOK, and she left her glasses behind!—WSH
UPDATE 8:51 PM
Made to Spirit of 77 for the pro Measure 26-228 (charter reform) party. It's BUMPING and there isn't even a Blazers game on. Campaign spokesperson Damon Motz-Storey says they're "very optimistic" that the measure will pass. It's currently leading the "no" voters by 11 percent (with 146,418 votes counted). Everyone is shout-talking and someone next to me just shouted I NEED TO KNOW WHAT SONG THIS IS and I swear I can't even hear music playing.
Vibe check:
UPDATE 8:47 PM
Something weird is happening with the results from Oregon's 4th district – the numbers there don't seem to have changed at all since the first results drop at 8 pm, with Val Hoyle and Alek Skarlatos locked at 46% each. GET IT TOGETHER, 4TH DISTRICT OF SOUTHWEST OREGON!
But over in the 5th district, Republican Lori Chavez-Deremer has pulled ahead of Democrat Jamie McLeod-Skinner. A reminder that it's too early to get confident about a lot of these things! (I'm going to anyway.)
With 31% of votes counted, Kotek still leads Drazan in the Governor's race, but barely: 45% to 44%.
However, the race for Labor Commissioner between Christina Stephenson and Cheri Helt is not close at 60% to 39%, respectively.
Respectively, I'm switching to red wine. More soon. —EJ
UPDATE 8:45 PM
Commissioner Jo Ann Hardesty took to the stage at her election party to address the results.

"You guys know me—doesn't matter what my title is—I ain't going nowhere." pic.twitter.com/49eEGFLOXM

— Suzette Smith (@suzettesmith) November 9, 2022
UPDATE 8:43 PM
Walking back into JVP's party and the first thing I see is one of the servers say "this party is liiiit" while walking back to the kitchen. I agree—it is pretty lit. Half of Metro council is here. Everybody has a drink in their hand. The food table is well grazed. Early results are put up on the projector screen and people cheer at JVP's slight lead—51% to Meieran's 47% with 160,000 votes counted. JVP notes that these are really early numbers, but they feel good. "I'm really proud of the race we ran and that it resonated with voters," she tells me. She also says that the second round of results at 10 pm will be a better indicator of where the race stands. HIGHLIGHT OF THE NIGHT: Metro prez Lynn Peterson yells "EVERYBODY! SHERRY HALL IS OUT!" and the entire party erupted into cheers.—IG
UPDATE 8:35 PM
Let's check in on a few other less sexy (BUT STILL IMPORTANT) early results: 
Metro's Parks & Nature Levy is running away with it, with 74% of nature lovers saying "yes" to 26% of people who can't wait for icebergs to melt.
The Ranked Choice voting measure for Multnomah County is so far ranked high for those who love it (66%) as opposed to those who think the idea is "rank," heh-heh (33%).
Unfortunately, the results aren't so good for MultCo Measure 26-231, which would extend voting rights to non-citizens when legally allowed, as "yes" trails "no" by 13%.
But it's a good night so far for gender neutral terms going into the county charter as that MultCo measure is leading 61% yes to 38% no. I'll be back in a bit with more results, Wm. Steven Humphrey (he/him). —WSH
UPDATE 8:25 PM
The Oregonian calls Clackamas County Clerk for Catherine McMullen.

— Oregonian Politics (@OregonianPol) November 9, 2022
(Current County Election Clerk [and serial fuck-up] Sherry Hall throws down her clipboard that keeps track of all the fuck-ups she did tonight and stomps out of the elections office, yelling "You can't unelect me... I QUIT!!"—but not before knocking over a tower of champagne glasses.)—WSH
UPDATE 8:23 PM
Jo Ann Hardesty's election party at the Jack London Revue has less security than Gonzalez—but some—and a full band singing Aretha Franklin's "Respect." It's hard to say if Hardesty will get the respect she's due, as at the moment Gonzalez leads the race by 20,000 votes—which is 13 percent of the current tabulated vote.—SS
UPDATE 8:18 PM
Of nearly 150,000 votes counted, 55% are voting "yes" to amend Portland charter while 44% have voted no. Vadim Mozyrsky (of the NO campaign) tells me that it's clear Portlanders are eager to move in a new direction and after tonight, regardless of outcome, it's about "getting people together" and getting politicians into city hall that are responsive to voters' concerns. Just before results came in, Mozyrsky made a toast thanking people for coming. He also spent a good amount of time gushing over the Willamette Week and Oregonian endorsements who advised readers to vote "no" on charter amendments—while standing approximately two feet away from me, never making eye contact. My ego is telling me it's a pointed dig at the Mercury, but my more humble side is saying that he probably didn't recognize me in my mask until I introduced myself afterward. Anyhoo… I'm headed back out into the cold for the brisk 5 minute walk back to JVP's party. BRB!—IG
UPDATE 8:12 PM
Hooooly moly: Oregon's Secretary of State website has posted their first batch of results, and things look…okay?! This is with 23% of the votes counted so far:
In the white-hot Governor's race, Tina Kotek is at 50%, Drazan at 40%, and the woman who loves guns and large glasses has 8%. Let's keep that up!
The 4th District race between Val Hoyle and Alek Skarlatos is in a virtual tie with 46% of the vote each, whereas in the 5th district, McLeod-Skinner is pummeling Chavez-Demerer with a 57-point lead.
Incumbents Ron Wyden and Earl Blumenauer are operating with commanding leads over their opponents.
There are more updates, but now the Oregon Secretary of State website isn't loading anymore for me because too many other wonky nerds keep smashing that refresh button… CUT IT OUT, NERDS!—EJ
UPDATE 8:10 PM
Early results are in! Kotek is in the lead and no one is talking about it yet?! Instead everyone is listening starry-eyed to Sen. Jeff Merkley on the stage who is talking about how great Tina and Ron Wyden are.

 Merkley's closing words: "We the Democrats are going to put our country back on track. Let's save America, let's save Oregon, let's save the world, thank you."—AZ
UPDATE 8:02 PM
 Aaaaand the first batch of results have dropped! So far in the Portland City Council Position 3 race, the wildly unqualified Rene Gonzalez has taken the lead with 56% to Hardesty's 43%. (That's gonna take some catching up. Maybe everyone who mailed in their ballot realized Gonzalez is a pawn of the biz community?) Meanwhile in the battle for the Multnomah County Chair, Jessica Vega Pederson has the lead with 51% to Sharon Meieran's 48%. And get this... the YES on Charter Reform vote is an impressive 10 points ahead of Mingus Mapps' shitty plan to wait until May to do something, and then wander off after getting distracted by a sandwich. More results later!—WHS
UPDATE 7:56 PM
The party has started! According to the emcee Democratic Party of Oregon Chair KC Hanson, people are still out canvassing—at 10 minutes 'til 8 pm! About 100 or so folks are in the ballroom. (Is this a ballroom? Unclear, but I'm calling it a ballroom). Nervous buzzing in the snack area as folks top off their drinks before early results begin coming it shortly after 8. Oh no, now we're doing the Pledge of Allegiance? IN A BALLROOM?!—AZ
UPDATE 7:55 PM
There's security outside Rene Gonzalez's election night party, but they don't even ask who I am. I just walk in untouched... like a ghost. This is potentially because I'm wearing a sweater vest. Gonzalez's campaign offices actually do feel like a mishmash office your rich friend rents you for less than market rate. They're crammed with supporters, friends, and other journalists. Gonzalez is in deep host mode. He greets most of the people who walk through the door, even giving me a nod, because... who knows? He might know me! The snacks do not skimp: taquitos, churros, salsa, and chips. It may not sound like a lot, but hot food at these things is not especially common. "Who's winning?" Gonzalez's mother in law asks Shah Smith, his campaign manager. Smith tells her the results will come in soon.—SUZETTE SMITH
UPDATE 7:51
Aaaand now I'm at the Partnership for Common Sense Government/Ulysses PAC (AKA Vadim Mozyrsky and Mingus Mapps' anti-charter efforts) party at the Hotel Grand Stark. The vibes are… chill? I feel like I was just called into the living room to say "hi" to all my parents' friends while they tell me how grown up I look. Lots of people drinking wine. The food—while looking delicious—remains untouched. T-minus 13 minutes until the first ballot results!—IG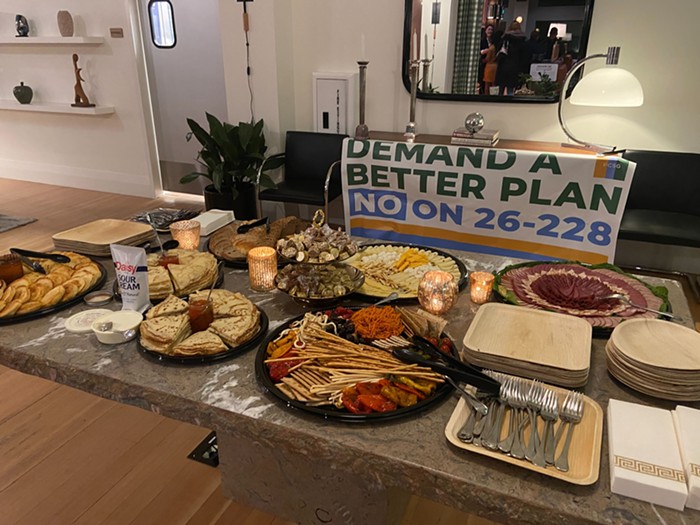 UPDATE 7:48 PM
Some of the big national races are called already and it's a mixed bag.
In Florida, the bad Governor in the ~fabulous~ white boots, Ron DeSantis, has conquered Democrat Charlie Crist in the gubernatorial race. I'm sorry, Florida, that is super embarrassing.
Sarah Huckabee Sanders will become the first female Governor of Arkansas, which would be cool if she weren't so absolutely terrible.
Over in Pennsylvania, John Fetterman has a slight lead over Dr. Oz for the senate seat that could flip that chamber blue, but it's still too close to call. I'm rooting for Fetterman although I do worry how many more puppies Oz will murder if he doesn't get the job. Democrat Josh Shapiro has won the Governor's seat there, though.
Down in Georgia they have one of those systems where a candidate has to have 50% +1 vote in order to win tonight. So if Herschel Walker gets 48% and Raphael Warnock gets 49% and some random Southern man who says things like "I do declare!" gets 3%, we'll be subjected to four more weeks of elections there.
Very cool! Both Maryland and Pennsylvania have elected their first Black representatives: Democrats Wes Moore (MD) and Democrat Summer Lee (PA) Congrats! [Update: Actually Wes Moore of Maryland isn't the first Black rep, he's first Black governor. Elinor regrets the error.]
Almost info time for Oregon! In the meantime: Should I start smoking cigarettes again? I feel like yes…. —EJ
UPDATE 7:40 PM
Jessica Vega Pederson's party is just kicking off at the Produce Row. JVP says she's just excited to be here in-person—she caught COVID during the May primaries and had to cancel her in-person events. Tonight she is COVID-free and "feeling hopeful." Folks are milling about on the patio under some POWERFUL heat lamps and grabbing some tasty looking food. On the playlist so far: Stevie Wonder, Justin Timberlake, and Cardi B.—ISABELLA GARCIA
UPDATE 7:32 PM
Dispatch from the Oregon Democratic Party election watch party at the Hyatt: It's a mellow start, folks. Not too many people here (yet), and most are gathered quietly around TV screens watching the national returns. The most important piece of information is that the main meal at this event is popcorn. Bowls of popcorn, served with spoons. You may recall that this was the election night snack of choice for former gubernatorial candidate Knute Buehler in 2018:
Okay you guys aren't going to believe it, but. The main course at the Oregon Dems election night 2022 party? BOWLS OF POPCORN. https://t.co/wOM5DZOuj9

— Alex Zielinski (@alex_zee) November 9, 2022
I am aghast and frankly, impressed at this bold snack choice.
The Dems party is hosting a number of candidates/campaigns tonight: We'll be seeing gubernatorial candidate Tina Kotek, Senator up for reelection Ron Wyden, and those behind Measure 112 (banning slavery). Maybe more! The night is young. At least one dog is present.—ALEX ZIELINSKI 
UPDATE 7:25 PM
Howdy there, folks! It's your old college roommate (who's currently sleeping on your couch), Wm. Steven Humphrey. And I'll be keeping a keen eye on several Portland and county-specific races, such as Charter Reform (hope it wins!), the City Council position 3 race (hope Hardesty wins, hope Gonzalez loses), the battle for Multnomah County Chair (hope Jessica Vega Pederson wins, but hope Sharon Meieran is okay... I kind of like her), and a raft of Multnomah County measures. (Why can't they cram 'em all in one bag, like we do in Portland?) Anyhoo, buckle in for what will surely be a... ... ... night? First results drop at 8 pm.—WSH
UPDATE 7:15 PM
Hello, friends! It's me, Elinor Jones, coming to you live from my couch with a fresh vodka tonic and nothing to lose. I'll be bringing you updates on the hottest state races (to the extent that I can, because it might actually take several days for all the votes to be counted).
I've got my eyes especially peeled to Oregon governor's race between Dem. Tina Kotek, Republican Christine Drazan, and spoiler "Independent" Betsy Johnson, obviously. This race is tight and it makes my stomach hurt, soooo…what will be fun is when that is over.
We've also got eyes on the 4th Congressional District fight between Democrat Val Hoyle and Republican Alek Skarlatos (replacing retiring Democrat Peter DiFazio), Oregon's 5th District face-off between Democrat Jamie McLeod-Skinner and Republican Lori Chavez-DeRemer (formerly represented by Kurt Schrader, booooo), Oregon's shiny new 6th District battle between Democrat Andrea Salinas and Republican Mike Erickson, as well as several other things!
Will this be a good night? Hard to say. Will we be happy? Maybe. Will we have fun? Probably, at least for the first while! I'm grateful to be spending it with all of you. Results start coming in soon, talk to ya then. Mwah.—EJ