Long before Portland-based multidisciplinary-artist Intisar Abioto took on guest curation of Black Artists of Oregon—a massive exhibit at the Portland Art Museum (PAM) that opens this fall—she was just looking to connect with older Black artists in her community.
"I wasn't initially approaching this as a curator at all," Abioto told the Mercury. "I was approaching it as an artist in the Black arts community. And then it was almost like I shape-shifted roles into being able to tell, and be a part of telling, this story."
Abioto interviewed textile artist Adriene Cruz, performer and painter Bobby Fouther, and activist-painter Isaka Shamsud-Din, and thumbed through the archives of publications like the Oregonian, the Oregon Journal, and the Advocate. She searched through collections in the city's archives, as well as archives found out of state.
Over and over, Abioto found that there were no good records of the artists she wanted to find.
"The knowledge is really with Black elders and it wasn't anywhere else," she said. "It wasn't at the art museum, it wasn't in these institutions, it just wasn't there." 
In Fall 2019, Abioto contributed photo portraits to An Altar to Alter, a pop-up collaboration that showed alongside Hank Willis Thomas' exhibit All Things Being Equal…. Abioto made sure to look through the PAM's collection for other Black artists.
 "I saw maybe 10, and maybe two Black women: Carrie Mae Weems and Thema Johnson Streat," she recounted. "And if I'm honest, it's embarrassing. It isn't enough."
Works by the Black artists Abioto admired weren't in public collections—they weren't accessible. As she continued to interview people in her community she realized the Black elders themselves had kept a record of other Black artist works.
"Black elders had works… of their friends, of their contemporaries, of Black artists who had passed," she said. "And it was just so deeply moving, and pressing, and timely because, even in the scope of time that I started, there were elders who passed. And what happened to their works?"
Abioto began collecting works herself, she explained: "I started with an eye towards what was needed. Where was this history, where were these people's artwork, and what were their names?"
That practice directly led to Black Artists of Oregon, a PAM exhibition of more than 200 works from 67 artists—many of the pieces borrowed from Black elders, artists, and other people in the Black community. The selection runs a generational gamut, presenting contemporary artists like sidony o'neal, Christine Miller, Samantha Wall, and ebin lee alongside artists like Grafton Tyler Brown, who was one of the first known Black artists on the West Coast.
Literature for the exhibition has described it as "the first of its kind to consider the work of Black artists collectively in Oregon," which is a bit shocking. However, when asked about this, Abioto replied with a beautiful outlook: "Sometimes you get to moments where Black people have not been, and have been purposefully excluded from—as well as other people of color and Indigenous people. And you get to these places that have been framed as the pinnacle, as the height of where we should be. I don't want to frame it that way. I want it to be framed that it's an honor to this place to even have anything by Black people here."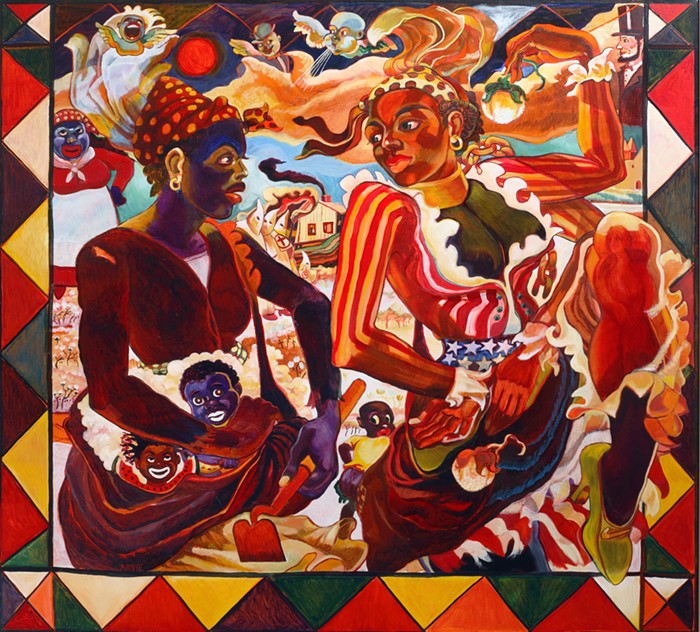 Abioto says Black Artists of Oregon offers a different way of talking about Black Portland life. "Through the art, you get a sense of what people were thinking and experiencing," she explained.
Through many artistic modes, the exhibit provides much-needed perspective, and important historical context—helping audiences learn more about the complexities and diversity of Black life in Portland, over the last century and further. 
"There's so many [narratives] that, painfully, want to offer amnesia to Black life here, or that Black art and the Black artists here are new. 'It's a new thing.' But honey, we've been here all the time," Abioto said, her Southern accent popping out. "Always, wherever Black people are, there will be Black art." 
As part of the exhibition, Abioto has recorded a Black Artists of Oregon podcast with the Numberz.fm—an all-Black radio station that transmits from and records in the PAM—that features further interviews between Abioto and Black artists whose work is featured. Through it, her research continues.
Her goal, she says, is for others to continue researching stories like these. "I don't want to be the only one. I wanted [Black Artists of Oregon] to be more of a question than a definitive statement." 
---
Black Artists of Oregon opens at the Portland Art Museum, 1219 SW Park, Sat Sept 9 and is on view through Sun March 17, 2024, portlandartmuseum.org.