An engaging new documentary by Beth Federici tells the story of how James Beard, Portland's prodigal son and gastronomic leviathan, rose from his origins as an upper-middle-class mama's boy, to the first TV food star, to the It Man of the culinary party scene of 1950s New York. James Beard: America's First Foodie, the latest installment in PBS' American Masters series, details Beard's life and legacy—a legacy that includes 20 cookbooks and lives on in the James Beard Awards, one of America's most highly coveted culinary recognitions.
Interviews with some of the major players in Portland's restaurant scene—Greg Higgins, Naomi Pomeroy, Cathy Whims, and Lisa Schroeder—lend local charm to the nationally recognized names featured in the film. Dues are respectfully paid to Beard's mother, Elizabeth Brennan Beard, a "raconteur" who ran a successful Portland boarding house in the 1890s, and from whom Beard learned to prefer local ingredients.
But this brings me to my main complaint about America's First Foodie: No mention is made of the influence of the Beard family's private cook, Jue Let, a Chinese Portlander who made a sizable impact on the young Beard's culinary perspectives (and possibly his fashion choices, judging from Beard's love of a Mandarin collar). Even more glaring is the complete erasure of Helen Evans Brown—one of Beard's closest personal friends and confidants. His correspondence with Brown was substantial enough to result in the 1994 book Love and Kisses and a Halo of Truffles. It's in Love and Kisses that readers can see a side of Beard mostly ignored in the film: For him, food writing was a hustle. He primarily wrote cookbooks because he was broke.
Sponsored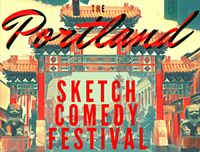 Sketch comedy troupes from all over N. America descend on The Siren Theater for 3 glorious nights.