47 Meters Down
While vacationing in Mexico, a pair of sisters (Mandy Moore, Claire Holt) try to chase away their romantic blues by climbing inside a rickety cage and getting up close and personal with some boxcar-sized Great Whites. What could go wrong? Oh, many, many things. 47 Meters Down is basically fetish porn for Shark Week junkies, and wastes little time delivering an impressively tense mixture of well-timed shocks, closeups of steadily diminishing air gauges, and moments of no-choice heroism divvied up between the extremely game leads. Unfortunately, the narrative may be a bit too clever for its own good, derailing the movie's relentless momentum. Still, even if it falls short of the B-movie ingenuity of The Shallows, there are plenty of effective, primal screamy moments here. ANDREW WRIGHT Various Theaters.
All Eyez on Me
The unofficial third chapter in a makeshift hip-hop cinematic universe (including 2009's Notorious and 2015's Straight Outta Compton), All Eyez on Me aims to answer the question: Will Tupac Shakur's story be translated into a thought-provoking, poignant look at a poet's life and death? Or will it be an oversized Lifetime-esque cash-grab shoved into theaters with no press or fan previews? Not to be skeptical or anything, but.... Not screened for critics. Various Theaters.
Sponsored
Sketch comedy troupes from all over N. America descend on The Siren Theater for 3 glorious nights.
The B-Side: Dorfman's Portrait Photography
Errol Morris' profile of photographer Elsa Dorfman. NW Film Center's Whitsell Auditorium.
Baby Driver
Edgar Wright's latest is wall-to-wall music, and it might take you a track or two to fall into the stylized rhythm that marks Wright's work—from Shaun of the Dead to Hot Fuzz to Scott Pilgrim vs. the World—and drop-kicks naturalism to the curb. But once its tires grip pavement, Baby Driver becomes a full-throttle ballet of motion, color, and sound. The tunes are great, the getaway chases will leave you breathless, and the motley team of robbers—which includes Kevin Spacey, Eiza González, and an excellent Jamie Foxx—comes from the kind of screenplay you wish Tarantino still wrote. NED LANNAMANN Various Theaters.
The Bad Batch
The Bad Batch starts strong, presenting a future in which the world's undesirables (skaters! people with neck and knuckle tattoos! at least one party DJ!) have been exiled to a large, fenced-off section of Texas. (It's like Escape from New York, but for Burning Man.) Arlen (Suki Waterhouse) is a recent internee who's almost immediately set upon by two cannibals in a golf cart, then methodically dismembered at an airport graveyard full of cannibal bodybuilders. Then a mysterious hobo (Jim Carrey) takes her to a way more chill town full of non-cannibals, EDM raves, and Keanu Reeves. With A Girl Walks Home Alone at Night, director Ana Lily Amirpour deftly wove unusual genre conventions and a loose narrative into engaging cinema. But The Bad Batch feels like a step backwards—an empty style exercise without a legible moral compass or a clear endgame. The film is sprinkled liberally with beautiful compositions and potentially intriguing characters, but Amirpour seems uninterested in marshaling the assembled material into a coherent formation. BEN COLEMAN Various Theaters.
Beatriz at Dinner
Finally, the championship face-off you've been waiting for: Beatriz at Dinner pits the doe-eyed, incalculable sadness of immigrant Beatriz (Salma Hayek) against the luminous forehead and righteous privilege of Doug Strutt (John Lithgow) via a hyper-uncomfortable script by Mike White. (White previously partnered with Beatriz director Miguel Arteta on Chuck & Buck, and we all remember how much fun that was!) I wanted Beatriz at Dinner to employ a righteous Hayek-eagle descending on a Lithgow-beast—talons sharp!—but instead we drink in her fatigue as she beats her wings against an impossible adversary. SUZETTE SMITH Various Theaters.
The Beguiled
Sofia Coppola has crafted an enchanting, dark, sometimes funny Civil War-era battle of the sexes that's one of the more smartly provocative movies of the summer. Whichever characters you end up thinking the title applies to, it's just as likely to refer to viewers. MARC MOHAN Various Theaters.
The Big Sick
See review this issue. Various Theaters.
The Book of Henry
The Book of Henry is such a mushy, misguided disaster that even its irrelevant subplots are inexplicable, the baffling wrong-headedness permeating every frame. Directed with Hallmark-movie superficiality by Colin Trevorrow (Jurassic World) from a phony-sweet screenplay by novelist Gregg Hurwitz, it's about precocious 11-year-old Henry (Jaeden Lieberher), the sort of quirky movie kid who does the family's finances while his mother (Naomi Watts)—who works as a diner waitress even though she's independently wealthy—plays video games. When Henry believes the girl next door (Maddie Ziegler) is being abused by her stepfather (Dean Norris) but can't get anyone to take action, he devises a plan of his own. The story's most distasteful elements fall under the "spoiler" category, but brain tumors, emotional manipulation, logistically impossible schemes, and nonsensical character choices are all involved. This is twee, simple-minded button-pushing for dummies. ERIC D. SNIDER Various Theaters.
The Boss Baby
The Boss Baby, starring Alec Baldwin as the voice of a suit-wearing infant sent to an unsuspecting family to fulfill a secret mission on behalf of BabyCorp—that's the Heaven-based company in charge of the world's baby supply—sounds like a fictional bad movie in a Hollywood satire. But the movie is real, and it's... good? Good enough, anyway? Written by Michael McCullers (Baby Mama) and directed by Tom McGrath (Madagascar), it's an imaginative, unassuming take on fraternal bonding. Jealous seven-year-old Tim (voiced by Miles Christopher Bakshi) uncovers his new baby brother's secret identity and tries unsuccessfully to expose him to their parents (the baby reverts to goo-goo gah-gah when they're around), but the boys eventually work together and fall into brotherly love. Pleasantly non-snarky for a DreamWorks cartoon, it doesn't overdo the sappy stuff, either, and offers enough easygoing laughs to sustain itself. ERIC D. SNIDER Various Theaters.
Cars 3
If the first one was Doc Hollywood, and the second one was James Bond, then this one is apparently Days of Thunder? Maybe? It doesn't really matter what it is, you're really only going because you presumably have kids of a certain age and those children enjoy watching their toys vroom around the screen making bug eyes at shit. So just pay your money and have your seat and pray for a coma to come and claim your consciousness—it won't actually come, because praying is pointless, because were there a God he surely abandoned this failed experiment of his long ago—but at least you'll be distracted! Various Theaters.
The Cat Returns
Studio Ghibli's 2002 cartoon about a magical cat, playing on the big screen for the enjoyment of cat-crazed Portlanders. Well played, Academy Theater. Academy Theater.
David Lynch: A Retrospective
A friend once told me he imagined David Lynch as a nice dad who'd serve you quinoa while discussing the benefits of transcendental meditation. Maybe that's a weird way to describe the filmmaker behind such horrors as Mulholland Drive and Blue Velvet, but I get it. Lynch's movies aren't comfortable, but the strong emotional engagement they elicit feels like a gift, and so does NW Film Center's Lynch retrospective. More at nwfilm.org. MEGAN BURBANK NW Film Center's Whitsell Auditorium.
Despicable Me 3
Does anyone even still give a fuck about Gror or whatever it is Steve Carell plays? Grub? There's apparently a whole plot centering on him and his twin brother Grop or some shit, but c'mon—it's another Minions flick. That's all it really is. It is a thing that has Minions in it and so you are duty-bound to take whatever crotchfruit have tumbled from your loins into the theater, and shove Minions into their eyes until placid, like the quarters and crayons they'll ram up their noses when you're not paying attention. Such is the way of things. Congratulations on your successful procreation. Various Theaters.
The Exception
A WWII thriller starring the illustrious Christopher Plummer and the not-so-illustrious Jai Courtney. Jai Courtney. What did any of us do to deserve Jai Courtney? This film also features the excellent Eddie Marsan, but then again, it also features Jai Courtney, so kind of a wash, really. Various Theaters.
Get Out
A feature-length version of the not-quite-joking sentiment among African Americans that the suburbs, with their overwhelming whiteness and cultural homogeneity, are eerie twilight zones for Black people. Far from being a one-joke movie, however, Jordan Peele's directorial debut is both a clever, consistently funny racial satire and a horror film, one that mocks white liberal cluelessness and finds humor in—but doesn't dismiss—Black people's fears. ERIC D. SNIDER Various Theaters.
Graphic Means: A History of Graphic Design Production
A documentary focused on the history of the graphic design industry, starting in the romanticized days of paste-up boards and moving through to when computers came along and changed the world forever. Director Briar Levit in attendance. NW Film Center's Whitsell Auditorium.
Guardians of the Galaxy Vol. 2
If you enjoyed the first Guardians, you'll love the second, even if the shiny veneer of newness has dulled somewhat. However, the standard problems with Marvel Studios' movies remain: They jam in too many characters, so none get the solid fleshing out they deserve, and the self-referential Marvel Easter eggs are, at this point, solidly annoying. That being said, stack Vol. 2 up against the dour tubs of crap put out by DC (hello, Batman v Superman: Dawn of Justice), and it's pretty clear my quibbles are of the smallest variety. The music is uniformly great, the jokes are whip-smart and delightful, the action scenes are exciting CG works of art, the characters are identifiable and lovable, and Baby Groot is goddamned adorable. WM. STEVEN HUMPHREY Various Theaters.
The Hero
The latest entry into the illustrious genre of Indie Movies About Sad Old Men, The Hero follows Lee Hayden (Sam Elliott), a 71-year-old movie star who's keenly aware that he's about 40 years past his prime. If you're guessing what Lee needs is a visit from a manic pixie dream girl, well, hey, look who it is: thirtysomething stand-up comedian Charlotte (Laura Prepon), who's got a thing for older dudes and a ready supply of molly. There's a fair amount of meta-ness going on in The Hero—characters keep telling Lee how much they like his mustache and his old movies where he played a cowboy—and Elliott remains as gruff, likeable, and watchable as ever. That real-life baggage goes both ways, though; no matter how seriously writer/director Brett Haley takes all this, it's never not going to be weird to watch Donna from That '70s Show making out with The Stranger from The Big Lebowski. ERIK HENRIKSEN Various Theaters.
Hollywood at PDX Summer Shorts
The Hollywood Theatre's microcinema at PDX has made waiting for your flight significantly better—and the theater is about to rotate out the hour-long program of shorts they play for travelers with a whole new lineup, this time featuring work from the likes of Alicia J. Rose and Joanna Priestley, plus Mic Capes' video for his Dead Prez collaboration "Superheroes." Those who won't be at PDX anytime soon can check out a one-night screening of the program at the Hollywood Theatre. Hollywood Theatre.
It Comes at Night
It Comes at Night tells the story of Paul (Joel Edgerton), who lives in a secluded woodland house with his wife (Carmen Ejogo) and teenage son (Kelvin Harrison Jr.). The world is sick—probably dying. An unnamed plague, fatal and incurable, has fragmented what we can see of society. In 2017, it's easy to bounce off of grueling apocalyptic dramas like The Walking Dead and The Road—in those stories, like life, the sense of doom can become overbearing. It Comes at Night balances on the knife edge between hope and despair, counterweighting the dire nature of its world with genuinely moving moments of warmth. This family seems worth saving, and the destruction that hovers over them, for all its menace, never feels inevitable. BEN COLEMAN Various Theaters.
The Journey
Set in Northern Ireland in 2006, The Journey follows former IRA leader Martin McGuinness (Colm Meaney) and British loyalist Ian Paisley (Timothy Spall) as they clash and then work together "to at last bring peace to the troubled region." Through... diplomacy? Yahtzee? Screenings of Star Trek: Deep Space Nine and Harry Potter and the Prisoner of Azkaban? You'll have to watch The Journey to find out! Living Room Theaters.
Kedi
This documentary about Istanbul's sizable stray cat population is so full of kindness and warmth that it's like jumping into a pile of freshly-laundered bedding just pulled out of the dryer, or floating around in a slightly stoned bubble bath, or, I don't know, being a kitten? The squee opportunities are abundant, but what doesn't appear on-screen is as important as what does. To describe Kedi as an extended cat video is to ignore the sociopolitical context of the city where the cats live—context that's only hinted at in statements from the locals, but that adds poignant sophistication and an ever-present emotional core to a documentary some will dismiss as lighthearted entertainment. MEGAN BURBANK Various Theaters.
King Arthur: Legend of the Sword
Supposedly the first of six King Arthur movies Ritchie plans to make (let's reassess that once the box office receipts come in), Legend of the Sword already feels 12 hours long—stuffed with montages, flashbacks, flash-forwards, jump cuts, embarrassingly outdated Matrix fight scenes, and nary a whiff of emotion or suspense. For a movie that contains elephant monsters, bloodthirsty lamia, and a crew of scallywags with fun names like Wet Stick and Back Lack, this is quite an achievement. NED LANNAMANN Various Theaters.
Kung Fu Theater: Shaolin Invincibles
All you really need to know about 1977's kung fu flick is summed up in one sentence from the Hollywood Theatre's press release: "The wizards each have four-foot tongues which they use in battle, and if that's not strange enough, they also have a small army of kung fu gorillas to do their bidding!" You're either sold or not, right? Also, who passed up the chance to title this thing Shaolinvincible? Screens on 35mm. Hollywood Theatre.
The Little Hours
See review this issue. Cinema 21.
Logan
For all Logan's nods to genre—and it's as much a western as a superhero movie—it's about bigger things, too. This Logan is burned out and worn down: Not for nothing does he grunt softly when hoisting himself out of a car. Not for nothing does he wear cheap reading glasses. (Superman wears glasses as a disguise; Logan wears glasses because his eyes aren't what they used to be.) And not for nothing does he glower when one of his claws refuses to SNIKT. (Whether they make Viagra for mutants is, alas, never addressed.) Logan is a movie about what it's like to get old—to realize that one's body and memories offer more pain than power, that one's optimism and love have hardened to stubbornness and regret. ERIK HENRIKSEN Various Theaters.
Made in Oregon
A free screening series from NW Documentary of four documentaries, each made in Oregon, with each screening featuring a Q&A with the filmmakers. Films include Finding Truelove, The Last Season, The Pearl, and Glena; more at nwdocumentary.org. NW Documentary.
Mr. Hulot's Holiday
Jacques Tati's 1953 comedy. NW Film Center's Whitsell Auditorium.
The Mummy
There's a lot riding on the Tom Cruise-starring reboot of The Mummy. It's the inaugural film in the "Dark Universe" series, a sprawling, Marvel-style movie franchise intended to interweave all of the classic Universal monsters from the '30s and '40s into a sparkling, CGI-enhanced mega-narrative. But this Mummy's DNA actually seems primarily made up of Italian zombie flicks (Boutella's resurrected princess can animate corpses at will, so we watch Cruise and Annabelle Wallis' lady archeologist fend off endless hordes for most of the movie) and the precarious balance of comedy and horror of 1981's An American Werewolf in London. There are some good spooky bits early on, but when the movie stops making sense, you'll stop paying attention. NED LANNAMANN Various Theaters.
Pirates of the Caribbean: Dead Men Tell No Tales
Is this movie for you? It is not for you. It is not for anyone. Do not look at it. ERIK HENRIKSEN Various Theaters.
Portland EcoFilm Festival: Born Free
The Portland EcoFilm Festival presents a film that, in 1966, was known as a drama about a couple raising a lion—and a film that, by 1967, was known as a vehicle for Matt Monro's infinitely goofy theme song. A portion of proceeds will be go to the Nonhuman Right Project, an—BORN FREEEEEEEEEEEEEEEEEEEE.... More info at portlandecofilmfest.com. Hollywood Theatre.
Spider-Man: Homecoming
See review this issue. Various Theaters.
Spielberg on Film
The Hollywood Theatre's series of (mostly) Spielberg blockbusters, all screening on film. See "The Hollywood Theatre Celebrates Spielberg—in 35 and 16mm," Film, June 28. Hollywood Theatre.
T2 Trainspotting
What T2 does well, it does astonishingly well. More than a few scenes are hysterically funny, and more than a few escapades are white-knuckled fun. But what sticks with me are the things I never thought I'd get out of a Trainspotting movie—the smart, emotional things it has to say about friendship and the passage of time. NED LANNAMANN Various Theaters.
Transformers: The Last Knight
You don't have to do this to yourself. You really don't. Look at all these other movies! Look at all the choices! You can do anything. Anything but sit down and let... this happen to you. For your sake, and the sake of those who care for you—please don't do this. Starring Stanley Tucci as Merlin. Seriously, Just Don't.
Wonder Woman
Wonder Woman is exciting and fun—even though it devolves into typical blockbuster spectacle near its end, I'd recommend it to anyone who loves action films, and there's also just enough subtext to feed a philosophical mind. How much harm does Wonder Woman do when she strides boldly into war? Is this what power looks like? Is it cool just because she's a woman? Hopefully these questions will be answered in future films. For now, Wonder Woman is a thrilling start. SUZETTE SMITH Various Theaters.
---
MEANS WE RECOMMEND IT. Theater locations are accurate Friday, July 7-Thursday, July 13, unless otherwise noted. Movie times are updated daily and are available here.
Sponsored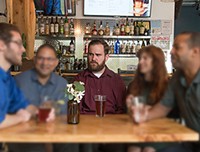 Adults aged 18-35 with good hearing will be paid for their time. Located at the Portland VA Medical Center