'Sup, gorehounds? Portland's popular genre film festival, the PDXtreme Fest, has returned for a third year to treat audiences to a three-day glut of indie horror. There are guts, suspense, ill-advised amateur surgeries, and the devil, in all his many guises! So many devil's guises this year!
There are a few surprises and developments, too: First, PDXtreme has moved to the Laurelhurst Theater... to be closer to you! Mua ha ha. Second, there are even more features and shorts this year than in the past—61 total. The last surprise is likely mine alone, as I'm new to covering this festival: PDXtreme has some straight-up quality films!
Festival director Jeremy Jantz created PDXtreme in response to his own work being labeled too "excessive" for film school, so it makes sense that PDXtreme would offer films that've been branded too disturbing for mainstream audiences. For example, the UK feature Habit (screens Fri Dec 1), about a young man discovering a massage parlor's secrets, feels like an episode of Black Mirror—but instead of "technology is bad," Habit's themes are "writhing in blood" and "fucking on top of corpses." It sounds intense—and it is!—but Habit also presents a solid social commentary. (A post-show discussion of "Are these even vampires?" is a must.)
Meanwhile, French short Please, Love Me Forever (Sun Dec 3) is another excellent example of a great film existing just outside acceptable limits of carnage. It may not have enough terror for the traditional horror fan, but—as an eerie young girl observes her mother's surgical experiments—Please, Love Me Forever stitches together beauty and gore into something altogether new.
But my vote for this year's best feature goes to Ruin Me (Sat Dec 2), in which "really good" girlfriend Alex (Marcienne Dwyer) finds herself roped into her boyfriend's puzzle room-esque camping trip. The loyalty twists pile up higher than the body count in what ends up being a smartly written, self-aware take on the classic slasher flick.
Sponsored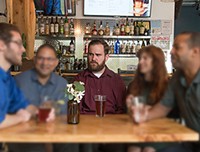 Adults aged 18-35 with good hearing will be paid for their time. Located at the Portland VA Medical Center