---
★
MEANS WE RECOMMEND IT. Theater locations are accurate Friday-Thursday, unless otherwise noted. Movie times are updated daily and are available here.
ANT-MAN AND THE WASP
See review, this issue. Various Theaters.
Sponsored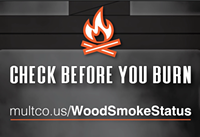 Having clean air means reducing wood smoke. Check before your burn from October 1-March 1.
BEYOND THE ONE
Anna Marziano's experimental documentary uses black-and-white 8mm and 16mm footage to examine the shape of love outside of monogamy. NW Film Center's Whitsell Auditorium.
CINEMA PROJECT: NEGATIVE SPACE: THE FILMS OF ANOUK DE CLERCQ
Cinema Project hosts a rare Portland appearance from Belgian artist Anouk De Clercq, who will make use of OMSI's massive screen to present selected pieces from her black-and-white moving-image work, which Cinema Project notes is "often minimal and accompanied by precise electronic soundtracks." Following the screening, De Clercq will speak with Portland-based artist Sam Hamilton. More info at cinemaproject.org. OMSI's Empirical Theater.
DEVONINMATION WONDERS
Experimental animator Devon Damonte presents a collection of his notable abstract "direct animation" works from the past three decades, live scored by Portland's Hathor Vergotis. NW Film Center's Whitsell Auditorium.
JURASSIC WORLD: FALLEN KINGDOM
This is a movie bursting with bugfuck shitbird INSANE ideas, but to its credit, it commits to all of them. Here is a list of things in Jurassic World: Fallen Kingdom that you will think I am making up to fuck with you, but I assure you, I am not: A Scooby Doo mansion full of seeeeecrets! Multiple baby dinosaurs engaging in multiple cuddling scenarios! Evil Russians buying weaponized dinosaurs! (Timely!) Elder abuse! A jailbreak that relies on a head-butting Pachycephalosaurus?? Murrrrderrrrrr. A Trump-quoting mercenary who collects dinosaur teeth... so he can make himself a pretty necklace! A CLONE?!?!?! ERIK HENRIKSEN Various Theaters.
★ KUNG FU THEATER: SHAOLIN VS. LAMA
This month's installment in Dan Halsted's ongoing celebration of all things whoop-ass is the only known 35mm print of 1983's Shaolin vs. Lama, which sounds really bugfuck nuts even for a kung fu epic, but this is about a Lama spelled with one l, not two. Still, this Lama, using a pilfered book outlining all 72 kung fu styles, attains immense power and, of course, abuses it for his own selfish purposes. Luckily a young street fighter meets an alcoholic Shaolin master, and they use the power of pluck, drank, and the "Buddha finger" technique to oppose the Lama through some thoroughly amazing violence. BOBBY ROBERTS Hollywood Theatre.
LOVE & BANANAS: AN ELEPHANT STORY
Ashley Bell's documentary about a mission into Thailand, led by Time magazine's "Hero of Asia" Lek Chailert, to rescue and free a partially blind 70-year-old elephant named Noi Na. Part of the Portland EcoFilm Fest, with post-film discussion led by Nonhuman Rights Project founder Steven M. Wise. Hollywood Theatre.
MONDO TRASHO: TERRORVISION
This month's installment in the Hollywood Theatre's series of mostly irredeemable trash "classics" is 1986's Terrorvision, a film so garbage its villain is literally a mutated wad of sink guck from outer space beamed to Earth, where it lands in Mary Woronov's house and eats its way through a pastiche of plots shamelessly ripped off from Gremlins, E.T., and The Blob. Almost as notable as the film's disgusting effects work is the art-rock score by the Fibonaccis, a soundtrack Wikipedia claims is now "slightly valuable" due to its out-of-print status. BOBBY ROBERTS Hollywood Theatre.
★ MR. SMITH GOES TO WASHINGTON
For many, the name Frank Capra might as well be the title of It's a Wonderful Life, because you can't mention one without thinking the other, but Life isn't the only film Capra made. It's not even the best of his films. That would be Mr. Smith Goes to Washington, starring an even younger, even more idealistic (and pretty!) Jimmy Stewart as a politician singlehandedly fighting government corruption. And much like Life, Mr. Smith is often (mis-)remembered fondly, warmly, and comfortably as a feel-good hug of a movie, when a rewatch will show that Capra isn't one for pulling punches. But that's partially why Stewart's triumphs resonate so strongly in both films—by showing the naked ugliness of what he's up against, the victories are all the sweeter. BOBBY ROBERTS Hollywood Theatre.
★ RAIDERS OF THE LOST ARK
Maybe the most perfectly constructed film in cinema history. Maybe. I'm sure someone out there has an argument on deck, but I'm betting their champion of choice doesn't include a giant pit of snakes; a fight inside, on top of, and hanging off the front of a truck at 50 MPH; a holy box that melts Nazi faces like Totino's Party Pizza; and—most importantly—the presence of peak Harrison Ford in all his sweaty, smirky, silly-yet-sexy glory. BOBBY ROBERTS Academy Theater.
SELENA
Get your (bidi bidi bum) bum over to the Hollywood Theatre for a screening of the classic Latinx film Selena, in support of Latino Network's advocacy programs. Be sure to bring plenty of tissues for this biopic about the late Tejano crossover icon Selena Quintanilla-Pérez, and add the dates for the other "Nuestra Voz" screenings to your calendar now: Mercedes Sosa: La voz de Latinoamérica on July 23, and Frida on August 8. EMILLY PRADO Hollywood Theatre.
★ SERGIO LEONE'S THE MAN WITH NO NAME TRILOGY
See Film, this issue. Hollywood Theatre.
SORRY TO BOTHER YOU
The debut film by rapper/iconoclast Boots Riley, Sorry to Bother You is a satirical dystopian fantasy starring Lakeith Stanfield as a teleporting telemarketer living in Terry Crews' garage while dating Tessa Thompson. Upon being gifted an immeasurable nugget of wisdom by Danny Glover, he uses David Cross' voice to peddle corporate slave labor for Armie Hammer. This apparently all happens in the first half-hour of the movie, and then shit gets really weird. Not screened for critics. Various Theaters.
TEENAGE MUTANT NINJA TURTLES (1990)
After almost 30 years, this is still the purest possible source of Turtle Power. Academy Theater.
WHITNEY
See review, this issue. Various Theaters.
YELLOW SUBMARINE
Nope. No drug use going on at this screening. No sir. Cinema 21.