The turnaround time for converting news into filmed entertainment is short, and getting shorter. Maybe too short—sometimes it feels like the rush to fictionalize recent history has resulted in films and TV shows that aren't fully realized. Maybe we could benefit from a little distance from the subject.
That's the failing of The Loudest Voice. The Showtime limited series—developed from Gabriel Sherman's book The Loudest Voice in the Room by Sherman and Spotlight screenwriter Tom McCarthy—attempts to chart the rise of Fox News and its role in our current political shitshow, while also exploring the paranoia and perversions of the network's CEO, Roger Ailes (Russell Crowe, waddling under 30 pounds of padding and fake jowls). It's a worthy undertaking, but one that's hobbled at each step by overwrought dialogue, overheated acting, and some of the worst prosthetics this side of Trash Humpers.
---
It's full of familiar catchphrases ("terrorist fist jab," "Make America great again"), but the writers' worst crime is the disservice done to the women Roger Ailes harassed and mistreated for decades.
---
McCarthy and Sherman can't easily juggle the two sides of the story. The rise of Fox News from scrappy upstart to the propaganda arm of the Republican Party feels like AI churned out lines of dialogue after being fed a million pages of transcripts from the network. It's full of familiar catchphrases ("terrorist fist jab," "Make America great again") and not much else. The writers' worst crime, though, is the disservice done to the women Ailes harassed and mistreated for decades. His relationship with Fox News staffer Laurie Luhn (Annabelle Wallis), for instance, is treated like an ugly affair rather than part of a predator's pattern. It's possible the show will go deeper in future episodes, but in the three episodes screened for critics, they're only scratching the surface.
Not being able to see all seven episodes also means we only get a hint of what Naomi Watts might accomplish with her portrayal of Gretchen Carlson, the former Fox News host who helped open the lid on Ailes' decades of sexual predation. Watts may end up the shining star of The Loudest Voice, which wouldn't be a challenge, as she has little competition: Crowe is serviceable but bland, Sienna Miller grates as Ailes' third wife, and for some reason, an entirely outmatched Seth McFarlane plays Ailes crony Brian Lewis. Nearly every choice the show's creators make is the wrong one, resulting in a missed opportunity to build a successful exposé that could have given every on-air personality at Fox a rage-fueled aneurysm.
---
The Loudest Voice
starts Sun June 30 on Showtime.
Sponsored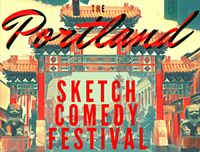 Sketch comedy troupes from all over N. America descend on The Siren Theater for 3 glorious nights.