On February 6, stoners will fire up their gravity bongs and crackly LPs of Exodus to celebrate Bob Marley's 75th birthday. While that's all well and irie (as long as you stop bogarting the frickin' spliff, DENNIS), we also want to celebrate the impact Marley had on our culture by looking at films that prominently feature reggae. Check out these movies on the Mercury's shelf at Movie Madness (moviemadness.org) from Sat Feb 1-Sat Feb 29!
Sponsored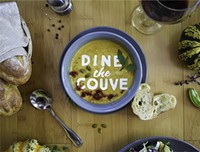 Experience the bounty of northwest flavor with special menus at Clark County restaurants all month.
The Harder They Come (dir. Perry Henzell, 1972) Featuring the best movie soundtrack of all time, this story of a wannabe singer turned outlaw folk hero stars charismatic reggae legend Jimmy Cliff.
Rockers (dir. Theodoros Bafaloukos, 1978) Reggae stars Big Youth and Dillinger, playing fictionalized versions of themselves, lend verisimilitude to a tale loosely inspired by Bicycle Thieves.
Babylon (dir. Franco Rosso, 1980) This cult favorite—banned in the US until last year—uses London's reggae rivalries as a backdrop for a hard-hitting story of racism and class warfare.
Bob Marley: Dortmund, Germany, June 13, 1980 (dir. unknown, 1980) This concert film features a fiery, hypnotic performance by Marley during what wound up being his final tour.
Stepping Razor: Red X (dir. Nicholas Campbell, 1992) A lively doc on Peter Tosh, an original member of the Wailers, highlights his career and activism.
Life and Debt (dir. Stephanie Black, 2001) Interviews with reggae stars Buju Banton and Yami Bolo punctuate this doc about how global economic policies have left Jamaica reeling from debt and poverty.
The Upsetter: The Life and Music of Lee "Scratch" Perry (dirs. Adam Bhala Lough, Ethan Higbee, 2008) There never has been, and likely never will be, another artist as weird and wonderful as dub pioneer Lee "Scratch" Perry, and this doc catches him in all his glory.
Marley (dir. Kevin Macdonald, 2012) A nuanced portrait of the legend, with a perfect balance of archival footage and interviews with Marley's family and collaborators.
Sponsored
This 9th floor patio boasts stunning views of the city, three mountains, and Portland's West Hills.