PORTLAND HAS A WAYS to go on the Korean cuisine front. Beaverton's got the kimchi crown right now, with its endless parade of all-you-can-eat grilled kalbi and bubbling red-hot bowls of bone-in beef stew.
Sponsored
Sketch comedy troupes from all over N. America descend on The Siren Theater for 3 glorious nights.
But two newcomers, Han Oak and Fusspot Chicken, are bringing some gochujang pepper paste realness in two very Portland ways: Han Oak is a cheffed-up prix-fixe affair and Fusspot is a pop-up. Grab your shiny metal chopsticks and get that banchan.
Han Oak
I don't know what they put in the water in Lane County in the 1990s (like, really, it could have been anything... but fluoride), but I know the high schools produced some truly stellar graduates in the early aughts—myself (haha) and Peter Cho, chef at Han Oak, included. Cho, who went to Springfield High, spent a decade in New York working as sous chef to April Bloomfield at the Spotted Pig and the Breslin. He's back, and since then has been elevating hot dogs and fried chicken into higher forms—first with Stray Dogs and then Stray Birds.
Now, Cho has landed in a light, airy space behind the Ocean restaurant pod on NE 24th, and is putting out a prix-fixe dinner on Friday and Saturday nights, along with a Sunday brunch.
When Han Oak is good, it's good. I'm still dreaming about a Korean fried cauliflower, resplendent in a glaze of gochujang and tamarind. With bread and butter daikon pickles on the side, it's one of the single most inspiring bites I've had this year—a bright orange crunchy shell of spice and complexity around a cruciferous vegetable that's attained its highest possible purpose. The parade of six to nine dishes ($65, includes gratuity) is served family style, but only for your party, avoiding that sometimes awkward dance over the last biscuit at true family-style meals. (Doesn't mean I didn't distract my dad so that I could get the last bite of that cauliflower.)
A Korean soondae blood cake, topped with a duck-fat-fried duck egg, is a lot sexier than any intestine-based dish has a right to be. Market kimchi was so fermented it was almost effervescent: a light dance of fish sauce and pepper on the tongue. An ember smoked short rib was cut nicely with scallion and cabbage slaw, along with a fiery ssamjang sauce. I saved some to add to the koji salt baked pork belly that you roll yourself with bun-like rice paper, scallion, and celery. Dessert, a pan-fried rice cake with red bean sherbet and toasted barley powder, evoked childhood happiness, even though as a kid I never got more exotic than mixing chocolate and strawberry ice cream.
Brunch ($32) is a pretty legitimate representation of how folks in East Asia eat breakfast. The soup was a standout and nearly a meal unto itself: Two large chicken and chive dumplings with dense Korean rice cakes were submerged in a rich garlic-forward broth. The rest of the meal, arranged on a metal tray, included a competently seared salted ocean trout, a too-dry savory waffle with pork, kimchi, and ramps, and more of that great pickled banchan and kimchi. (Cho says he's since perfected his waffle.)
Unfortunately, our visit that morning took "free range" to a whole new level. We walked in to a few people waiting to be served and no greeting. At no point were we given a menu, and I had to go to the chef's counter to get some desperately needed Water Avenue Coffee. I learned later that a server couldn't make it and one of the chefs called in sick, an issue that would hobble a mid-sized restaurant, to say nothing of the intimate Han Oak. This was unlucky timing for a critic's visit. But as a fellow Eugenian and avid eater, I can't wait to see where Cho's talents take us.
---
Fusspot Chicken
The simplicity of this semi-monthly pop-up—Korean fried chicken, quick cucumber pickles and slaw—belies the amount of fuss behind Fusspot Chicken.
Right now Howard Kamil and Tonya Jone Miller are twice-frying battered thighs, wings, and drumsticks (there's no white meat here, folks) every other Saturday in the Kitchen Cru incubator space at 337 NW Broadway. Kamil, who hails from New Jersey, went home for a visit and got hooked on the uniquely crispy fried chicken that comes painted with a spicy gochujang pepper-based sauce.
Kamil worked on the batter recipe for three years before unveiling it in April to sellout crowds. At a recent visit, I ate at the counter and had a $5 glass of not-fancy sparkling rosé that was generously refilled. The price? A very cheap $12, especially considering the bounty of two wings, a drumstick, and a thigh, which were piled on my paper plate, with the slaw and pickles cooling the moderately spicy sauce. I added extra Korean pepper at the counter to up the fire quotient. Eat in, and grab a to-go order for the morning: Cold Fusspot also makes for a fine breakfast.
Sponsored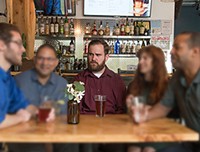 Adults aged 18-35 with good hearing will be paid for their time. Located at the Portland VA Medical Center