(Warning: nerdy shit ahead!)
Unless you've been living under a rock for the past 30 years, you've probably heard of the Square Enix game franchise known as Final Fantasy. Each iteration has been more innovative than the last, giving the gamer stunning visuals at the apex of graphical capabilities. In the latest release, Final Fantasy XV, food and cooking are major components, with almost frighteningly photorealistic results. The foods provide characters with the expected HP refills and stat buffs, and obtaining and learning new recipes moves the gameplay forward. It's fun as hell.
Luckily, you don't have to take a trip through the Uncanny Valley to enjoy these sumptuous delights. Here are some of the tastiest-looking dishes of the game, served right here in River City.
"Crown City Dive-Style Dumplings"—Pork Xiao Long Bao at Duck House
These soup dumplings are savory broth and tender niblets of meat impossibly suspended in a thin sheath of dumpling skin. Getting the shrimp and pork version will bring you somewhat closer to the game's magic-boosting Tomalley-Filled Dumplings, but no one in Portland serves such a dream as a xiao long bao filled with lobster fat. 1968 SW 5th
"Mystery Meat Sushi"—SPAM musubi at Ate-Oh-Ate is a delicious appetizer (especially when tempura'd as a happy hour special), and it goes well with their curry bowl (available in-game as "Garden Curry") and a golden-brown and delicious slab of katsu (AKA "Fried Frontier Skewer"), minus the stick. 2454 E Burnside, 5200 SE Woodstock
"Fat Chocobo Triple-Decker"—Triple Decker Club for Two at Charlie's Deli
As advertised, this sandwich will amply feed two people, if their mouths are even big enough. I had to unhinge my jaw like a goddamn Midgardsormr just to get a bite. There's so much meat and cheese on there! Some may balk at the third slab of toasted bread in the middle, but it's a necessary structural component, preventing the tomato and other fillings from sliding out once you sink your teeth in. 22 NW 4th
"Grease Monkey's Schnitzel Sandwich"—The Original Schnitzelwhich from Tábor, Czech Food of Portland
All that running around the Kingdom of Lucis works up an appetite, and nothing hits the spot like a giant cutlet of breaded pork loin or chicken, fried with lettuce, ajvar, caramelized onions, and horseradish-spiked sour cream on a ciabatta bun. Tastes like the Leide countryside! 433 SW Stark
"Golden Egg Galette"—Parisian from Le Happy
You'll be as happy as Prompto when you're sitting down to a buckwheat crepe filled with ham and cheese and topped with an over-easy egg! 1011 NW 16th
"Free-Range Fowl Over Rice"—Khao Man Gai at Nong's Khao Man Gai
Nong's eponymous bowl of steamed rice with simmered chicken and sliced cucumbers is a dead-ringer for the in-game version, but you'll only get her magnificent khao man gai sauce IRL. Various locations
"Breaded Cutlet with Tomato"—Chicken Parm at Bocci's
This good old red sauce Italian joint is located in what happens to be a historically Italian neighborhood (Hosford-Abernethy), and their chicken parm will make you forget you ever wondered how a chocobo would really taste with marinara and melted cheese. 1728 SE 7th
"Ace Hunter's Schnitzel"—Schnitzel at Stammtisch
Seriously, it looks exactly the same as in the game, right down to the potatoes and lemon slices. It's creepy. You get a slightly larger plate in real life. 401 NE 28th
"Burly Bean Bowl"—Chili con Carne at the Original, a Dinerant
The Original happens to serve one of the best bowls of chili outside the Mercury's Chili Jamboree! The rich tomato-chile sauce, spicy meat, and burly beans will have you scooting your fold-a-lounge a little further away from the campfire. 300 SW 6th
"Mother and Child Rice Bowl"—Oyakodon at Koji Osakaya
This morbidly named dish is the same in Japanese; it's a bowl of sweet-savory chicken niblets simmered in dashi and sake and mixed with a softly scrambled egg that cooks in the heat of the rice. Bonus: You can also order "Nebula Salmon Teriyaki" there. Various locations
"Braised Beef Stew"—Bánh Mì Bò Kho from Pho An Sandy
The in-game version doesn't come with a toasty-warm baguette for dipping, and the real-life version omits the Brussels sprouts, but otherwise these two bowls are brothers from another mother: juicy beef hunks, tender carrots, and slices of onion in a rich, brown gravy. 6236 NE Sandy
Sponsored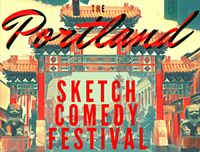 Sketch comedy troupes from all over N. America descend on The Siren Theater for 3 glorious nights.