There's more bars with great food than this newspaper has column inches to celebrate. But with that in mind, here's the essential spots in which to get buzzed and happily full.
Sponsored

Custom framing, photo frames, printing on metal, paper and canvas.
Reel M' Inn
If you don't know about the amazing juicy broasted chicken and jojos from Reel M' Inn, you're new here. (Hello!) They are excellent, and the legendary wait time just makes those potato quarters, breaded and piping hot, taste even better. (2430 SE Division)
Expatriate
Expatriate is a perfect bar. The cocktails are unfailingly inventive, the space is dark yet cozy, and the food is from Naomi Pomeroy. There's tasty shrimp toast and some very good pork belly buns cheekily called "Who the Fuck is David Chang?" But it's the happy hour wonton nachos—a tower of crisp skins with spicy lemongrass beef, lime and tomato salsa, slathered in spicy cheese and crema—that are worth showing up early or staying late for. (5424 NE 30th)
The Bye and Bye
Every longtime Portland drinker, vegan or not, can probably name you a favorite menu item from the Bye and Bye. Mine's the barbecue tofu and Brussels sprouts bowl. The texture of the tofu is firm but yielding; the sauce perfectly not-too-sweet. It's deceptively simple and yet something I've never been able to replicate at home. (1011 NE Alberta)
Slow Bar
There's no shortage of great bar burgers in this town, and the Slow Burger isn't even my personal favorite. But its half-pound thicc patty (now also available with Beyond Meat!), topped with onion rings, gruyere, pickle relish and butter lettuce, is a GD icon that demands homage. (533 SE Grand)
Bar Casa Vale
Paella Sundays! Roasted tallow mushrooms! Tapas that don't suck! Bar Casa Vale, restaurateur Nate Tilden's ode to Spain, sports an open wood fire for cooking and all the head-on prawns you care to suck. (215 SE 9th)
Deadshot
Deadshot is such a delight. Adam Robinson's cocktails are among the finest in the city, and the menu is a snacky playground for chefs Joel Stocks and Will Preisch from Holdfast next door. The puffed beef tendon nachos, country ham croquettes, and seasonal veggie dishes are all winners. And you can get Holdfast's legendary cornbread madeleine for $4, a dish featured on their $140 tasting menu. (2133 SE 11th)
The Vern
Warren Boothby and Marcus Archambeault have built a mini-empire of Very Good Dive Bars, including the Lay Low, the Sandy Hut, and Double Barrel. I'm using the Vern, my local, as a stand-in for any of them. On all menus are some of the city's best wings and burgers that punch way above their price range. With a happy hour that goes all the way until 7 pm, it's a cheap and satisfying way to wash down that whiskey. (2622 SE Belmont)
Sponsored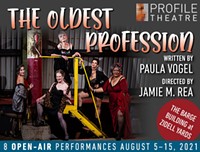 What's the retirement plan for the oldest profession? A moving comedy by the premier writer of our time.