There's nothing in Portland quite like Janken—probably because if you asked me to design the most un-Portlandy restaurant possible, it would look like Janken.
That isn't a diss. Janken's penchant for gold leaf and truffles—for glitz and glam—isn't of this area code, and that's what makes it work. The town has enough places where you can eat high-end farm-to-table, all the while wearing your comfy Patagonia vest. A visit to Janken is an event that demands you wear something fashionable, if not fancy.
The extravagant restaurant opened in a space formerly occupied by the Pearl District's upscale staple Bluehour, and it quickly became a place to dazzle a first date with your ability to order at will and pick up the check—or where you're most likely to see a basketball player or 12, in town for a game. It's like going to a restaurant in Vegas without the plane ticket.
Janken—the name taken from what the game rock, paper, scissors is called in Japan—is a Japanese and Korean fusion restaurant in theory, but in reality it's a practice in decadence. The centerpiece of the open-plan dining room is a massive cherry tree, permanently blossoming above the room. Getting a coveted seat under its branches adds to the feeling of high drama.
At the forefront of a few high-end restaurants in Portland charging $20-plus for a cocktail, Janken's signature Pineapple Express ($21) arrives under a cloche—filled with smoke, released at the table to billow out. The drink itself is quite good: mezcal infused with grilled pineapple, cardamom bitters, lemon, and cointreau add a lot of good spice and citrus to go with that smoke.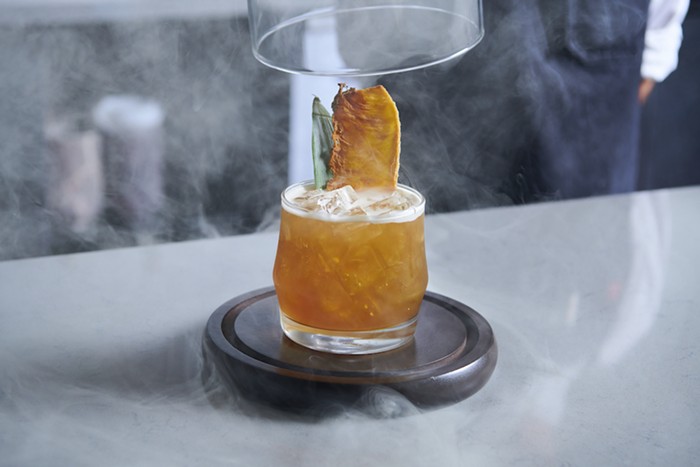 The menu thrives under the auspices of chef Rodrigo Ochoa, who was raised in Medellín, Colombia and gained experience at a number of high-end steak houses in Miami (among them Komodo) before moving here to open his first restaurant. 
You can see those influences across the wide-spanning menu. Sure there are basic sushi rolls like eel and avocado ($16), but there's much more in the way of nigiri topped with maguro tuna, a sliver of foie gras, and some truffle ($24) for good measure. Of course it's good: Fatty tuna with fatty goose liver and funky truffle are all knock out ingredients. Truffle is folded into a mushroom bao buns ($15), alongside lightly battered and fried maitake mushrooms. 
You've never felt so fancy to eat king crab nigiri dotted with spoonfuls of caviar and topped with gold leaf, paired expertly by the sommelier with a 2008 Andre Clouet brut champagne. The caviar and the bubbles pop, and the sugar of the vintage brings out the crab's natural sweetness, too.
Sometimes, though, it seems like the pricey ingredients are simply gilding the lily. You can spend $46 on a surf-and-turf roll that combines king crab, torched a5 tartare, champagne aioli and truffle ponzu, but frankly it all got lost mixed together and overwhelmed by the truffle oil. A steak tartare is gorgeous ($29), paired with braised mushrooms and a milk bread toast that I want to be a part of every sandwich I eat. There is plenty of umami and interest there—the truffle aioli once again detracts rather than adds to the celebration of quality ingredients. 
But those are small quibbles in what is overall a super solid menu. Do not skip the hamachi crispy rice ($19), four pieces of fried sticky rice with yellowtail and citrusy yuzu kosho paste on top, layered with creamy avocado. Ochoa told Portland Monthly that Peking Duck was one of his signature dishes, and on that I can agree. It's traditional, but every element is dialed in. The skin is crackling, the meat succulent, and instead of being served with puffy bao like many places, Ochoa puts out translucent pancakes in which to roll your duck, pickled veg and hoisin. Get a half bird so you can add more from the rest of the menu.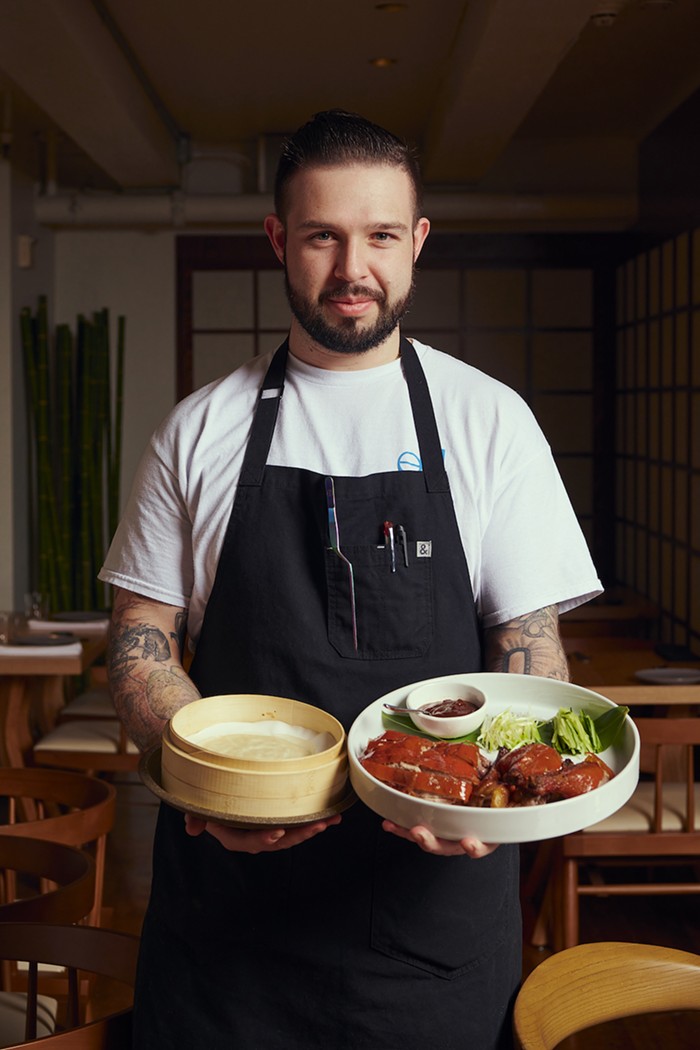 Just when you think you've had fried Brussels sprouts every way imaginable, you'll try them at Janken, given a bit of heat and a lot of complexity thanks to a kimchi vinaigrette. Fat seared Maine scallops are given a hefty heaping of black garlic, blending the soft ocean with the fermented funk.
The cocktails were all delicious, but it's worth looking into the wine and sake list for some good finds, like a fine chablis for a reasonable $20 a glass, and a nice pour of classics like Yuki No Bosha "Cabin in the Snow" sake for $17.
Finally, whatever you eat, order dessert. Where the over-the-top presentation wasn't always the right choice for the main courses, it was deeply happy-making on the sweets, especially the bingsu. Bingsu is a Korean "snow" dessert, made with condensed milk, and topped with strawberry meringues and cookie crumbs. The spoonfuls of the snow hit your mouth and dissolve into a milky sweet bite. It's like ice cream and a snow cone had a baby… a baby that you cannot stop eating. A dark chocolate lava cake with caramelized bananas was also a delight, and so was a strawberry cheesecake that comes, naturally, with 24k gold flakes on top. But seriously, get that damn bingsu.
Janken isn't going to be for everyone. Those who aren't looking for flourish need not make a reservation. Penny pinchers are similarly not going to feel good about the bill. But for those of us who sometimes want to put on a full-ass outfit, and throw caution (plus a few hundred bucks) to wind for the sake of having a MOMENT, this is about as good as you can do in casual Portland.
---
Janken, 250 NW 13th, jankenrestaurant.com