Get Your Shit Together!
Did 45's election send shock waves through your circles and leave you shook? There's no better way to stick it to the administration than by supporting your community. Though picking a volunteer opportunity is daunting, we're here to help. If you haven't checked out "From Slacktivism to Activism" yet, it's the Mercury's weekly column that spreads the word about resistance events and provides a volunteer spotlight for different nonprofits and grassroots organizations in Portland. Get your shit together and read that every week to stay in the know about fun ways to participate and support a slew of causes. In the meantime, you can kick-start the year by picking a place to volunteer from this list.
The sky's the limit when it comes to choosing the type of volunteer work you want to do. Consider your strengths, tailor the opportunity to build up your résumé if you need to, and take into consideration the amount of time you can commit. One-time fundraisers and events are still excellent ways to raise awareness and money, but ongoing volunteering opportunities make sure that the groups we love can sustain the work they do—no matter how (un)glam—today and tomorrow.
Sponsored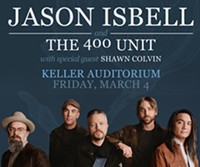 Jason Isbell has established himself as one of the most respected songwriters of his generation. Don't miss Jason Isbell and the 400 Unit, March 4th at Keller Auditorium!
---
Literary
Help high schoolers write and edit college essays with Literary Arts
Pen letters to incarcerated folks or send books with Critical Resistance PDX
Lead or assist a creative writing workshop through Write Around Portland
Write grants for nonprofits like Morpheus Youth Project
Musical:
Play ambient music at Doernbecher Children's Hospital with Healing Through Music
Produce content and edit audio at KBOO, XRAY, and Freeform community radio stations
Be a summer band manager (camp counselor) at Rock 'n' Roll Camp for Girls
Arts-based:
Assist with murals at Portland Street Art Alliance
Help out in the Maker Studio at the Portland Children's Museum
Be an usher for the NW Film Center and Artists Repertory Theatre
Relationships:
Become a youth mentor with Holla Mentors
Foster a pup through One Tail at a Time PDX
Advocate for older adults with Elders in Action
Food:
Serve a meal in the kitchen at New Avenues for Youth
Shop for groceries with Store to Door
Distribute emergency food boxes and accept donations at Neighborhood House
Professional services:
Offer hair stylist services at Ronald McDonald House Charities
Capture events through photography and videography at AIGA Portland
Design brochures and flyers for nonprofits like Kindred Hospice
Administrative:
Sort and clean kids' books with the Children's Book Bank
Stuff envelopes and take care of clerical duties at Mercy Corps
Proofread and partake in stapling parties for Street Roots
Organize craft supplies and tidy materials at SCRAP PDX
Events-based:
Table and spread the word about MRG Foundation
Organize or assist with Cascade AIDS Project's CAP Art Auction or AIDS Walk
Throw parties for social justice with NXT LVL
Sports and Outdoors:
Support the Special Olympics Oregon as a coach or unified partner
Maintain hiking trails with Portland Parks & Recreation and Trailkeepers of Oregon
Lead a soccer team at Boys & Girl Clubs of Portland
Construction:
Build tiny pod villages for houseless veterans with Catholic Charities
De-nail and grade lumber at the Rebuilding Center
Participate in garden and construction work parties with City Repair Project
---
Still need more options to choose from? Try searching on volunteermatch.org and use the keywords and filters to help find the perfect experience for you.